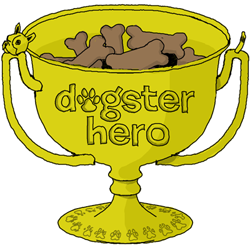 The first time I met Dexter, with his drooping jowls and hooded eyes, he reminded me so strongly of my late grandfather that I completed the illusion by mentally placing a cigar in his mouth and a glass of whiskey by his side. The eight-year-old Boxer doesn't look like your typical sweet-faced therapy dog — unless you take comfort from grizzled old men. But last April, the day after two bombs exploded at the Boston Marathon finish line, Dexter did the seemingly impossible: He brought brief moments of peace to people struggling through the darkest time of their lives.
Dexter was the first dog accepted into Boston Medical Center's newly established Healing Paws program when the attack occurred. With hospital clinical engineer Michael Hurley, Dexter visited the hospital every day for two weeks following the blasts to ease the trauma of victims, their family members, and the medical professionals who cared for the injured.
That Dexter could bring calm to chaos is a minor miracle to Hurley, who, six years ago, was ready to give up on Dexter.
"He was wild," says Hurley, who, with his partner, adopted Dexter from a foster family when the dog was six months old. "At first, he was wild in a good, puppy-like way. But around 18 months, that turned to dominance and aggression. He and I couldn't be together. He dominated me like crazy."
The couple called in two trainers. The first one said Dexter couldn't be helped. The second suggested getting rid of Dexter. Fortunately, a third trainer was up for the challenge. Hurley enrolled Dexter in police-dog training. The theory was that if they could train Dexter to turn his aggression on, and then off, they could control it in everyday situations. It worked.
Hurley and Dexter went to classes once or twice a week for five years and rose to become star pupils. Then, a routine veterinary examination led to a diagnosis of atrial fibrillation. Dexter was put on beta blockers and forced into retirement from his police training classes. However, Dexter, an alert dog who thrives on human interaction, wasn't cut out for retirement. Hurley began searching for something to engage Dexter that wouldn't tax his heart. Then Boston Medical Center announced its Healing Paws program. Hurley, who fixes medical equipment at the hospital, got Dexter certified.
Maybe it's because Dexter was his first, and until recently, only dog, but Hurley had a hard time understanding why a hospital patient would want a visit from a dog. Still, he pressed on. Dexter passed the hospital's assessment and was accepted into the program. Hurley arranged to bring him in on Wednesdays. He figured at most, two patients would want to see Dexter, then he and the dog would have the rest of the day to hang out while Hurley worked.
It was less than a week after Dexter's first visit to the hospital when, shortly before 3 p.m. on April 15, two homemade pressure cooker bombs exploded near the Boston Marathon finish line, 10 seconds and a block apart. More than 260 spectators were hurt. The wounded were rushed to area hospitals, with 23 critically injured treated at Boston Medical Center. As the hours passed following the attack, distraught family members arrived to hold vigil in the waiting room. First thing the next morning, one of the hospital social workers called Hurley aside.
"She asked me if Dexter could come in just to sit with family members and loved ones. 'There's so much tension, that having a dog around will make the room seem lighter,'" Hurley recalls her telling him.
At first, people barely noticed there was a dog among them, they were in such a fog. But after lunch, something clicked. "They'd call me over and say, 'I'd like to meet Dexter now,'" Hurley said. "That's when I'd get the stories about who they were there for, what their condition was."
During those first few weeks after the bombing, Dexter came into work with Hurley every day. As patients were released from intensive care into regular rooms, Hurley would bring Dexter in to visit them. He and the dog would spend hours just sitting with the patients.
"It was just mind blowing that a dog could cheer someone up after what had just happened to them. It still amazes me," Hurley said. After the first week, a hospital social worker asked Hurley to bring Dexter in to visit the staff. The doctors, nurses, technicians and others, who had pushed aside their own grief to focus on saving lives, were starting to wear down. The duo started with the emergency department and, over the next week, worked their way through other divisions that were hardest hit by the bombing.
"They just loved having a dopey dog they could pat, literally do anything to. They wanted Dexter 24/7. I think that's what catapulted the Healing Paws program. In a time of need, there was this one dog who really affected everyone," Hurley said.
Now there are six dogs in the Healing Paws program. Recently, Hurley and Dexter traveled to a conference in Orlando, Fla., where Hurley and other hospital staff were scheduled to sit on a panel to describe their work with patients in the aftermath of the bombings. Hurley noticed an extra chair at the table and sat Dexter there. The dog stayed put for 30 minutes, gazing out at the audience. Hillary Rodham Clinton had been the keynote speaker, but by the end of the conference, everybody was talking about Dexter.
"Everybody had forgotten about Hillary. As soon as I'd leave my hotel room with Dexter, we'd hear, 'Oh my God! There's Dexter!' 'Can I have my picture taken with Dexter?'" Hurley remembers.
Hurley describes himself as shy. In the hours and days after the bombing, he was nothing short of terrified to be around people whose psychic and physical wounds were so raw. But Dexter so aptly navigated the terrain, that Hurley found his own confidence growing. The most important lesson he learned from Dexter is to look past what's different or "wrong" about someone, but to accept each person as an individual.
"He doesn't see what's wrong with people, he just sees them as people," Hurley says of Dexter. "I wish every human being could have a dog to see that's how we should treat every person."
Read more about service dogs:
Read the most talked about news on Dogster:
Sharron Kahn Luttrell is author of the memoir Weekends with Daisy (Simon & Schuster), about co-raising a service dog-in-training with a prison inmate.
Do you know of a rescue hero — dog, human, or group — we should profile on Dogster? Write us at dogsterheroes@dogster.com.