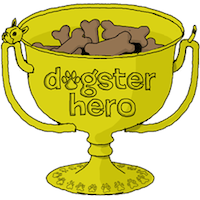 Towels are kept everywhere, in purses and pockets, in the living room, near the food bowl decorated with "Jasmine" in sparkles. Tongue-in-cheek thank-you notes have gone out, including one reading "Happy Eathster … juth thaying."
Missing a few teeth now, Jasmine is a drooler, bubbles forming at her mouth as she painstakingly eats her chicken and kibble, laps slowly from the water bowl, lolls in the grass, and tromps after those rascally squirrels that always escape up trees.
"She's like a big ol' Bulldog [in] that you have to keep wiping her mouth," said Sherry Schneider. "It's just one side, usually. But it's OK."
Anything would have been OK for Sherry, her husband Mike, and their daughter, Torrie, who in instinctual, almost unspoken agreement reached out to adopt Jasmine the morning they read about her in the newspaper.
"Y'all called, and you don't even know what she looks like," Torrie remembered the voice on the other end of the line saying. "Well, we don't care," she replied. "If she lost a leg or whatever, it doesn't matter."
Jasmine, a 10-year-old Weimaraner, was shot in the jaw and front left leg — three bullets also grazing her head — while protecting her owner the morning of Jan. 23 at a home in Crestview, Florida.
Tragically, her loyal instincts were not enough. She ended up being the only shooting victim out of five to survive.
Her owner, 42-year-old Shanna McGrath, and Shanna's husband, 47-year-old Kevin McGrath, were found lying at the foot of their bed, according to the state attorney's office. Elbert L. Merrick III, 22, was found outside near the accused killer's car. A 7-year-old male Tamaskan named Kya, also was killed trying to protect Shanna.
Only two Yorkies, Tinkerbell and Meeka, made it out ungrazed — physically — covered in others' blood that was washed off at the local animal shelter.
Jacob Rex Langston, 22, has been charged with three counts of first-degree murder — for which he faces the death penalty — and two counts of animal cruelty. Merrick may have been dating Langston's ex-fiancee, investigators said, as he was at the house to pick up some of her things. Kevin was Langston's stepfather. Shanna was Langston's mother.
The bullets that hit Jasmine were face-on. She wasn't running away.
Jasmine, the "miracle"
The first time Kevin Schoeneman saw Jasmine, she was being carried out of an active homicide scene by two police officers, cradled on an improvised stretcher made of a green blanket dripping with blood.
"I'll never forget that green blanket," said the Okaloosa County Animal Control officer.
Even through the pain, she wagged her tail when he put her in the truck to rush to the Emergency Veterinary Clinic of Okaloosa/Walton counties in nearby Niceville.
"I kept talking to her on the way there, so I could hear her thump her tail or do something," Schoeneman said. "I didn't think she was going to make it, I really didn't. I gotta say that was probably the longest 18-minute ride of my life."
At the clinic, veterinarians and techs stayed with Jasmine around the clock, but she started to slip away the next evening. Dee Thompson, executive director of the Panhandle Animal Welfare Society in Fort Walton Beach, Florida, which handles the county's animal control, said there was a moment when everyone thought it might be more humane — "because basically we were losing her''– to put Jasmine to sleep.
"All of us together decided that, well, you know what, let's at least give her through the night," Thompson said.
In addition to bullets shattering bones in her leg and jaw, Jasmine's heartbeat was irregular. Pulling out all stops, the clinic rushed a tech to a nearby hospital to pick up a human heart medicine called Diltiazem. At 3:04 a.m., veterinarian James Brousse noted that "pet was wagging her tail and lifting her head."
"The doctor and techs were heroic," said Kathryn Young, the clinic's office manager. "They were determined to save her. She's like a miracle."
Jasmine was carefully transferred the next day to the Emerald Coast Animal Hospital in Mary Esther, Florida, in hopes she would regain enough strength to undergo surgery. She was lethargic. Her mouth was extremely swollen. She couldn't walk. She was being fed through a tube. Still, that tail — she was born in Germany so it wasn't docked — was wagging.
"She showed that there was still life in there to her," Thompson said.
But what struck Thompson the most was something "you could just see in her eyes."
"I got the feeling that she was just trying to tell everybody she tried her hardest," Thompson said. "She did the best she could to protect her owner."
When deemed strong enough, she was taken to Southern Regional Veterinary Hospital in Dothan, Alabama, for specialized surgery.
By that time, Jasmine had become a star.
A symbol of courage
People were calling from everywhere — California, Kentucky, Illinois. Donations poured in, including several at $500 each. The bulk of her bills — about $10,000 — was covered for the financially struggling PAWS shelter, which would have been devastated by the cost.
"It was phenomenal — PHENOMENAL," Thompson said.
Even the emergency clinic didn't issue a bill. Young, the office manager, went to the board of directors, telling them that she and the other employees felt strongly that Jasmine had been injured in the line of duty and they should donate their services.
"She's a symbol of courage. The other dog was just as brave," Young said. "They agreed unanimously."
Outside the doctors, Thompson said the general public helped save Jasmine, including making "prayer blankets," to bless her with comfort and love.
"It was what Jasmine did in such a horrific moment that caused the outpour. This whole thing touched people's hearts," Thompson said.
To more birthdays
The first call PAWS executive director Thompson received, though, was from the Schneiders.
The Yorkies had gone to Shanna's friends, but there was concern that the two hyper dogs, along with children at the new house, might be too much for Jasmine if she recovered. The Schneiders knew Weimeraners. They had a 9-year-old female named Greyson.
"We actually had no intention of having another dog. You know, we'd say something kiddingly," Mike said. "But the morning that we read that story, we just kind of looked at each other and said, 'We're going to save her, if possible.'"
Every day, they visited Jasmine at the hospital.
"We'd get on the floor and pet her and talk to her and love on her," Sherry said.
They brought a blue giraffe toy, rubbing it on Jasmine, then on Greyson at home, to familiarize them with each other's scents. When word came that Shanna's surviving family had given their blessing for the Schneiders to adopt Jasmine, "I went crazy," Torrie said.
Among all the shopping for a top-of-the-line bed, bowls, and toys, she also ordered collars decorated with Swarovski crystals.
"We tell her they're diamonds," Sherry said.
At their home in Miramar Beach, Florida, every few minutes is filled with cooing: "That's our baby." "That's a pretty baby." "That's a pretty girl." "You are our baby. Yes, you are."
They've started a "baby book," featuring every story written about Jasmine, medication details, vet appointments, a list for sending thank-you notes — and tons of pictures.
"It's like any place we go, 'You want to see pictures of the dog?'" Sherry said.
They have lots of opportunities. Sherry is a travel agent, Mike a Realtor, Torrie a musician.
Jasmine wants to be like her buddy, Greyson, and the two enjoy playing tug-of-war. Greyson, of course, already has her primo beds, crystal collars, complete spoiling, and enjoys a yearly dog birthday party with a special cake. They don't know when Jasmine was born, so "we made her birthday the day we picked her up," Torrie said.
At a recent weekly appointment to change her leg cast, Jasmine swirled around Cindy Potts, the practice manager at the Emerald Coast Animal Hospital.
Potts calls Jasmine "just the happiest thing in the whole world," and the Schneiders "fabulous people."
"I know some people were, 'Oh my gosh, so much money was spent on this one dog, and it was," Potts said. "But you know, she was wantin' to live, and she's such just a joy that I don't think anyone regrets a day of it."