He's the prototypical big scruffy mutt — except for the part where he isn't a mutt! He's been a breed for centuries, but only recently (largely from his role as a big scruffy mutt) have Americans become aware of this French lover.
More interesting things about the Berger Picard
The Berger Picard could be confused with the Wirehaired Portuguese Podengo Mediano — if anyone knew what they were, either!
The breed is also known as the Picardy Shepherd.
Fanciers call them Picards for short.
Dogs resembling today's Berger Picard are depicted as early as the 14th century, and they may be the oldest of the French sheepdogs. Some claim they came to France with Celtic invaders as early as 400 BC.
Berger (pronounced bare-ZHAY) means "shepherd," and Picard (pronounced pee-CARR) refers to the region of France the dog is from.
World Wars I and II decimated the breed as fighting took place around their farmlands, and food rationing didn't allow for feeding large dogs.
It's claimed that some Picards were used to smuggle matches and tobacco over the Belgian border by shaving the dog's back and placing the goods in a goatskin pouch, hair side up, that blended with the dog's coat.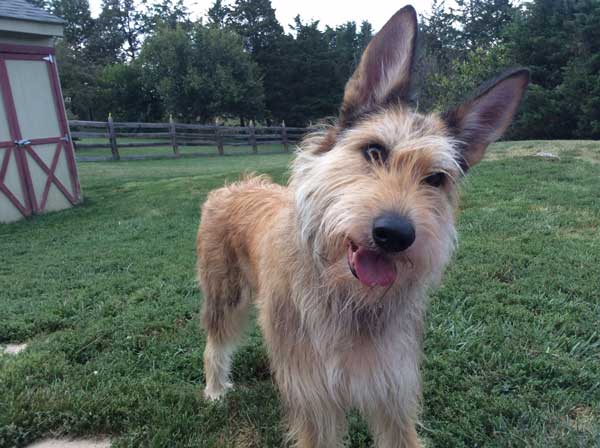 Breeders searched Picardy after World War II for dogs to rebuild the breed, and in the early 1950s found the dogs that would become the foundation of the modern Picard.
By the 1970s, occasional Picards were being brought to America.
In 2002, they got their big break: Hollywood producers cast the breed in the starring role of the movie Because of Winn Dixie. They needed several dogs that looked alike that could all play the single role of a mixed breed, and they imported five Picards from France, and three of them (Scott, Laiko, and Tasha) performed in the movie. The American public was introduced to the breed when the movie debuted in 2005.
A group of fanciers worked to promote the breed responsibly, and by 2013 it entered the AKC miscellaneous group, and in 2015, the AKC Herding group.
Picards have also appeared in the movies Daniel and the Superdogs and Are We Done Yet?
A Picard is the subject of a book, Chester Gigolo: Diary of a Dog Star, based on the weekly blog about Chester. He even has his own Facebook page.
No celebrities are yet known to own Picards, but as the breed becomes more well known that's bound to change.
Do you own a Berger Picard? Have you spent time with one? Let's hear what you think about this fascinating breed in the comments! And if you have a favorite breed you'd like us to write about, let us know that, too!
Interested in other breed profiles? Find dozens of them here.
Read recent dog profiles on Dogster: