I shut off the alarm for the ninth time, but I could no longer ignore the knocking at my door. Somehow I knew it was the Black Dog again. Not that there was actually a black dog knocking at my door — I mean as in Churchill's definition of Black Dog: manic depression. If you deal with depression or manic depression, the lethargy and ennui can sneak up on you until, one morning, walking your dog seems like a Herculean task.
Most folks who deal with mental illness will tell you that there are good phases and bad phases. You might go months feeling stable, and then a tragedy or stress triggers a bad phase. During one, you are less than 100 percent, and your dog suffers the consequences.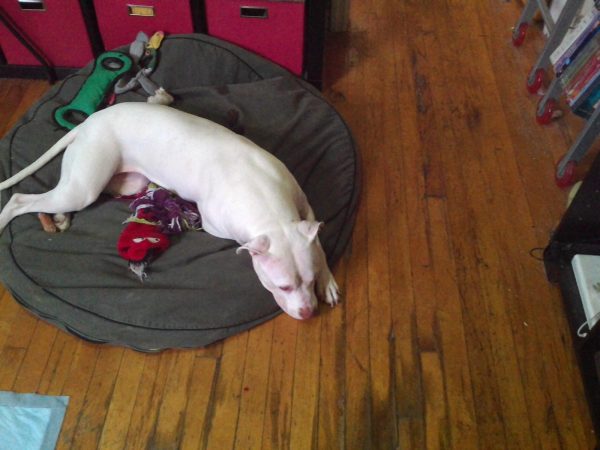 The trigger doesn't have to be related to mental illness — it can be a physical illness, an accident, or an emergency. Eight months ago, I slipped on the ice while walking my dog, Bunch. Twenty years ago, I bet I would have caught myself. But at 44 and with a lifetime of questionable healthiness, I was left sitting on the ground, Bunch's leash in hand, until a Saturday night reveler took pity on me and offered a helping hand. A week later, my ankle was still swollen like a watermelon. Even with "Da Boot," as it became known, getting around was very difficult.
There have been other misadventures. A year ago this Halloween, I tripped on one of Bunch's toys and plunged face first into my bookcase (despite being dressed as and channeling the stalwart Xena Warrior Princess). The next day, I had two black eyes and got dizzy when standing up. And, you guessed it, I found it very difficult to get around.
All dog owners know that anything that impairs your ability to take care of your dog is very, very frightening. I moved to New York City three-and-a-half years ago as a divorcee with no contacts in the city. I have made friends, some in my building, who are kindred dog spirits, but like most New Yorkers, they move to a different place every year; thus I am left without a chum nearby to help out. I also have not had a professional dog sitter on file simply because if I leave town, Bunch comes with me.
There are several criteria that make life more difficult for some dog owners who get sick or injured: being single, not having a roommate (or having a dog-adverse roommate), not having any family nearby, not having dog-centric friends nearby, and being overly cautious about asking for help (this last one ties into me, big time).
Your best bet, if you fall into this difficult category, is to:
Join dog groups in your area right away — groups specific to your type or breed are great, but not necessary.
Make friends with neighbors who have dogs — it's likely that they would also like to have someone on hand to help out if necessary.
Search for dog-related events and get to know a rescue group or a breeder of your breed — they will have lots of info about resources.
If you deal with a continuous incapacitating illness such as depression or diabetes, join groups specific to the illness and make a beeline for other dog owners in the group.
Keep in mind, though, that you may find yourself without support at any given moment. Also keep on hand numbers and websites that can help. As I live in New York City, I can get just about anything delivered (including dog food). I can also hire a pet taxi for any necessary vet runs. And there are plenty of available dog walkers on call.
If you live in a less-populated area, companies such as TaskRabbit offer help with many chores, including dog-oriented tasks. Craigslist and NextDoor are also options for finding services nearby.
If you are only dealing with something like a sprained ankle or a black eye, do very short walks and pay extra attention to your dog (more petting, more playtime) even though you may feel like bollocks.
And, the moral of this story is … be as prepared as possible for illnesses, accidents, and emergencies. Make friends with other dog people and don't hesitate to ask for help. We must support each other.
Read more by Kelly Pulley:
About Kelly Pulley: Longtime dog owner and Pit Bull guru, Kelly has been a writer for Dogster for many years. She now tackles everything from controversial topics such as Pit Bulls to loving itty-bitty dogs despite their size. Catch her at www.petwriter.com and www.pitbullguru.com.