Editor's note: Have you seen the new Dogster print magazine in stores? Or in the waiting room of your vet's office? This article appeared in our April/May issue. Subscribe to Dogster and get the bimonthly magazine delivered to your home.
For the past decade, teaching people about health using traditional Ayurvedic (classic Indian medicine) techniques and philosophy has been Amanda Ringnalda's bread and butter as well as her heart's desire. But Amanda, vice president and master educator at the famed Chopra Center for Wellbeing in Carlsbad, California, hasn't restricted her efforts to human clients.
She's had a lifelong love affair with dogs, and over the past decade has begun adapting the techniques she uses with humans to bring balance and healing to dogs.
Ever since the family Sheltie saved her from drowning in the pool when she was 3 years old, Amanda's life has been consumed by helping both dogs and people.
"I was raised in a pet store," Amanda said. "I worked in the pet store my parents owned for years. I was obsessed with dogs. About two or three years ago, something took me over in a very gentle but really deep way. Throughout the entire night, I started having nonstop dreams about dogs. I was in a dog family."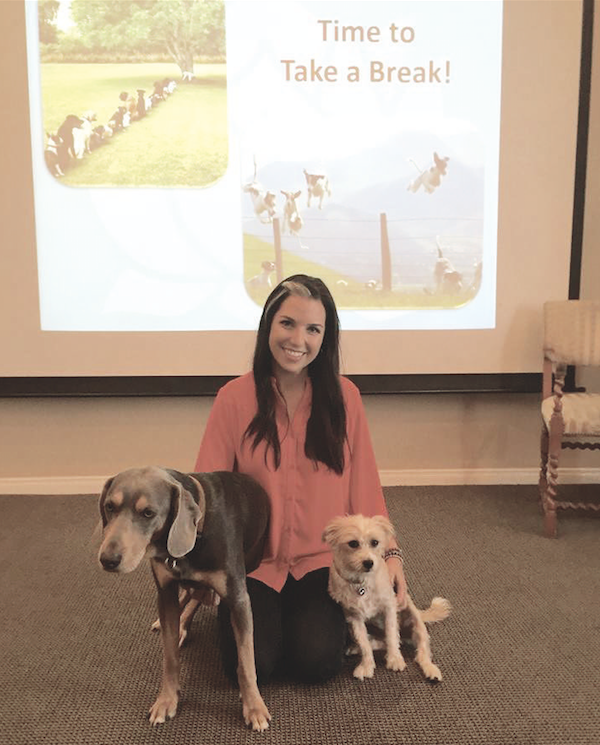 Soon after, Amanda and her husband, Rene, stopped at an animal shelter on their way home from a Chopra event. One dog there seemed to be calling to her. "All the way home, we talked about the possibilities of fostering dogs," Amanda said.
Upon their return to Carlsbad, the Ringnaldas founded SoulPlayMates, an organization with a dual purpose: "Education, teaching people about caring for dogs using Ayurvedic principles, and dog rescue and match-making," Amanda said.
Amanda began expanding her podium at the Chopra Center to offer a free monthly class for dog owners called Doshas for Dogs, where guests learn to apply the Ayurvedic concept of "doshas," or basic mind-body types, to their dogs. Over the past decade, Amanda has come to believe that this concept can just as easily be applied to animals as it can to humans.
For instance, you know your dog is a Vata dosha if she has a thin frame, wakes easily, gets cold, "worries," and is particularly lively and active. To counterbalance an excess of Vata, you would want to offer an established routine, consistent exercise, warm, moist food, extra oil, lots of calming touch, and possibly even a Thundershirt when under real stress.
Amanda has developed a series of YouTube videos showing how to prepare foods for your dog using Ayurvedic principles. Her new line of Ayurvedic dog biscuits are now sold at the Chopra Center and high-end pet food stores in San Diego. Check out the SoulPlayMates Facebook page to learn more.