When I was in my final, clinical year of veterinary school, I rotated through the oncology department. My first oncology patient was a Golden Retriever. Several days before coming to the Davis teaching hospital, the owner had noticed that the dog had developed several lumps. The dog had gone to his family veterinarian, who identified lumps at the base of his jaw, in front of his shoulders, and behind his knees. The lumps were enlarged lymph nodes.
The family vet performed a procedure called fine needle aspiration. It is a diagnostic technique that involves inserting a small needle into a suspicious mass in order to harvest cells from it. The cells are expressed onto a microscope slide and evaluated. It is similar to a biopsy, but quicker, simpler, and less invasive. It yielded a diagnosis: lymphoma.
Lymphoma is the most common cancer in both dogs and cats. It is a cancer of the immune system, which usually disseminates through the body. Enlarged lymph nodes often are the first sign.
The attending clinician and I evaluated the 8-year-old dog. He was happy and friendly. He clearly was well cared for. His physical exam showed no irregularities aside from the enlarged lymph nodes. The dog felt completely healthy and was not showing any signs of illness.
The clinician asked me a basic question. Without treatment, what was the dog's life expectancy? I should have known the answer, but I didn't. I ventured a guess: six months, or maybe a year?
I was wrong, and the clinician's response floored me. That dog, who looked and felt fine, would be dead in one to two months without treatment. Many types of lymphoma progress to terminal stages in a very short time.
The news wasn't all bad, however. Most types of lymphoma in dogs are very responsive to chemotherapy. A large majority of cases will go into remission, and with chemo the dog's life expectancy was approximately a year. What's more, dogs do not often experience the horrible side effects of chemo that make it so dreaded in people, who often feel that chemo is worse than the cancer it is treating. The dog got his first dose of chemo that day.
Chemotherapy is quite effective against lymphoma, but it certainly isn't elegant. Chemo drugs generally are toxic to all types of cells in the body, not just cancer cells. Most types of chemo kill any cells that divide rapidly. Cancer cells usually are rapid dividers. So are cells in the intestines and cells that cause human hair to grow, which is why people on chemo have GI problems and lose their hair. Fortunately, as I mentioned, most dogs on chemo do not lose their hair or become sick.
I have often wondered, in this era of DNA testing, genome projects, and exploding knowledge and understanding of cancer, why greater strides haven't been made in the treatment of this dreaded disease. It appears now that we may be on the brink of a sea change.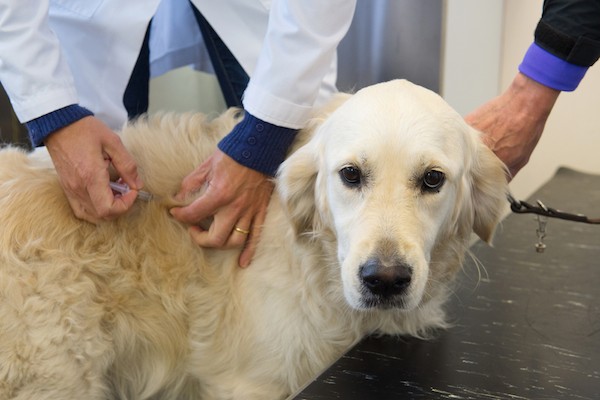 Merial, a large pharmaceutical company, recently announced the release of a vaccine for treatment of one type of lymphoma, called B cell lymphoma, in dogs.
To be clear, the vaccine will be used to treat lymphoma, not to prevent it. The new lymphoma vaccine will not become a part of puppy shots or routine veterinary visits. In fact, regular veterinarians will not have access to the vaccine at first. It will be available only through specialists in oncology.
The vaccine also will not replace chemotherapy for the treatment of canine lymphoma. Dogs diagnosed with the disease will still need to go through chemotherapy in order to achieve remission of the cancer. Once that has happened, the vaccine can be administered. Early results of studies indicate that the vaccine has potential to significantly increase life expectancy and survival times for dogs with this common and deadly form of cancer.
The concept of a vaccine that treats cancer is not entirely new. For several years, there has been a vaccine that is used as part of treatment protocols for some dogs with melanoma. However, melanoma is not common in dogs, so that vaccine hasn't really shaken up the world of veterinary medicine. Lymphoma is common. I have seen hundreds of dogs die from it. The lymphoma vaccine has the potential to really change the game for large numbers of dogs.
The vaccine works by stimulating the immune system to create antibodies to a protein called CD20 that is found on B cells, leading to the cells' destruction.
The key thing is that the cancer needs to be in remission for the vaccine to work. Remission is most likely to happen if the cancer is caught early. If you find strange new lumps under your dog's skin, they should be checked by your vet immediately. Your dog's chances will be best if you act fast.
Read more from our Ask a Vet series:
Got a question for Dr. Barchas? Ask our vet in the comments below and you might be featured in an upcoming column. (Note that if you have an emergency situation, please see your own vet immediately!)