Surfing dogs are adorable … and surfing for dogs doesn't have to be limited to canine Insta-stars. Your dog can learn how to surf, too. From big dogs to small dogs and from a casual day surfing at the beach to surf competitions, canine surfing is a versatile, high-energy activity for water-loving dogs.
First, meet one of those famous surfing dogs, Ricochet!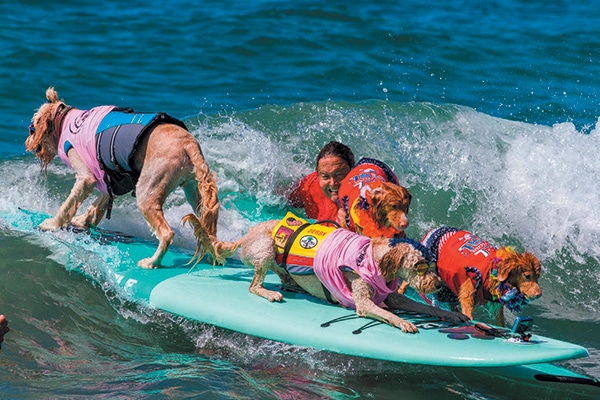 One of the most famous surfing dogs is a Southern California dog Ricochet. Judy Fridono, a service dog trainer and Ricochet's guardian, explains that Ricochet started surfing at just eight weeks old! "She first got onto a boogie board in a kiddie pool at just eight weeks old and had great balance then," Judy tells us.
And Ricochet only got better. "When she was 15 months old, she was invited to participate in a surf dog contest," Judy says. "She came in 3rd place." Ricochet was originally training as a service dog; however, she was fascinated with birds and despite impulse control training for safety reasons, she unfortunately wasn't going to make it as a service dog.
But her career helping people was actually just beginning. Ricochet is "a certified therapy dog and works with an organization called Pawsitive Teams," Judy tells us. "She's been part of their canine therapy program for the last eight years. It's a partnership with the Naval Medical Center San Diego and serves active duty service members with PTSD."
She also makes big waves helping people with her passion for surfing. Since 2009, Judy says that Ricochet "has surfed with hundreds and hundreds of kids with special needs, people with disabilities, wounded warriors and veterans with PTSD. She's also a member of Team USA's adaptive surfing team."
How to tell if your dog might be opening to surfing
Think your dog has what it takes to be one of those radically cool surfing dogs? The best thing to do is try! Surfing isn't going to be a fun (or safe) activity for every dog, but the only way to know if your dog will enjoy surfing is to give it a go. Approach surfing with an open mind but be ready to try something else if your dog doesn't seem interested. Judy cautions "the biggest thing to pay attention to is … does your dog want to surf? Often, it's us humans that want our dogs to do a specific activity. So, it's important to determine what your dog enjoys and follow her comfort level."
Natural ability
A.K. Crump, founder of the World Dog Surf Championships and coauthor of the book, THE DOG'S GUIDE TO SURFING explains that the breeds that excel at surfing might actually surprise you "There are a lot of different types of dogs that surf. You would think that it would be limited to the traditional water dog breeds, but really, it's more about whether the dog likes going in the water at all and feels comfortable in it. You have Bulldogs doing a pretty good job, and they're definitely not bred for water work."
In addition to a love for water, Judy advises that your dog's body structure may contribute to a natural aptitude to surfing. "Dogs with a low center of gravity seem to do really well," Judy explains. "So, Bulldogs, Corgis, Dachshunds." But she also encourages dog guardians not to let your dog's body type stand in the way if your dog enjoys the sport. Judy says she has seen giant breeds win surf dog contests.
How to teach your dog to surf — getting started
It sounds silly, but first and foremost make sure that your dog is comfortable and enthusiastic about water, being near it and in it. After that, the most important thing is to go slow and work at a pace that your dog is comfortable with
"A lot of people think just because their dogs love the water, that they'll enjoy surfing," Judy says. "But we have to remember, most of us bring our dogs to the beach to play, run, interact with other dogs, fetch things, etc. So, if you bring a surfboard to the beach one day and ask your dog to jump on … [she] will be bombarded with a whole new picture of the beach she is so used to playing on."
Judy recommends starting surf training at home first. "Help the dog understand that really good things happen on the board at home (feeding meals, treats, etc.), so then when you take a surfboard to the beach, they will know what it's all about," she advises. "They'll be less distracted and have a better understanding of what surfing is."
To help your dog become more familiar with the surfboard, a lot of your training can and should happen at home. Judy suggests bringing the surfboard into the house and feed your dog meals on it. For balance purposes, your dog should be toward the back of the board "place his/her food bowl right in front of where you want them to be. This will reinforce the correct position for the dog," Judy explains.
A lot of the initial training is going to be desensitizing your dog to the surfboard and creating positive associations with the board, lots of praise, lots of treats and making the surfboard a highly reinforcing place to be on land or in water. This foundation training will pay off when you add in the distractions of the beach and ocean.
If you're a surfer yourself, you will be at an advantage for teaching your dog to surf. You'll already have familiarity with the process and it's likely that your dog will have seen you surf, seen surfboards before, etc. A.K. advises that "most dog surfers start by basically hanging out with their humans at the beach and wanting to follow them onto a board." A.K. says a good place to start is to encourage your dog onto the board while it's on the sand or very close to the shore and see if she will stay on it. Your dog has to have confidence in you specifically, and trust.
Trust is the key. "As is going slowly," Judy explains. "Don't rush things and try to move too quickly by putting your dog onto a surfboard in the ocean and seeing what happens. Go at a pace that isn't stressful to our dog, and where your dog is able to maintain success."
In her training materials to support new surfing dogs, Judy stresses "don't force your dog on the board. You want them to offer the behavior and learn to jump on by themselves. This is especially helpful for big dogs that can be very heavy to lift once you get in the ocean. Plus, if a dog is refusing to get on the board … maybe she really doesn't want to surf. Once your surfing pup has mastered the basics, it's a good time to start working with a professional. In many coastal communities across the country there are organizations and trainers that offer dog surfing lessons."
---
The Right Gear for Surfing Dogs
From life jackets to surfboards, it's important that surfing dogs have all the right gear to enjoy this sport safely. Surfing dogs should always wear life jackets when surfing. There are many different ones on the market, so be sure to find one that is approved for your dog's weight and is a good fit for their body type. Both Judy and A.K. advise that foam or soft surfboards are most popular for canine surfers. These boards have more grip for a dog's paws and claws. In terms of board size, Judy says that smaller dogs usually have 4-foot boards and bigger dogs tend to surf on 6- or 8-foot boards.
Safety first
An important safety consideration: Surfing dogs can't be leashed. Make sure whatever beach you are teaching your dog to surf at allows off-leash dogs. Judy cautions, "It's critical to take their leash off while they surf because it can get caught on something and create an injury or worse." Not only do you not want your dog leashed to you when surfing, you don't ever want your dog leashed or tethered to the surfboard. Doing so can result in very serious injuries "If you need to leash your dog to the board to get them to stay on it … she either doesn't want to surf, or she needs more training," advises Judy.
Surfing to the next level
So, your dog has mastered surfing — what next? Surf competitions! Canine surf competitions happen at different beaches and the annual World Dog Surf Championships will take place August 3 in Pacifica California.
A.K. explains that this year's event is going to be a little different than in the past, because it's an invitational. "Our goal is not to have the most dog surfers, just the best," he says. "Our goal is also that everyone has a good time, so we also look for a good attitude in the dog surfing teams. It's a fun community, and a small one, so the camaraderie is a great vibe!"
Thumbnail: Photography ©ZUMA Press, Inc. | Alamy Photo.
Sassafras Lowrey is an award-winning author and Certified Trick Dog Instructor. Sassafras'; books have been honored by organizations ranging from the American Library Association to the Lambda Literary Foundation. New dog books from Sassafras in 2019 include: Healing/Heeling, Bedtime Stories for Rescue Dogs: William To The Rescue (with Lili Chin), and TRICKS IN THE CITY: For Daring Dogs and the Humans That Love Them (forthcoming in August from Mango Press). Learn more at SassafrasLowrey.com
Find out more about dog exercise at dogster.com: