With holiday food and fun overflowing, I love to give gifts that are easily contained and carried — and are adorable, too! Mason jars are all the rage right now, and it's no surprise why. They are the perfect container for all edible holiday gifts: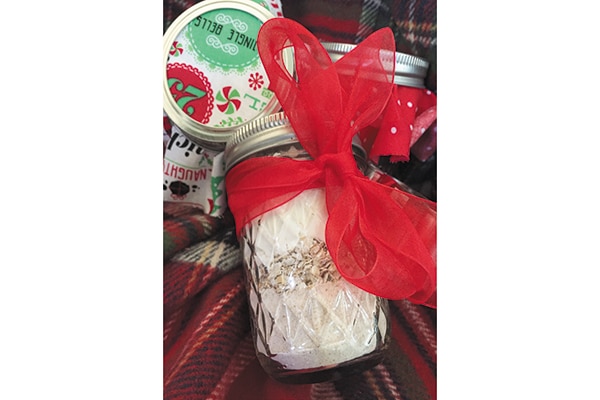 Recipe for Dogs: Layered "Gingerdog" Jars
Easy to make and easy on your wallet, these layered jars include all the dry ingredients for a holiday dog treat so the recipients can make them for their dogs.
Mason jars are available in many sizes, so you can double these up or cut them in half depending on your jar and how many pups your recipient has.
What you'll need:
Mason jar
2 cups flour
½ cup whole wheat flour
½ cup quick (not instant) oats
2 tablespoons ginger
1 teaspoon cinnamon
½ teaspoon cloves
Bone-shaped (or other dog-themed) cookie cutter
Additional ingredients for when the cookies are ready to be made:
¼ cup vegetable oil
½ cup molasses
Directions:
Layer the flours and oats in your jar, and top with the spices. To make the gift complete, tie on the recipe card and a cookie cutter.
Curious about other recipes for dog treats? Head over to Whole Dog Journal >>
Recipe for Humans: Pupcake in a Jar
These people-only snacks will bring a smile to the face of any dog lover. Putting them in the Mason jar makes a usually messy dessert easy to travel with, fun to eat and keeps them fresh for up to a week!
What you'll need:
Mason jar
Your favorite cake mix — I love spice cake or gingerbread for the holidays
Icing — I recommend using a decorator's icing, which is thicker and will hold your design. You can make this or buy it at a craft store.
Food dye (optional) — these are perfect in white, but if you want to match a dog's coat or make them in holiday colors, you can color your icing.
Black icing — you can color the white icing or buy gel icing already colored black available at most grocery or craft stores
Piping bag
Icing tip — small open star (looks like it has teeth)
Directions:
Bake your cupcakes and allow to cool.

Cut in half and place one half in the jar.

Add a layer of icing.

Place other half of cupcake on top.

Depending on your jar size, keep going with your cupcake layering until your jar is almost full. When you get to the top do not add more icing yet.

Using the tip, create fur on the top layer, using upward motions until your cupcake is covered.

Using the black icing, create eyes, a nose and a mouth.

Close up the jar and give the gift of a sweet puppy surprise.
Decorating your mason jars:
Mason jars are adorable on their own, but you might want to add a little extra pizzazz to your gift
Stick a holiday bow on top.

Using thick ribbon, tie a bow around the jar, just below the lid.

Cut out holiday fabric. Measure your jar lid and cut a circle 1 to 1 ½ inches larger. Center the fabric on top of your jar before closing the lid around it.

For a more rustic look, string yarn or raffia around the lid.

Put a festive sticker on top of the lid.
Thumbnail: Photography ©GlobalP | Thinkstock.
Sam is a dog lover, writer, baker, crafter and Instagrammer. When she's not writing, she's decorating cookies at her blog SugaredAndIced.com or Instagramming her dogs @FrenchHuggs_ and @Quinnstadoodle.
Editor's note: This article appeared in Dogster magazine. Have you seen the new Dogster print magazine in stores? Or in the waiting room of your vet's office? Subscribe now to get Dogster magazine delivered straight to you!
Get more holiday gift ideas for dogs and dog lovers here: