All pup parents know that there are some vegetables that dogs can eat, and some veggies that are best avoided. Carrots are healthy for humans, but can dogs eat carrots? If dogs can eat carrots, are carrots good for dogs? And is there anything you should keep in mind when feeding carrots to your dog? Let's find out!
First, Can Dogs Eat Carrots?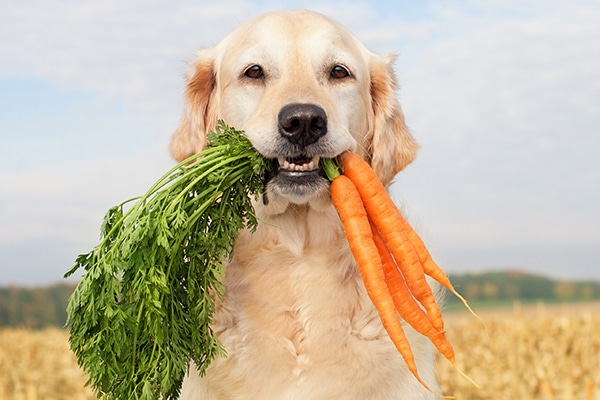 The short answer to "Can dogs eat carrots?" is good news. The better news is that not only can dogs eat carrots, but carrots are actually very healthy for dogs. Experts everywhere say carrots are amazing, healthy snacks for our canine friends. Dr. Evan Antin of Conejo Valley Veterinary Hospital in Thousand Oaks, California, agrees. "Carrots are great," he says. "I feed them to my [dog] Henry every day! They offer a low-calorie source of extra food for hungry dogs, are high in fiber and also help to slow down the progression of dental disease."
Let's examine some specifics about carrots for dogs next.
Can Dogs Eat Carrots for Health Benefits?
Now that we've answered, "Can dogs eat carrots?" let's look at some of the benefits for dogs eating carrots. Carrots for dogs are a great source of fiber, antioxidants and vitamin A. While everything in carrots is great, vitamin A is crucial in maintaining overall health, for both dogs and humans. For dogs, vitamin A is essential for bone growth, reproduction, cellular differentiation and a good immune response. That's according to the study "Safety evaluation of vitamin A in growing dogs," published in the British Journal of Nutrition.
Carrots are also great for keeping a dog's eyes healthy and his vision sharp. According to the Dogster article, 7 Foods That Will Naturally Support Your Dog's Vision, when your dog eats carrots, he's "getting a serious boost of beta-carotene, potassium, niacin, calcium, phosphorus, magnesium, and vitamins A, B, C, D, E and K. Better yet, carrots are loaded with lycopene and lutein — essential phytonutrients that may help protect eyes from free-radical damage and UVB radiation."
Can Dogs Eat Carrots for Better Dental Health?
Veterinarians recommend you brush your dog's teeth daily, but that isn't always easy for pet parents to do. Some dogs just don't want their teeth touched, so experts recommend you try to brush your dog's teeth at least once or week, or a minimum of once a month.
However, when you can't brush your dog's teeth, carrots will help polish your dog's pearly whites and combat plaque build-up. As author Julia Szabo writes in the Dogster article, A Dog Dental Care Guide for Lazy Pet Owners, "If your dog will eat veggies (I'm lucky; my health-nut hounds love munching out on veggies), by all means hand out treats of raw or lightly steamed carrots."
On the plus side, while your dog is chewing on carrots and cleaning his teeth, he's also eating a food that helps his teeth stay healthy from the inside, too.
Can Dogs Eat Carrots As Treats?
It's so easy to overdo it on giving out treats to your dog. In fact, you only have to look at the stats. The Association of Pet Obesity Prevention 2016 clinical survey found that 53.9 percent of dogs are overweight or obese. With that extra weight comes a greater risk that your dog will develop certain diseases, such as diabetes or respiratory problems.
That's why it's refreshing that your dog can eat carrots as a low-fat alternative to regular dog treats.
How to Feed Carrots to Your Dog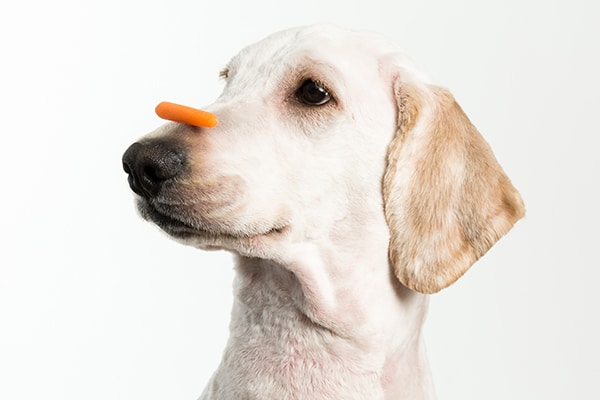 Now that we've established some guidelines and answers for "Can dogs eat carrots?" let's look at how to feed your dog carrots. How you feed carrots to your dog largely depends on your dog's breed and your own personal preferences. For smaller dogs, you'll want to give them sliced or baby carrots, so they can break the carrots apart easily without choking on them. I usually give whole carrots to my German Shepherd Dogs, which they break apart in pieces or wrap their paws around to chew on, like sticks.
Can dogs eat carrots that are cooked or raw? That depends. Dr. Antin recommends feeding raw, peeled carrots to dogs, while other experts recommend feeding cooked carrots so your dog is able to get properly digest the nutrition from them. Studies have shown that humans who eat cooked, pureed carrots better absorb beta-carotene, the precursor of vitamin A.
Tell us: Does your dog like carrots? How does he eat them?
Find out more answers to your "Can dogs eat…" questions on Dogster.com:
Can dogs eat …
---
Featured Image Credit: Helen Hotson / Shutterstock.