What the heck is going on in the Coke advertising division? After years, decades, nearly centuries of feeding us middle-of-the road advertisements about cola, it went ahead and did this. It made a funny, witty video — you can even call it sly — hawking something called a Social Media Guard, which is designed to cure our addiction to constantly looking at our little rectangles all day long. 
Watch this funny video: 
What, you don't think that's funny, Reddit? You need to relax and have a Coke. This is funny. This is a clever, witty commercial thing from a company that does not do clever and witty. It does cola. It does not do sly. It does puppies and football and hugs and love and children and grandparents. And horses.
Of course, we think it's particularly funny because it puts the cone of shame on people. We're Dogster. The cone of shame is high on our list of funny things, like, at the top.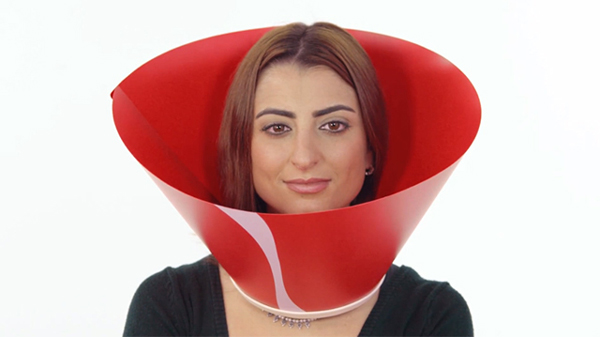 Our social media manager, Liz Acosta, thought this was so funny she sent it to the news desk — there's a joke in there somewhere. She clearly has not been wearing her Social Media Guard.
Ha!
What's also interesting is that nobody even knows whether this fake thing is really fake or not. All the articles say "presumably fake." Given all the buzz this is receiving, don't be surprised if you see a real one pop up soon. 
Do you think this is funny? Why or why not? Would you wear one? Would you wear one that was made by Pepsi? Bubble Up? Explain. 
Check out these adorable stories on Dogster: