Tragedies happen every day. However, we usually don't suspect they will happen to the animals we love. Even worse is when you are faced with a difficult decision after the fact. That's what happened to Pepe the Pug. He was struck with an accident that left him paralyzed for life. Looking at him though, he couldn't be happier.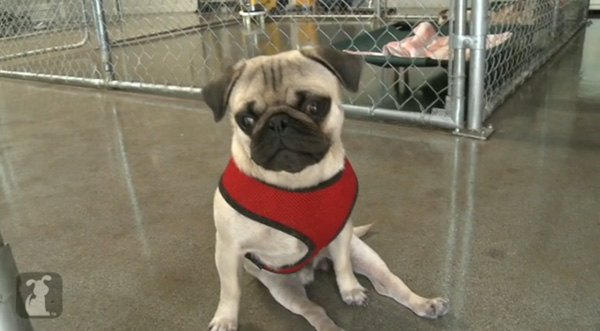 Pepe was only a puppy when a family got him. They loved their new puppy so much. One day, Pepe was playing on the staircase and a family member did not see him. Pepe got stepped on. It was a complete accident, but it was too late. Pepe was so small that his spine was completely crushed. Pepe would be paralyzed for life. The family did not know what to do. They loved Pepe, but knew they could not properly care for a special needs dog. They considered putting him down, and that's when Pug Nation stepped in. 
The family relinquished Pepe to Gwenn, owner and founder of Pug Nation, who promised to do what they could for poor Pepe. Unsure if Pepe would ever have feeling in his back legs — let alone walk — again, she fostered him. On Christmas morning, she was massaging his back legs when he suddenly kicked. She knew then that she would do whatever it took to get Pepe back on his feet.
With some therapy and rehabilitation work, Pepe began his recovery. Megan took on fostering Pepe when Gwenn needed the extra help. Within a month, Megan knew no one else would ever love Pepe as much as she did, so she officially adopted him. Today, Pepe is still a puppy full of energy and has never allowed his disability slow him down. He's the most playful, energetic and wild dog in the bunch at Pug Nation, and flies around faster than ever before with his own set of wheels helping him get around.
Pepe is an inspiration to anyone to never give up on life. 
To learn more or to donate to Pug Nation click here.
Do you have a Tail of Hope or Survival? We'd love to hear it! Visit us at thepetcollective.tv and tell us your story! Visit The Pet Collective Website for more amazing Tails of Hope!