The perfect puppy has captured your heart — the companion you dream of sharing everything with from puppyhood to adulthood to seniorhood. The single most important next step after introducing her to her forever home? Finding a veterinarian you trust who can guide you through all your pup's life stages and ensure optimum health through all of them, starting with the visits, vaccinations and more during that first critical year.
Appropriate standard of care means you will be taking your pup to the clinic every three to four weeks from 6 weeks to 4 months of age for immunizations, boosters, parasiticides and more. Repeatedly visiting the clinic over several months for vaccinations, and then for boosters or titers throughout your dog's life may seem inconvenient, but the diseases that vaccinations shield pets from are potentially deadly yet, thankfully, largely preventable.
Your new puppy may come with documentation of up-to-date shots. However, within a few days of her arrival home, take her to your veterinarian for a full physical, blood and fecal tests, and to determine a vaccination schedule and begin a clinical record.
1. Vaccination schedule
Mother dogs give their pups natural immunity. However, between 6 and 8 weeks of age, that immunity wears off, which is why puppy shots begin around this time. No single vaccination schedule applies to all pups; geographic location, your pet's individual risk and other factors play a part. Some dogs do not need every vaccine; your veterinarian should discuss your pup's individual schedule at each visit.
"Each dog is an individual with unique needs," says Ernie Ward, DVM. "We tailor those vaccines, those individual needs to each individual dog rather than the group 'dog.'"
According to the American Veterinary Medical Association (AVMA) and the American Kennel Club (AKC), the current puppy vaccination schedule guidelines for the first year are:
6 to 8 weeks: distemper, measles, parainfluenza
10 to 12 weeks: DHPP (distemper, adenovirus [hepatitis], parainfluenza and parvovirus)
12 to 24 weeks: Rabies
14 to 16 weeks: DHPP
12 to 16 months: Rabies, DHPP
"The biggest mistake new owners make is that they don't complete the vaccination series," Dr. Ward says. "They go in and get that first vaccine and not booster, and now the dog has no long-term protection."
2. Heartworm and ectoparasites
Puppies should start on heartworm prophylaxis no later than 8 weeks of age, according to the American Heartworm Society. Demodectic mange, caused by intestinal worms possibly passed in utero or through mother's milk, is very common with puppies.
Shots for roundworms and heartworms aren't part of the AVMA's core vaccinations, but deworming has become a veterinary care staple. Also, preventing flea and tick infestations is far easier than treating them. Your veterinarian can offer topical products that are safe for puppies 8 weeks and older.
3. Spay/Neuter
Depending on the breed and your puppy's health, spay and neuter can be done as early as 8 weeks. Consult with your veterinarian.
4. Diet and weight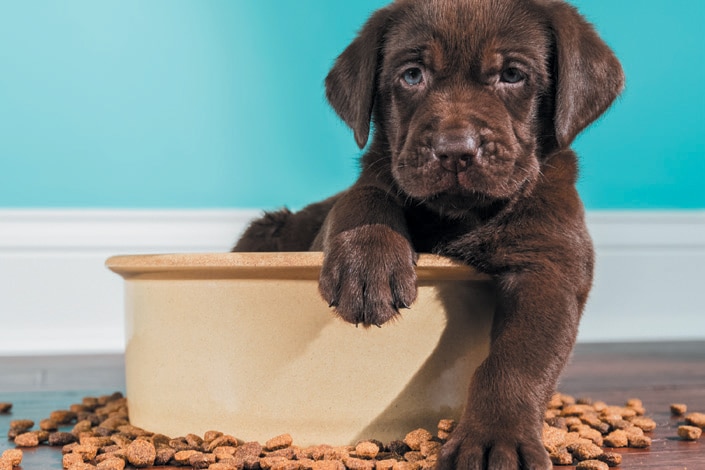 Your vet will check if your pup's weight is healthy. If she needs nutritional support, your vet will prescribe a quality food tailored specifically to your growing puppy.
5. Future plans
Additional appointments can range from planned to unplanned, as your puppy may develop health issues other than those your vet discussed with you during the first visit.
Typically, a puppy's vet visit calendar includes wellness exams. These routine medical checkups help keep your puppy in tip-top health. Your vet will observe gait and balance, alertness, body weight and condition, skin and coat, eye and ear health, oral health, heart rate, lung function, lymph nodes, the abdomen and neurologic health.
A three-way relationship
"Veterinarians do so much more than vaccinate," says Ernie Ward, DVM. "You have to build a trusting bond. Regardless of how healthy your puppy is today, she will need a vet at some point — she'll eat something she shouldn't have, get an infection, etc. — if you don't establish that relationship from Day One, you will be forced into a crisis and you won't have any choice.
You want to be able to say, 'I have a vet I can turn to in crisis and trust that professional.' We want the pet-owner-veterinarian relationship to be a richer experience that includes open-minded, shared conversations between pet owner and veterinarian."
Thumbnail: Photography ©SerhiiBobyk | Getty Images.
Editor's note: This article appeared in Puppies, a special issue from Dogster magazine. Look for Puppies on a newsstand near you!
About the author
Ellyce Rothrock enjoys huge daily doses of oxytocin, thanks to Fritz and Mina, her German Shepherd Dog rescues. She's lucky enough to live her passion for dogs as a 25-year member of the pet media industry.
Read more about puppies on Dogster.com