Kisha Curtis, the New Jersey woman who was accused of abandoning her dog and leaving him to die of starvation in 2011, escaped jail time and was sentenced to probation and a fine, the Huffington Post reported.
Patrick the Pit Bull was found wrapped in a plastic bag at the bottom of a 22-story trash chute by a maintenance worker. He was barely able to move and weighed only 19 pounds. His rescuers named him Patrick because he was found the day before St. Patrick's Day. Patrick was nursed back to health and Dogster covered his miraculous recovery here.
We don't really know who the bonehead here is — Curtis, or the judge who sentenced her. We guess they'll have to share the distinction.
Any dog lover who heard about Patrick's sad story was outraged (we were!), and his plight spurred "The Patrick Movement" and a push for stricter punishments for animal abusers.
Curtis had been charged with "torture and torment of a living creature" in 2011, according to Fox News. Curtis denied the charges, but earlier this month, pleaded guilty to fourth-degree animal cruelty.

Essex County Superior Court Judge Joseph Cassini sentenced Curtis to 18 months probation and ordered that she pass her high school equivalency exam. She was also ordered to pay a $2,000 fine to cover the cost of an investigation led by the New Jersey Society for the Prevention of Cruelty to Animals.
Cassini said he'd received "hundreds and hundreds" of letters and emails from people urging jail time for Curtis. Some even urged Cassini to give her the death penalty. But NJ.com reported the judge urged animal advocates to weigh her crime against that of a Newark cop killer whose case was also on the docket that day.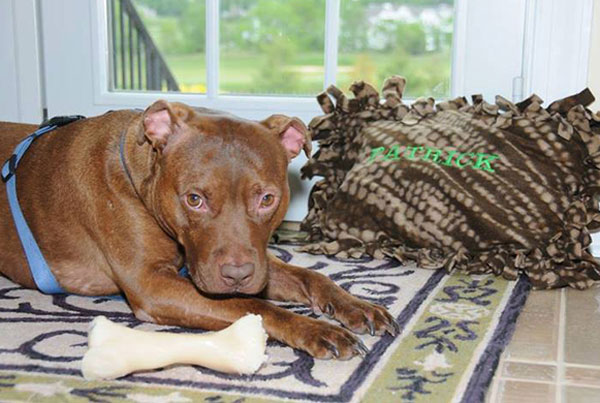 Comments on Patrick's Facebook Page ranged from outrage to disgust at the leniency of the sentence. But New Jersey animal lovers achieved a victory three weeks ago , according to NJ.com, when Gov. Chris Christie signed "Patrick's Law," into effect, which increases penalties for animal abusers. Under the new law, anyone who fails to provide an animal with food, water, or other necessities would face a $3,000 fine (an increase from $1,000) for a first offense, and between $3,000 and $5,000 for a second offense.
Cassini granted official custody of Patrick to Patricia Smillie-Scavelli, a hospital administrator at Garden State Veterinary Specialists. There had been a bitter custody battle, as reported by Examiner.com, between the Associated Humane Societies and Garden State Veterinary Specialists, the groups who nursed Patrick back to health, and the City of Newark.
Patrick is now a healthy 51-pounds and reportedly enjoys playing tug of war before collapsing on the laps of members of his new family.
Via Huffington Post, NJ.com, Fox News and News 12 New Jersey; photos via the Patrick Miracle Facebook page unless otherwise noted.