When you live in place that feels like a freezer, those little digital snowflakes falling over your phone's weather widget can be a depressing sight. Looking out the window to see real ones can be even worse — especially when they are falling on a dog left out in the cold. So what can we do when we witness someone else's pet shivering against winter weather? A lot, actually.
1. Build a rapport with the dog's owner
Darlene Grady-Lunn is the founder of Marley's Hope Dog Rescue in Halifax, Nova Scotia. Over the years, she has helped many chilly dogs by starting judgement-free conversations with their humans.
"Nobody's going to listen to you if you go in wagging your finger," she explains.
She says many people who keep their dogs outside do so because that's how their family has always done it. The best way to introduce people to a different way of living with dogs is to present solutions without criticizing or making demands. Offering extra dog food or a warm dog house builds trust in the long-term while reducing immediate harm.
"We never would advocate for a dog to be tethered and left outside in a dog house," says Grady-Lunn. "But, we recognize that people are going to leave their dogs out whether we agree or not, and you get a lot more bees with honey than you do with vinegar."
Update: Also keep in mind that a dog living outdoors in a rural area may be a livestock guardian. These are breeds built for the cold, and they often have shelter you may not see with their charges.
2. Leave a note
Officer B. Grey of the Edmonton Humane Society agrees that conversations can help, but says in situations where knocking on a door would be uncomfortable or unsafe, there are other options. Dropping off some written information, like the PDF version of the Edmonton Humane Society's winter safety guidelines, is one way to communicate cold weather tips a person kenneling their dog outdoors may not know.
"Even just leaving this pamphlet in a mailbox does lead to changes because it lets that owner know that somebody is watching," Officer Grey explains.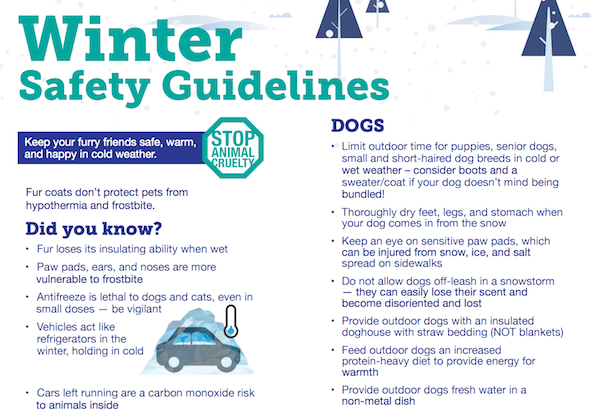 3. Call your local animal control department
When a dog is in immediate danger, obviously a pamphlet isn't enough — it's time to call Animal Control.
Let local authorities know the address, whether or not it looks like any people are home, and what the dog has access to in terms of shelter, food, and water.
Officer Grey says it's important to have as much information as possible before calling, as authorities are often overwhelmed with calls about cold dogs during extreme weather and must prioritize cases based on immediate need.
"A lot of individuals think if a dog is barking that they're automatically in distress, but dogs vocalize for so many different reasons."
Grey suggests people look for more specific physical symptoms like shaking and repeatedly lifting paws high off the ground.
"They'll also be licking or biting at their feet trying to get the snow off," she explains.
It's important to look for these symptoms because in many jurisdictions, there is nothing inherently illegal about leaving your dog outdoors, but there are usually laws relating to providing adequate shelter from cold and heat.
4. Build a shelter for the dog
Sometimes, what a dog's human believes is adequate shelter quite simply isn't. Plywood boxes and plastic domes are unfortunately as ineffective as they are inexpensive. Luckily, if you can swing a hammer, you can help keep a dog warm.
In the last year, Grady-Lunn and the team at Marley's Hope Dog Rescue have built about 20 houses for dogs who would might have otherwise spent the winter in a box, or under a tree or porch. She estimates a better dog house costs about $91 to build, but they are priceless to the dogs and include the following:
A roof that opens from the top for easy cleaning
Double-insulated, weatherproof walls
Proper ventilation
An entrance on the side, away from the sleeping area
A canvas curtain to keep the wind out
No blankets, but rather clean, straw bedding
Check out these downloadable free plans for building a doghouse from the Ontario Humane Society.
5. Be persistent
It can be hard to walk or drive past a cold dog each day — especially in cases where the people responsible for the dog aren't technically breaking the law. Grady-Lunn of Marley's Hope knows this helpless feeling first hand, but offers some advice to anyone worried about a dog in their community:
"You might be the only person who sees that dog, or who can be a voice for that dog, so just don't give up."