They called him "half a Bulldog," but Bonsai was truly the whole package. As sweet as he was rambunctious, his personality wasn't stunted by the condition that made him famously compact.
Unfortunately, his little body just couldn't hold so much greatness, and Bonsai's fans are now mourning his loss.
Born in April 2015, Bonsai became an internet celebrity by June of that year as pictures of the English Bulldog puppy spread online. As Dogster reported at the time, little Bonsai was born with an incomplete spine, no functional pelvis, and malformed rear legs. The rare condition is called sacral agenesis and resulted in the bilateral amputation of Bonsai's unusable rear legs.
Bonsai got the extensive medical help he needed thanks to Friends of Emma, a Texas-based private rescue home known for caring for medically compromised dogs. Elizabeth Hart, the founder of Friends of Emma, became Bonsai's personal caregiver after he was surrendered to the rescue by a breeder from Arkansas. He was just 3 weeks old.
Hart quickly fell in love with Bonsai, and thanks to social media, the rest of the world did, too. As the pup grew so did his following. Described by Hart as strong-willed, curious, and always looking for adventure, Bonsai's adorable personality kept fans entertained while educating folks about his rare condition, which also impacts humans.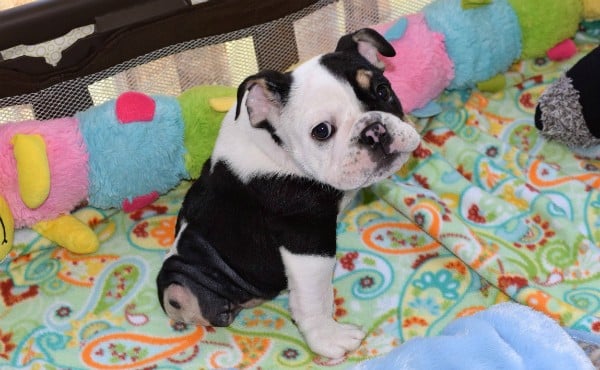 In the summer of 2015, Bonsai became the official mascot of iSACRA, (the International Sacral Agenesis / Caudal Regression Association). His participation increased awareness of the challenges faced by human families dealing with sacral agenesis. Life following such a serious diagnosis can be scary, but Bonsai helped kids who shared his condition realize they were not alone. He may not have been able to hug each one in person, but stuffed animals made in his image provided plenty of comfort.
After 16 months in this world, Bonsai died in his sleep in the early morning hours of Friday, Sept. 2, 2016. According to Hart, it's believed he suffered a lethal cardiac incident.
"Though we've always been aware that Bonsai may not live a long life due to his rare combined conditions – he hadn't been sick," Hart wrote on Bonsai's Facebook page. "There was no warning – and we are still shocked at the sudden happenings."
Bonsai is gone, but as Hart notes in a Facebook post about his passing, the dog's impact will live on. Friends of Emma continues to provide major medical, critical care, and hospice to other pets in need.
"Bonsai's life was not in vain – his brilliant spirit will shine on in all of us," Hart wrote.