I've been a follower of Original Bully Clothing Company on Instagram for a few years, and I wanted to learn more about the Portland, Oregon-based company. I did exactly that in a recent interview with founders Amy and Dwight!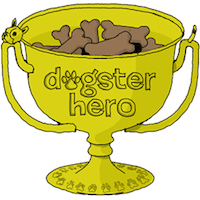 Kezia Willingham for Dogster: I'm curious to learn how the company got started. Where did the idea/inspiration come from?
Amy and Dwight: We are both bully breed owners and lovers who actually met through an online Pit Bull forum more than eight years ago!
We love fashion, but there wasn't an apparel line on the market that represented our passion for our bully-breed dogs, so we set out on a mission to make something better — a quality product that properly represented bully breeds and their owners, and one that generated pride of ownership and sparked advocacy.
We spent hours compiling slogans, drawings, and funny quotes about our lives with our nine dogs into a notebook, eventually making some digital mockups. Eventually our first website was up. Within moments, our very first order was placed — a stranger all the way from Italy!
We have created jobs and have been able to raise and donate several thousand dollars to rescue and advocacy organizations. We're so humbled that our bully brainchild has been able to come so far and excited to be a part of this amazing journey to bring awareness to both bully breeds and those who advocate for them.
Tell us about your dogs.
Currently we have seven amazing elder Pit Bulls ranging from 8 to 11 years old. Our pack, lovingly referred to as "The Bully Bunch," was originally made up of nine fixed bully breeds. While not all of our dogs are rescues, we believe they [all] certainly rescued us. They inspire us to advocate wholeheartedly for a heightened quality of life for all dogs, no matter their origin. However, when the time comes to add a new pack member, we absolutely plan to foster and/or adopt.
Do you have suggestions for those dreaming about starting their own small business?
Doing what you love and loving what you do is critical when setting off on a new venture. When you find something that you're passionate about, don't let the opportunity slip by to pursue your dreams. Never be afraid to fail, but always be willing to try again. Have an open mind, be willing to adapt, and remember to always provide your customers the level of service and quality of products you expect to receive yourself.
I understand that Original Bully donates to rescues. How do you determine which groups to support?
Original Bully was developed as a for-profit company, to be philanthropic in nature, committing funds, time, and resources to carefully selected active 501(c)3 nonprofit organizations working to advocate for dogs, particularly bully breeds, as well as those who love and care for them.
We have chosen specific charities because they focus on issues that have an impact on the overall community as well as actively work to end breed discrimination. Each of them has an active community network and has demonstrated an ability to appropriate the resources and funds we contribute (on behalf of our customers) solely to the benefit of those they serve.
Currently Original Bully volunteers time and consultation to West Columbia Gorge Humane Society, as well as funds and resources to Chase Away K9 Cancer, Pinups For Pitbulls Inc., ColoRADogs, BADRAP, and Balanced Bullies Rescue & Rehab.
How influential is social media in your mission?
We have a cumulative (organic) audience of over 200,000 participants just between Facebook and Instagram. We find that in addition to networking dogs in need, or bringing awareness to an event or promotion we may be attending, social media allows us to connect directly with our customers, provide real-time customer support, follow industry trends, as well as network with like-minded lifestyle brands and organizations to further reinforce the bully breed lifestyle.
It also allows us to show the softer side of our brand by sharing personal situations impacting our own family (i.e., [our dog] Kenai's osteosarcoma diagnosis) and interacting with our customers on a personal level, simply as bully breed lovers.
Are you involved in any advocacy collaborations that you'd like to talk about?
We love to partner with other brands and organizations actively working to advocate on behalf of bully breed type dogs!
Most recently, we've partnered with some fantastic bully friendly organizations and media sources including Inked Magazine, My Pit Bull Is Family, Pinups For Pit Bulls Inc., and The Portland Pit Bull Parade/Portland Pit Bull Project, to name just a few.
Do you ever get feedback from customers regarding conversations that their Original Bully clothing may have started?
Absolutely, all the time. One of our favorite customer experiences was a shelter manager that wore his Pack of Haters hoodie in town during a day off, and a conversation with a family fearful of bully breed-type dogs was sparked. Later that week, the same family came to the shelter, met the available dogs for adoption, and decided to adopt a bully breed of their very own!
Another memorable moment was when several customers wore their Legalize Bully tees to a court hearing in Booneville, Missouri, which was to determine whether or not their town would repeal their breed bans. We received an amazing group photo on the courthouse steps, after the judge ruled that the breed bans would be repealed, celebrating their victory in their Original Bully gear!
Are there any Pit Bull advocacy messages or strategies that you think are particularly helpful in opening people's minds?
There are so many, but what comes to mind is the well known quote by Gandhi: "Be the change you wish to see in the world." And, of course, our Original Bully motto, "In Bully We Trust." The truth is, you will never see eye to eye with everybody, but when the focus stays on the dogs, our differences should not matter.
It seems like I read a number of articles in the Oregonian last year about Pit Bull attacks. Do you see prejudice toward bully breeds in general?
Despite the fearmongering spread by the Oregonian (and other media sources) we've found that the majority of the population here in the Pacific Northwest has been very supportive of bully breeds.
It is our responsibility to create change by generating positive media and by electing officials into office that stand by ending breed-discriminatory legislation. By being responsible advocates and pet owners, paired with educating ourselves on the issues facing bully breed-type dogs and their owners, we can make a world of difference.
As you can see, Original Bully is more than just a clothing company, it is an organization committed to promoting awareness and education of bully breeds and their owners. You can find Original Bully online on Facebook, Instagram, Twitter, and on its website. Its first brick-and-mortar store will open up in Portland, Oregon, in the next fews months. I can't wait to check it out!
Read more interviews on Dogster:
About Kezia Willingham: Also known as the Breadwinning Laundry Queen, Kezia is a regular contributor to Catster and Dogster. She works for an urban Head Start program by day and as a freelance writer late at night and early in the morning. She lives with family, which includes a pack of rescued cats and dogs, in Seattle. You can follow her on Twitter @KeziaWillingham.