Some breed names, such as the German Shepherd Dog, the Portuguese Water Dog, and the Polish Lowland Sheepdog, nod to their country of origin. Other names, such as the Silky Terrier or Wirehaired Vizsla, refer to the dog's appearance. But mankind's development of breeds seems largely a group effort; only a handful of dog breeds are named after specific humans. Let's hear from a spaniel, a terrier, a setter, a hound, and a working dog. They're ready to spill the beans on Misters Plott, Gordon, Boykin, Russell, and Dobermann. But wait, where are the women?

My story actually starts with 16-year-old German immigrant, Johannes George Plott, who left Heidelberg, Germany, for the states. Plott brought his hounds with him, developing my ancestors into his own North Carolina mountain dog. Johannes' son Henry continued to raise hunting hounds, breeding for stamina, bravery, and alertness. My forefathers were experts searching for bears, coyotes, wolves, and wildcats. Neighbors frequently asked Henry to bring his hounds to help with wildlife preying on their livestock. With such a colorful and courageous working history, it's no wonder we're now the state dog of North Carolina.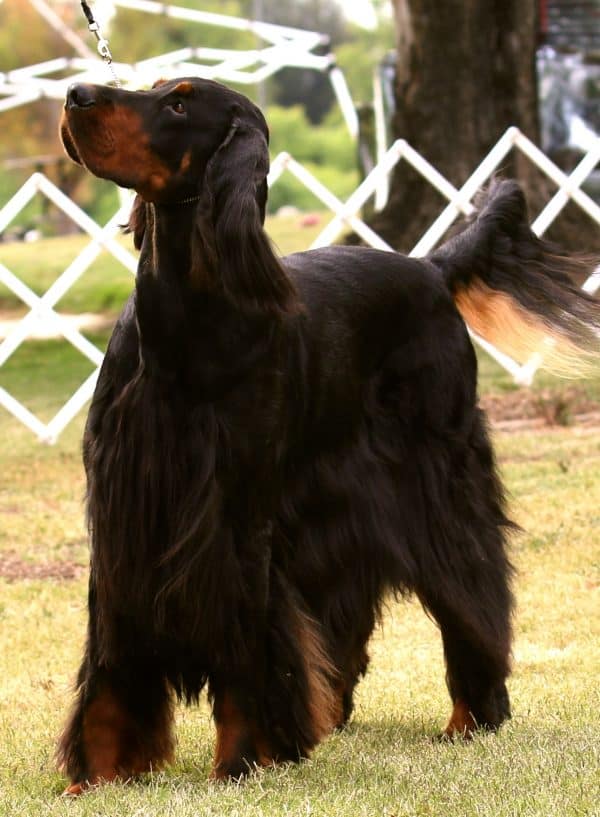 The Setter in my name refers to my distinctive stance when I spy quarry. The "Gordon" in my name refers to the 4th Duke of Gordon (Alexander Gordon), otherwise known as the Cock o' the North. Although my black and tan ancestors pre-date Gordon, he's nonetheless credited with officially establishing my breed in Scotland in the early 19th century. Gordon, who became a Duke at the tender age of 9, bred his bird dogs for pursuing pheasant and quail. The Duke developed us to enjoy human friendship in the field and at home. And since Gordon had a beautiful wife, a mistress, and half a dozen children, his Gordons weren't likely deprived of companionship!
We were developed in South Carolina by Whit Boykin at Pine Grove Plantation. Boykin was a planter, land appraiser, and recognized sportsman. He bred my line of multipurpose hunting dogs from a stray (named Dumpy) and likely Chesapeake Bay Retrievers, English Springer Spaniels, Cocker Spaniels, and American Water Spaniels. We were developed with brown coats to offer camouflage, and we soon became renowned turkey hunters in the swamps. Boykin bred us energetic, small and compact, fitting easily in boats for Wateree hunting trips. In time we became known as the breed that wouldn't rock the boat. We're also renowned for our exceptional friendliness. We won't rock the boat in the family dynamic either; we're a biddable breed, more inclined to smile than scowl.
I'll take a short break from agility, fly-ball, earth dog competitions, and my all-around busy schedule to tell you about Rev. John Russell. For after all, I'm the Sporting Parson's namesake! Russell, an avid hunter, lived in England back in the mid-19th century. He was the vicar at St James Church for some 40 years. Parishioners rarely had to listen to long sermons, for the Reverend wouldn't tarry in the pulpit when his horse was saddled for Sunday's hunt. Russell apparently got his first fox terrier from his milkman when he was a student at Oxford. He bred tenacious, energetic terriers for flushing out fox, and we soon became known as Parson Russell Terriers. Keep in mind that although I was developed by a churchman, I'm inclined to seek out adventure and trouble. See ya!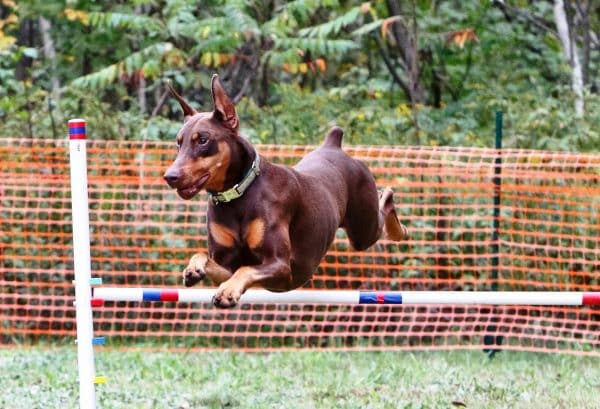 I was named after Friedrich Louis Dobermann, a late 19th century German tax collector beleaguered by thieves and perhaps annoyed tax-payers. Dobermann wanted to develop a well-rounded, strong, large but not huge breed for protection and companionship. Because he was also a dog warden, Dobermann had access to a many stray dogs in his breeding program. He also selected specific breeds to use, such as the German Pinscher. Now Otto Goellar is usually credited with our breed's official establishment, but we were already called Dobermanns (the second "N" got dropped along the way) by then. Perhaps Otto Goellar's work explains why many of us are named Otto.