What would our dogs say if they had the literacy and dexterity necessary to author Valentine's Day cards? Paws aren't meant to hold pens, but if they could, they'd be scribbling one of these heartfelt declarations of hound dog love.
1. This poetic spelling lesson
A note from a dog who is too cool for school but never too cool for you
You can't spell "Valentine" without "canine."
Well, I guess you don't need the "C,"
But you can't spend Valentine's Day without me.
XOXO, your dog
2. A card about interspecies sibling rivalry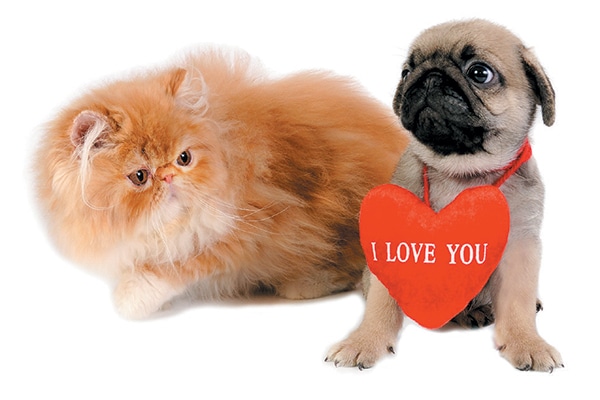 You have your dog's heart, but the cat sure doesn't.
Dearest human,
I'm not kitten around,
I love you more than that cat does.
Love, your dog
P.S. I would never shame you by pooping in an indoor box (gross). Remember that.
3. This grocery list disguised as a love letter
Dog lovers know it's always better to bring home food than flowers.
It's Valentine's Day, and you make my heart whole,
But we are almost out of food for my bowl.
Seriously, please go to the pet store on your way home,
or I will have to break our agreement about staying off the counter.
Always (hungry), your dog
4. Another declaration of love for food
Some dogs are food motivated. Others are food obsessed. We love them anyway, and this card proves they love us.
I love you to (kibbles and) bits …
Ooh, can I have some kibble?
Or that leftover chicken from last night?
Or maybe some fancy wet food?
Why am I writing this card again?
Oh yeah, I love you.
Happy Valentine's Day, human!
Let's celebrate over dinner.
5. Pup's guide to romantic language
This one's a love letter from a well-versed canine poet.
Don't chew toy with my emotions,
I'm howling to know,
If you'll be the loving human,
To my perro romántico.
Yours, the dog
6. A personal ad success story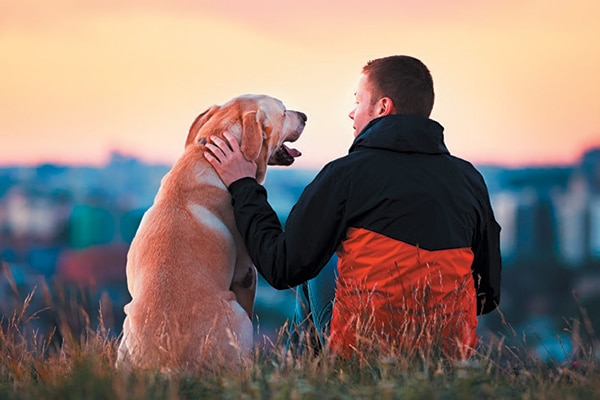 As anyone who's tried online dating knows, it's hard to find a match who shares your interests. This dog is amazed his rescue profile worked so well.
I still can't believe I found a human who loves sunsets and long walks on the leash as much as I do.
Love, your lucky dog
7. From the dog who loves the mirror, too
Some dogs really love their humans. Some really love themselves. This dog loves both.
To my perfect match,
A beauty as fetching as yours is equal only to my Dachshund good looks.
Love, your handsome boy
8. Even dogs know love can be messy (and muddy)
Life with a dog is equal parts love and laundry.
Metaphorically speaking, your fingerprints are all over my heart …
And if we're being literal, my pawprints are all over your side of the bed. Sorry.
Love always, your dog
9. A canine twist on a classic
Even dogs reference this famous cartoon card.
I chew chew chews you (and sometimes socks),
Because I love you more than Ralph loves Lisa,
Now let's go for a walk.
Hugs and licks, your pup
We've said it before here at Dogster: Dogs really do make the best Valentine's Day dates. The lack of thumbs (and language) means you're not going to find a card from your dog when you get home on the 14th, but you will find your best friend waiting by the door for you. That kind of love is worth more than every Valentine's card in the drugstore.
Thumbnail: Photography ©vvvita | Thinkstock.
Heather Marcoux is a freelance writer whose heart belongs to her two canine Valentines, GhostBuster and Marshmallow. Her two cats help the dogs spread the love on Instagram, where the foursome are known as the @ghostpets. If you'd rather feel the love on Twitter, @HeatherMarcoux can be found hearting tweets there as well.
Editor's note: This article appeared in Dogster magazine. Have you seen the new Dogster print magazine in stores? Or in the waiting room of your vet's office? Subscribe now to get Dogster magazine delivered straight to you!
Read more about celebrating Valentine's Day with your dog on Dogster.com: