"Warning: Timbuk2 is not responsible for excessive high fiving or pooch petting that may result from use of this product."
I chuckled when I read the cheesy closing line on the Muttmover Backpack's webpage. Sure, I've been a fan of Timbuk2 since I moved to San Francisco a decade ago, noting how this local brand adorns the backs of many of my fellow urban commuters. But I didn't think Ace and I would actually get that much attention. I mean, it's just a backpack for your dog.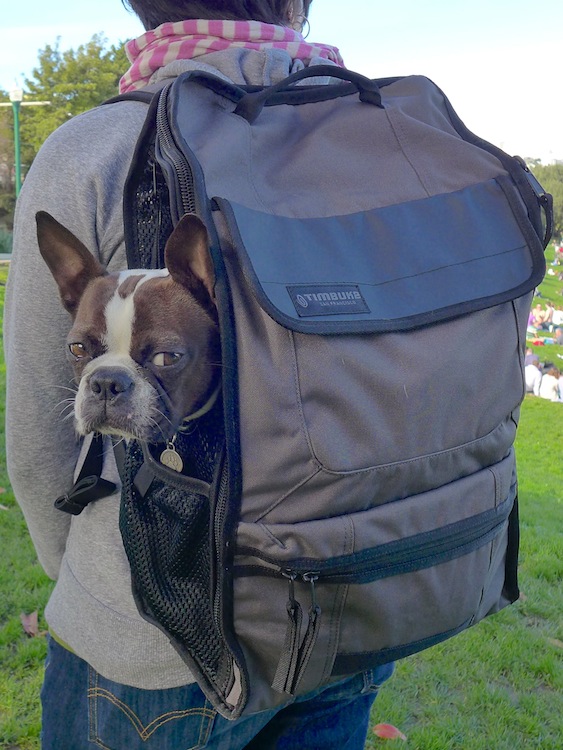 What I didn't count on was the element of surprise. The Muttmover is a really good-looking backpack on its own merit. When Ace and I were testing the Muttmover out while riding public transit, I noticed people casually checking out the bag for a few moments before it hit them that the most adorable dog head they had ever seen was unexpectedly poking out of the side. While I received zero high fives, Ace received even more adoration than usual.
Let's back up: The Muttmover Backpack ($90) is designed specifically to carry a dog 20 pounds or lighter. It recently received a tune-up from Timbuk2, including a waterproof lining that can be wiped clean, a more stable construction, and the ability to unzip the front panel flat for your dog's easy entry. The sides of the Muttmover are made of sturdy mesh, and each wall has a zippered opening at staggered heights so small dogs of all sizes can stick their heads out during their rides.
I was overjoyed to try the Muttmover because Ace and I spend a fair amount of time on public transit. At 15 pounds, she is too big to hide in a large purse, so I either carry her (which is tiring) or I put her in her Sherpa Original Deluxe carrier (great for airplanes, cumbersome for buses).
I noticed that Timbuk2's photos of the Muttmover were taken in San Francisco's Dolores Park, so Ace and I hopped on the train to give the Muttmover a thorough testing in the same scenic location.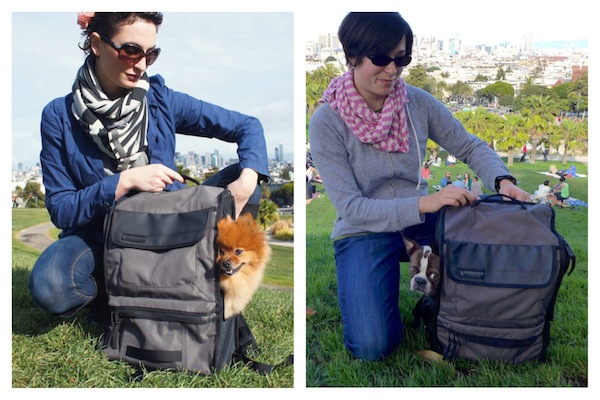 The Muttmover comes in only one color ("weathered canvas gunmetal," known to most of us as "gray"). Fortunately, it's a good color, but I'd love to see it available in some of the great fabrics that help make Timbuk2 bags so recognizable and unique.
The Muttmover has a large flap pocket above a smaller zipper pocket. I fit a leash, poop bags, a bag of treats, and my sunglasses in the pockets with ease. I would prefer a bit more room, perhaps enough for a small-sized Chuckit, but given the main cargo is the dog, I think the Muttmover adequately stores other items.
Getting Ace to go into the Muttmover has been a minor challenge, and we are still working on it using positive reinforcement. I appreciate that the front of the bag zips almost flat, with the intention of allowing the dog to walk into the bag to be zipped up.
This might work for some dogs, but so far Ace is not having any of that. It is difficult to get her to sit in the exact correct part of the bag to allow me to zip her in. Instead, I've been zipping each side halfway and then lowering her into the bag. To teach her to put her head through the opening on the side, I lure her using a treat. Smaller small dogs might find this process easier.
Wearing the Muttmover was more comfortable than I expected. I like the way the bag is constructed, especially the wide straps. The sternum strap is in a good location and really helped me manage the weight of full pack. I felt the Muttmover was secure. I even tripped going up some subway stairs (typical of me), and the bag shifted minimally. Although bulky with Ace's weight, the handle on top helped me get the Muttmover on my back, especially with a little practice.
If I were designing the next generation Muttmover, I would make a few minor improvements. The depth of the bag is about six inches (16 cm), which is juuust wide enough for Ace; I would increase the depth an inch or two. Another small design drawback is that the bottle holder is on only one side of the bag, so if you are using the taller opening, your dog's head is vying for space with the bottle. I would prefer a bottle holder on both sides, or maybe creating different versions of the bag for small-small and larger-small dogs. Also, Ace had trouble getting traction on the vinyl-like coating of the bag because she was standing in the pack rather than sitting. Next time I'm going to put a small towel in there to make her more comfortable, but I'd love to see some kind of grippy material lining the Muttmover 3.0.
Overall, I am an enthusiastic fan of the Muttmover. Active people using public transit certainly would benefit from this bag, but I imagine others would too. I think people and dogs traveling by bicycle, or people with small dogs with mobility challenges, might consider taking the Muttmover for a spin. But a warning: Be prepared for people to respond to your dog with surprise and delight. Ace and I are not responsible.
Dogster Scorecard for the Muttmover Backpack by Timbuk2
Quality: As I've come to expect from Timbuk2, the Muttmover is built to last.
Style: You would never know this backpack was made for mutts. I'd love to see some additional color options besides gray.
Function: The Muttmover is relatively comfortable, stable, and holds your dog securely. It is taking some practice to get Ace used to getting inside it.
Creativity: The Muttmover is like no other dog transport bag I've seen.
Value: For the small dog owner looking for a durable, attractive, and comfortable way to transport her dog, the Muttmover provides excellent value.
Bottom line
Get your small dog from point A to point B in comfort and style with the mighty Muttmover Backpack.
Dogster readers, what do you use to transport your small dogs? Have you tried the Muttmover, or has another bag captured your heart? Share your experiences in the comments.
Learn more about dogs with Dogster:
About the Author: This East Coast transplant enjoys the bounty of San Francisco, including its microclimates, farmers' markets, and secret stairway walks. When she's not walking with, talking about, or kissing the face of her Boston Terrier, Ace, she blogs about Ace's adventures. Product reviews writer and guinea pig at Dogster.