Today, Friday, February 16, marks the start of the Chinese New Year and 2018 is the year of the dog! "This year of the Brown Earth Dog is going to be a good year in all respects, but it will also be an exhausting year. You will be happy yet frustrated, rested yet tired, cheerful yet dull!" explains the Chinese Zodiac website. The site also says that the characteristic word is "action." Other than the dull part, this sounds a lot like life with dogs! Let's learn a bit more about the Chinese New Year and the Year of the Dog in particular.
1. First, What is the Chinese Zodiac and the Chinese New Year?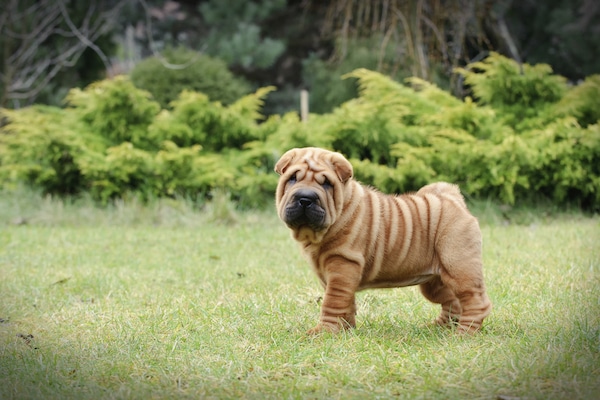 The Chinese animal zodiac involves 12 animals: rat, ox, tiger, rabbit, dragon, snake, horse, goat, monkey, rooster, dog and pig. These animals are arranged in a repeating cycle, every 12 years. The Chinese New Year is an important annual Chinese celebration of the lunar new year. In the lunar calendar, months are 28 days long, and years range from 353-355 days long. The Chinese New Year moves each year depending on the lunar cycle. In 2018, the Chinese New Year begins on Friday, February 16.
2. Fireworks Are a Big Part of Chinese New Year Celebrations — Fun for Humans, But Not for Dogs
Lighting fireworks to keep away bad luck is a traditional way to celebrate the Chinese New Year. Many dogs fear fireworks, so it might be best to avoid bringing your pups to local Chinese New Year celebrations. If you live in a neighborhood with lots of Chinese New Year festivities, keep your dog inside, and be sure she's wearing a collar and updated identification. If your dog has a really intense fear of fireworks, consult with your vet — one of my dogs has a special anxiety prescription to help her through holidays that involve fireworks.
3. Loyalty Is a Paramount Trait of Dogs in Chinese Culture
The loyalty of dogs is understood across many cultures, and a dog's loyalty is central in the Chinese zodiac, too. "Dog is man's good friend who can understand the human spirit and obey its master, whether he is wealthy or not," Travel China Guide says. "The Chinese regard it as an auspicious animal. If a dog happens to come to a house, it symbolizes the coming of fortune. The invincible God Erlang in Chinese legend used a loyal Wolfhound to help him capture monsters."
4. It's Not Only the Year of the Dog — It's Specifically the Year of the Earth Dog
2018 will be the first Year of the Earth Dog since 1958. Other kinds of dogs recognized in the Chinese zodiac include: Water Dog, Metal Dog, Fire Dog and Wood Dog. According to Your Chinese Astrology, the Earth Dog is "broad-minded, faithful, considerate, well-disciplined and [sticking] to principles. Also, they are grateful, chivalrous, brave and have the courage to take the blame for what they do, thus it's easy for them to offend somebody. Earth Dogs always have clear goals and they are self-poised toward success and failure, never compromising their conscience to do things." Sounds a lot like the dogs I share my life with!
5. So, How Will the Year of the Dog Affect You?
Recent dog years include 1958, 1970, 1982, 1994 and 2006. "People born in these years are considered by some to have the "best traits of human nature," notes Your Chinese Astrology. "They are honest, friendly, faithful, loyal, smart, straightforward, venerable and have a strong sense of responsibility. On the negative side, they are likely to be self-righteous, cold, terribly stubborn, slippery, critical of others and not good at social activities." Find out what zodiac animal is associated with the year of your birth on chinesezodiac.org and how the year of the dog might impact you.
6. Aptly, The Year of the Dog Is Time to Train
According to The Chinese Zodiac, "2018 is the ideal time to start eating healthy, doing sports and getting rid of bad habits." For dog parents, it sounds like a great year to focus on training your dog! Thinking about taking up a new dog sport, like musical freestyle, agility or rally? It sounds like this would be a good year for you and your pup to try new things together!
7. And, Of Course There Are Some Dog-Centric Events to Celebrate the Year of the Dog
See some dog-friendly Year of the Dog events on our Dug Up at Dogster blog.
Happy Year of the Dog!
Thumbnail: Photography ©yanjf | iStock Editorial / Getty Images Plus.
Read more dog news on Dogster.com:
Sassafras Lowrey is an award-winning author. Her novels have been honored by organizations ranging from the Lambda Literary Foundation to the American Library Association. Sassafras is a Certified Trick Dog Instructor, and assists with dog agility classes. Sassafras lives and writes in Brooklyn with her partner, a senior Chihuahua mix, a rescued Shepherd mix and a Newfoundland puppy, along with two bossy cats and a semi-feral kitten. Learn more at sassafraslowrey.com