When I was in college, my friend Josh swore that he and his fraternity brothers had devised a simple but oh-so-ideal solution for starting conversations with women: "Just get a dog," he said. "I mean, any kind of dog. They're cute, they're fun, they're friendly. People are always coming up and talking to your dog — it's the best ice-breaker ever." Years later, I still can't personally attest to the power of canines as girlfriend-magnets — but I can certainly vouch for their magnetism in general. Most animal-lovers would agree that people of every gender, race, and walk of life seem naturally drawn to dogs.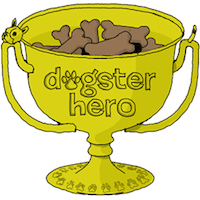 But what about physically disabled canines? Those who are blind and/or deaf; missing an eye, an ear, or a leg; attached to a rolling cart; broken or crooked or lame or in some other way? These dogs can certainly draw curious stares … but do we actually see their lovable qualities? Do we appreciate that their spirits and personalities are often fully intact, eager for nurturing praise and a caring, forever home? After spending several years volunteering in shelters, watching these sweet-hearted special-needs orphans languish away in cages, I'd come to believe the answer was a disheartening "no."
But then I learned about a couple in Prince Frederick, Maryland, who has spent more than a decade recognizing, nurturing, and proclaiming these lovable qualities near and far. Joyce Darrell and her husband, Michael Dickerson, oversee a nonprofit, 501(c)(3) sanctuary called Pets With Disabilities (PWD). This serene, wooded natural haven serves as a combination rescue, rehabilitation refuge, and adoption placement resource for dogs who have been physically challenged since birth, disabled by illness, or injured through trauma. PWD provides ongoing, specialized support for shelters attempting to place these pups — and for the caring humans who seek to embrace them.
"All these canines have one or more physical issues that impact the way they interact with the world," explains Joyce, "but there's nothing broken about their love, loyalty, and exuberance. With the proper adjustments, most are completely capable of living a full, happy life. Our goal at PWD is to help shepherd them toward that better, brighter future."
PWD has received national media attention, including a segment on the Today show. But truth be told, Joyce and her husband weren't necessarily intending to establish such an organization. In fact, 16 years ago they were just newly adoptive pet parents, having rescued a vivacious young shepherd mix named Duke. Their new pup quickly became the most high-spirited member of the family … until one day, Duke was romping with another dog and suffered a sudden, traumatic injury that severed his spinal cord.
"The thing is, we knew when we adopted Duke that our commitment was unconditional," reflects Joyce. "We recognized that even with this injury, he still had that same loving, energetic spirit. The vet recommended euthanasia, an idea we immediately rejected. We wanted to help Duke adapt in a way that let him live the best life possible — which, in his case, meant a custom wheelchair."
Joyce and Mike now encourage every pet owner to consider the fact that adopting a dog is a serious commitment. "These are living creatures, capable of enormous affection," she says. "Our dogs don't stop adoring us when we get sick or hurt. Adjusting our lives to accommodate the fellow creatures we love is what being human is all about."
Joyce and her husband eventually adopted a second special-needs pup as a companion for Duke. "Misty had been at a shelter in New York for more than five years, passed over by hundreds of visitors due to hind leg problems," recalls Joyce. It didn't take long for the couple to realize that there was no true support system for adoptive parents of disabled pets. PWD was created to serve as an advocate, a sanctuary, and an educational resource for these animals and their families.
At present, the sanctuary represents a second-chance healing space for nearly 30 disabled dogs. PWD's website also offers courtesy listings for disabled dogs and cats available through other shelters and rescue organizations. The entire operation is completely supported by donations from the public. Therefore, to raise necessary resource dollars, PWD hosts several annual fundraisers — including the extremely popular Running Hare Vineyard event each June. It also accepts "Angel Sponsorships" for specific pets, and it distributes a digital holiday newsletter to more than 6,000 interested recipients.
In addition, a brand new "Critical Care Fund" allows supportive sponsors to make general donations that help defray the extraordinary medical costs associated with caring for multiple disabled dogs on a regular basis. Joyce estimates that a minimum of $2,000 in preliminary support, diagnostic, and healthcare fees is spent on every new pet upon intake. "Dogs with more complex issues — like our Brody or Jersey — can incur up to $10,000 in specialized treatment fees," she adds. "But once these problems are finally addressed, we typically begin to see the sweet, vibrant, playful dog who's been there all along."
Fortunately, both Joyce and Mike live right on-site, personally caring for these pups along with a tiny handful of trained and trusted assistants, plus a local network of dedicated health care providers. "When it comes to optimizing each dog's mobility and quality of life, our goal is to think outside the box and do whatever we can," says Joyce. "So we've hand-selected an extremely gifted and compassionate health care team — including internist Dr. Susan Simmerson, general practitioner Dr. Lori Giuffre, and a range of specialists."
Right before its annual autumn open house fundraiser this past October, PWD suffered a sudden and devastating loss with the unexpected passing of Michael Dickerson's mother, Gladys Irene "Gee" Freeman. An avid bird and Beagle lover, Gee combined her passion for art and animals to support PWD as a full-time, on-site volunteer and canine caretaker. "She sat so patiently with so many dogs who were recuperating, extremely sick, or very old," remembers Joyce. "In fact, for each new adopter, she created a custom-painted portrait of the dog they were welcoming into their family. A piece of her heart went with every single one of those pups. And we miss her terribly — but a piece of her heart will always be here, as well."
This year's open house had one of its best-ever turnouts; certainly a positive reflection of Gee's tender-loving care and PWD's unwavering dedication to specialized rehabilitation. Joyce uses events like this one to introduce the dogs and explain PWD's careful adoption process. "We generally require applicants to reside no more than an hour or two away, so they can get the pet back to us if there are any complications," she notes. "We meet the entire adoptive family in person, including other pets — and Mike and I normally spend time at their home when we drop off a newly adopted dog, to ease the transition."
Joyce also notes that adopters are increasingly choosing to return and take in a second canine at a later date. "I'm so thankful that people can see the profound love and resilient spirit that just radiates from the eyes of these dogs," she says. Most veterinarians agree that, so long as both animals get along, pairing a disabled dog with a companion pet can have enormous socialization benefits.
PWD continues to receive intake calls from shelters all over the country, and it's rescued canines from regions as remote as Russia and Turkey. "But we try to focus most of our efforts along the East Coast," explains Joyce. "Truly, it's a full-time calling. I eventually closed my own small business to focus on these dogs around the clock. We work extremely hard to give every single one of them a fighting chance that's worthy of their fighting spirit. "
"Our mission is to find them a wonderful, loving home," she says. "And if nobody comes forward to adopt them, that home will be here with us."
Read about more Dogster Heroes:
About the author: Marybeth Bittel is a freelance writer who lives in the Midwest with her wonderful husband, her crazy rescue dog Grant, and her level-headed rescue dog Maizy – all of them Heinz 57 mixed breed types. Marybeth identifies as mostly Italian, so she enjoys feeding family, friends and furkids almost as much as Grant and Maizy enjoy eating. She's also a marketing communications consultant and former marketing/PR exec. Connect with her on LinkedIn or — to see her latest pet pics (and be careful what you wish for here) — check out her family Instagram feed.