Like many cities, Istanbul has a problem with stray dogs and cats — reportedly, 150,000 of them roam the streets, eking out a living by digging through the trash or relying on the kindness of residents for their food.
Now, there's another option — vending machines. They're scattered around parks and public areas in the Turkish city, dispensing food water to stray dogs and cats. It's a wild idea, but even wilder is how the machines work. They don't take money. They take plastic bottles.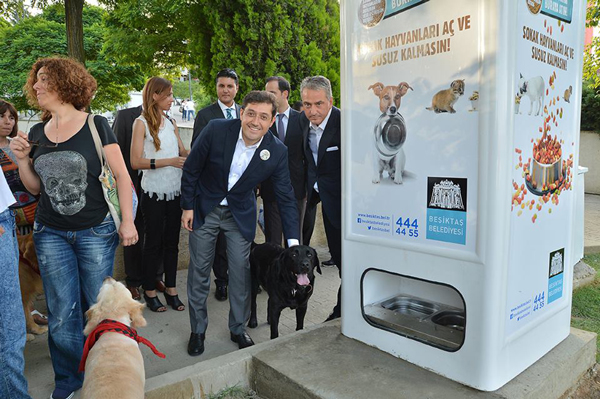 People insert their used bottle into a slot at the top of the machine, and a handful of kibble is dropped out. There's even a spot to dump unused water, which filters through the machine and fills a bowl at the bottom.
You might think: Why bottles? Well, that's how the Turkish company that installed the machines, Pugedon, pays for the food, using money it gets from recycling the bottles. It also has a nice side effect of keeping the streets clean, as well as promoting recycling. According to Elite Daily, after the company promised the government it wouldn't have to pay for anything, it was allowed to place the machine anywhere it saw fit. Now the boxes are scattered throughout this city of 15 million people.
Watch them at work:
What do you think of this idea? Let us know in the comments.
Photos via Pugedon's Facebook page
Via Elite Daily
Read about dogs in the news on Dogster: