Books get your tail wagging? Here are some great reads we hope you enjoy!
Please Don't Feed the Mayor
Author Sue Pethick's fourth romantic comedy is a heartwarming tale about a special dog who brings together a town desperately in need of a fresh start. When the lumber mill closes, Melanie MacDonald is heartbroken that her beloved hometown of Fossett, Oregon, is on the decline. She comes up with a brilliant plan to bring tourists (and hopefully more residents) to town — running her Border Collie, Shep, in Fossett's mayoral race. Unfortunately, she knows nothing about running a campaign.
Enter her ex-husband, Bryce, now a big-city lawyer, who agrees to help. Of course, Shep wins by a landslide, making him and Melanie media darlings. But the attention is a little more than she bargained for, and she unwittingly puts herself in danger. She has to deal with the malcontent who lost the election and a charismatic (and somewhat shifty) TV reporter. Not only that, an escaped convict is coming after Bryce for revenge. But Shep saves the day with the help of a herd of fainting goats (I must admit — this was my favorite part), proving his loyalty to not only his faithful human but to his new political career. Published by Kensington Books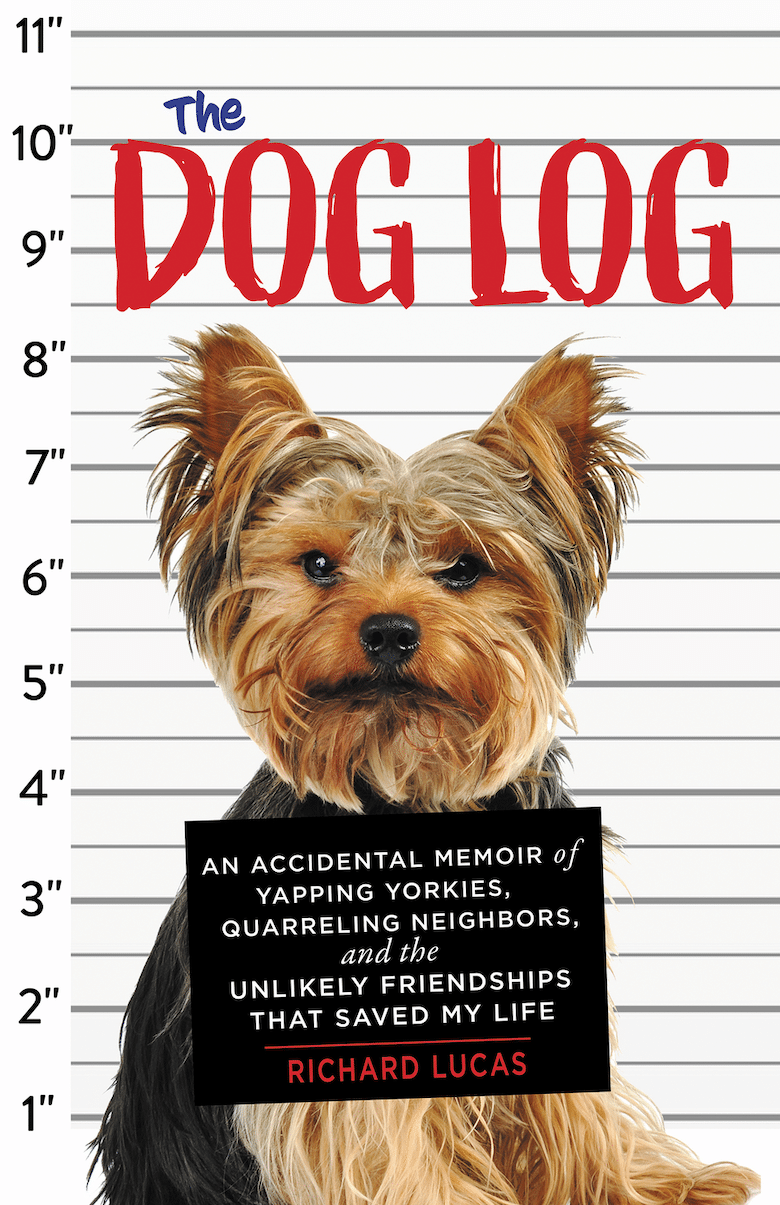 The Dog Log
Comedian and playwright Richard Lucas shares the incredible story of how the incessant barking of his neighbor's dogs drove him into — and then pulled him out of — a miserable phase of his life. He's tortured in his own home by the constant barking of the Yorkies belonging to his elderly neighbor, Irene (who ignored his pleading). Eventually, the daily stress, along with his struggles to make it in Hollywood and the aftermath of a recent breakup, nearly causes him to have a breakdown. When he sought help from the West Hollywood Sheriff's department, the solution was to maintain a log of each individual bark for six months. And the Dog Log was born.
It starts as a series of hilarious and curmudgeonly rants, but the story takes quite a turn when an ambulance rushes Irene to the hospital. With nobody to look after the Yorkies, Lucas enters Irene's home and discovers a hidden life of squalor and two neglected animals. Before long, the Dog Log turns into a diary of self-reflection and transformation. As he works out his issues with the Yorkies, Lucas also works on his own flaws, learning about the joy of helping others and how a change in perspective can transform your life. Published by Chicago Review Press
What I Lick Before Your Face (and Other Haikus by Dogs)
The perfect book for dog lovers everywhere, this heartwarming and laugh-out-loud funny collection of haikus by Jamie Coleman is a fun and loving celebration of the canine spirit. Written from a dog's perspective ­— from the perks of face licking to considering what constitutes a good boy — these charming (and hilarious) haikus take us into the minds of our beloved canines. Haikus like "Walkies," "The Ball" and "The Tail That Wags" capture our dogs' quirky personalities and the unique bond we have with them. Illustrated throughout with beautiful color photographs of adorable dogs of all shapes and sizes, this collection is the perfect celebration of our best friend. Published by Simon and Schuster

The Ultimate Guide to Raising a Puppy
World-renowned pet behavior expert, star of Animal Planet's It's Me or the Dog and Dogster columnist Victoria Stilwell reveals everything you need to raise the perfect pet. This fun and informative guide takes you through each stage of growth, from the first weeks through adolescence, and is filled with information on puppy-proofing your home, potty training, building leash-walking and play skills, preventing problem behaviors like nipping and excessive barking, caring for your puppy's health and much more. Victoria is committed to promoting progressive, pain- and force-free training tools and methods, and everything in this book provides puppy parents with the latest in science-based, positive training advice. Published by Ten Speed Press/The Crown Publishing Group
Tell us about your favorite dog books! Email us at dogstermag@belvoir.com.