Last week, a dog peed in a store. Normally, a dog peeing in a store would not be news, it would not raise an editorial ruckus, and it would not send us to the site (Contact Music) to read all about the pee going from inside the dog and onto the retail floor.
But this is Simon Cowell's dog, and the dog — a Yorkshire Terrier — peed on the floor of a dollar store in El Segundo. Ha ha, just kidding, he peed in a Gucci store. Simon Cowell's dog peed in a Gucci store.
Still, you might be getting read to comment, "Slow news day, Dogster?" Fair enough. But we think it's interesting because if not for the pee in Gucci we never would have found out that Cowell is an excellent and sort of crazy dog owner, and the pee in Gucci is the straw that broke the camel's back, as it were, in regard to Cowell training his dogs properly.
It seems that Cowell recently got Squiddly and Diddly, both Yorkshire Terriers, and has been going all out for them. According to a source who talked to the Belfast Telegraph, "Simon takes the pups to a spa once a fortnight for doggy pedicures and massages and they even have a therapist who promises 'zen dog happiness.'"
The site also reports that Cowell recently hired a "pet nutritionist" who whipped up a menu of organic lamb, pumpkin, fish, and sweet potato. According to the source, the dogs sleep on 22-carat gold-thread pet mattresses.
The source continued, "Simon is a massive animal lover and these puppies have become his pride and joy. It was [his girlfriend's] Lauren's idea to get them so that he could practice before the baby arrives. They are spoilt rotten! They sleep in a special king-sized bed on the very best cotton, eat and drink out of fine china bowls, and follow a special organic diet. They drink bottled water and he treats them with a T-bone steak once a week."
As for the pee on the Gucci floor, that happened in a store in Beverly Hills, and another source reports that Cowell hired a trainer after the incident to help him deal with the dogs.
"He adores these two dogs as if they're children, but he realizes he can't be soft on them any longer," the source said. "So he's brought in a top trainer to put them through their paces just like his singers do at the X Factor bootcamp."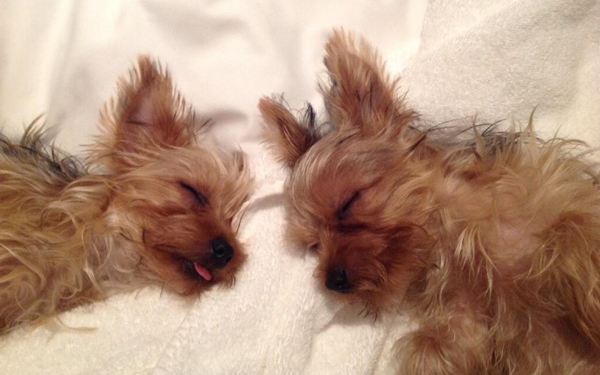 The source added: "Squiddly was very excited to be out and about but ended up weeing on the floor of the shop."
Okay, fine, slow news day.
Via Contact Music and the Belfast Telegraph; photos via Simon's Twitter