He is several years older than most of his competitors, a cancer survivor with a grey muzzle and a tragic family history, but that didn't stop Rex the Belgian Malinois from running, jumping, and swimming his way to an international title in Sonic Speed Retrieve at the 2016 DockDogs World Championships.
"I was just happy to be there, and happy to have him having fun. I really didn't think that we could win," says Rex's human, Lianne Shinton.
The owner of IQK9 Training, Lianne didn't see Rex's athletic potential immediately when she adopted him nine years ago. Back then, she simply saw a puppy in need, one a fellow dog trainer had rescued (along with two of his siblings) when he failed out of a police K9 training kennel. Word spread to Lianne, who was happy to take on the then 6-month-old pup, despite his family's reputation.
"Rex has a bit of a shady past," Lianne explains. "Apparently his mother had to be euthanized for attacking a human."
Aggression wasn't an issue for Rex, who was too sweet to be suited for police work but perfect for pet life — even if he didn't know how to fetch at first.
"You could throw a ball, and he would just kind of look at it and let it roll," Lianne remembers.
"And he hated the water — we had a pool in the backyard, and he was not going to go in the pool, so we had to teach him that the water was fun and how to swim."
As Rex gained confidence, he became more and more interested in toys and the pool — eventually developing an obsession with both.
A of couple years after his adoption, Lianne and Rex got involved in DockDogs. The canine aquatics competition is made up of three events: Big Air (long jump), Extreme Vertical (high jump) and Speed Retrieve (a timed event that combines running, jumping, and swimming). Right away, Rex's potential was obvious.
"We could see he had the ability to jump a lot higher than the other dogs we were playing with," Lianne recalls. "We knew he was something special."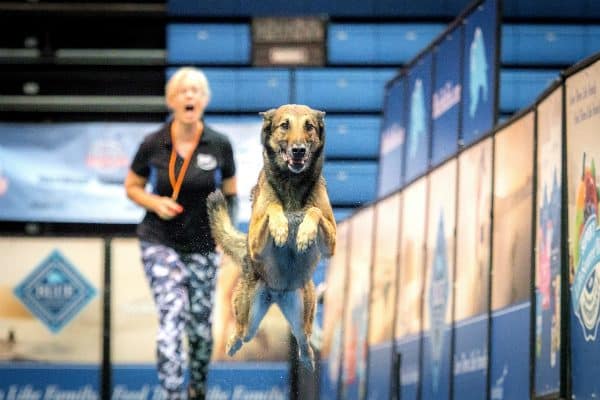 In 2010, the team entered the DockDogs competition for the first time, earning a world title in the Extreme Vertical category. For the next several years, Rex and Lianne competed at an elite level, remaining in the top five rankings for Speed Retrieve for six consecutive years.
It wasn't all easy though. In 2013, the team got bad news from their veterinarian. Rex had cancer.
"He had this lump on his side that he'd started digging at," Lianne recalls. "It ended up being a mast cell tumor."
Rex was treated successfully, and although the recovery wasn't lengthy, Lianne is always on edge and very vigilant about getting any lumps checked out right away.
By the time the 2016 DockDogs season rolled around, Rex was 9 1/2 years old and Lianne was sure it would be his last year competing at his usual level. Rex didn't even make the first qualifying round at the world championships, and just squeaked through qualifiers on the second day. Lianne expected she and Rex would leave the competition with good memories, but not with the Speed Retrieve trophy.
"I'd always tried to get that trophy, tried to play at that level since 2010 with him when we started, and I just never thought it would happen as we started getting older," says Lianne.
But on the day of the event, Rex ran, jumped, and swam harder and faster than dogs half his age. Six years after earning his first title, he was once again a world champion — and in a totally different event than he'd won in 2010.
"He nailed it. He really surprised me," says Lianne, who cites Rex's victory as an example of why humans shouldn't underestimate older dogs.
With Rex getting on in years, Lianne is helping him slow down on land, focusing on activities like nose work to keep his mind exercised without pushing his body too far, but the dog trainer says her age-defying athlete isn't done with the pool just yet.
"He'll still be able to play in DockDogs well into his legend years."