Update at 12 NN PST: We've just learned that Oskar sadly didn't make it. We'll have that story soon … our hearts are broken for his mom, Dorothy. She'll still need help with the medical bills. If you want to help, you can do so here.
Update at 1 PM PST: Our update on Oskar's passing is live. Please visit it here.
++++
Dorothy Schechter began a recent morning with her Dachshund, Oskar, just as she would any day.
They took a walk along the block, picking up the newspaper and fresh coffee to start the day. They exchanged salutations with a neighbors and stopped here and there for Oskar to make friends with local dogs.
Just like any curious canine, Oskar picked up something in his mouth while on his walk — and being the naturally quick pup that he is — would not let Schechter remove it from his mouth as immediately as she would have liked.
Schechter initially thought it was something harmless on the ground that the Dachshund nibbled. Then she saw more of these little balls on the ground.
"I noticed some more in the bushes, and when we got home — about 20 minutes later — he went into a seizure," says Schechter. "He just had this look of horror on his face."
Schechter rushed Oskar to the vet, and despite her best efforts to keep her little dog safe, he had become seriously ill. Like a bad dream, Oskar had become the first dog affected by poisoned meatballs that have plagued San Francisco and have terrorized pet owners. A news story this week from KGO-TV Channel 7 says that meatballs "are being lined along buildings and places where dogs relieve themselves," although it does not say where or when any have been found since the initial incidents. We've found no reports of authorities having identified any suspects in the case.
When Schechter and Oskar reached the vet, Oskar had vomited during the car ride, and Schechter was deeply concerned. However, once he was stabilized, the vet recommended that he remain a few hours to make sure he was okay. Shortly after, Oskar began to experience seizure after seizure, and when they finally thought he would turn around, he developed pneumonia.
"I almost wanted to upchuck because I could not believe this was happening," says Schechter. "He is a healthy little Dachshund, and I was so astounded by this. I could not believe that anyone could do something so evil."
Schechter eventually went home. She and a friend immediately began a search for the odd meatballs that had caused her dog to become so sick.
They worked into the night and returned with multiple bags of poisoned meatballs. The samples pointed to strychnine, a kind of poison intended to kill rats. It is deadly to animals if consumed. The meatballs have been sent to UC Davis for further investigation.
"Driving home, coming across the Golden Gate Bridge from up north, I got such a sick feeling thinking that I was going to go back to the vet and Oskar was not going to be there," says Schechter. "Yes he is just a dog, but for those of us that have lost family members, they are more than that."
Schechter explains that she has lost a child, and that without Oskar she does not know whether she would have made it through that kind of trauma.
"Nothing in this world can prepare you for that kind of loss, but Oskar was always there for me," says Schechter.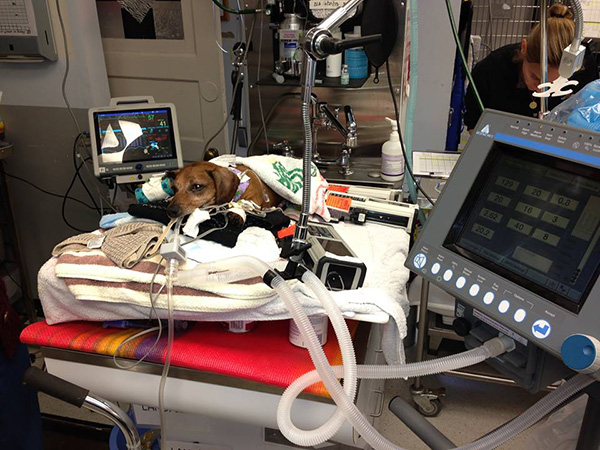 Some days are better for Schechter — and although moments like the one she described crossing the Golden Gate Bridge are particularly hard, she is vigilant to stay positive and steadfast; to not let this act of defeat her.
"It's domestic terrorism, it's the type that puts you on edge," says Schechter. "But you can't let it get to you. You have to remain steadfast and fight these people. I think that's why Oskar isn't dying, he is going to pull through, God willing, and he will be the poster guy saying: You cannot just do this to people."
Although Schechter remains strong, she becomes emotional when she talks about her little Dachshund enduring such pain — explaining that it is difficult for him to eat, and her once-healthy boy is just so weak now.
"The doctors are going above and beyond to help save this little dog," says Schechter. "I tell them: Let us know if you think it's time because I don't want to cause him any more pain, cause Lord knows that he has been through enough. But they say absolutely not, and if they're not saying to quit, then why should I ? I will stay strong for Oskar."
Schechter explains that two, maybe three dogs have also been taken in. These are in addition to two feral cats, a skunk, a couple of raccoons, and a rabbit who are said to have died because of the meatballs.
Schechter estimates $24,000 dollars in medical bills, with the cost only climbing as Oskar fights for his life. However, she says, every penny is worth it, and she has even taken money from her retirement savings to make payments.
"People have been generous, the local police precinct collected $225 for his care," says Schechter. "It had a beautiful card and they took it to the hospital to drop off, I just could not believe it, we are just so thankful."
Thanks to the compassion of the police, neighbors, friends, family, and even strangers, Schechter is working to collect money to help pay for Oskar's medical bills. You can find a PayPal account here for donations.
Editor's Note: For our fellow San Francisco residents, please keep an eye out for these nasty meatballs this weekend. We are keeping our own dogs home for their safety.