Studies show that dogs (and cats and other animals, including us humans) are happier and more engaged if we work for our food. This is the science behind popular food puzzles available for our canine and feline friends, where the animals have to figure out how to retrieve food hidden within.
Puzzles usually require a dog to lift a flap, pick up a cover, or nose something out of the way to retrieve the kibble or bits tucked away inside.
We have a few of these at home, and all three of my dogs love them. It's fun to watch each of them think through the puzzles, and to see the different tactics each of them takes to get to the edible prizes inside.
The CleverPet Hub: An Electronic Puzzle for Dogs
The CleverPet Hub takes the concept one step further, with an electronic, interactive, adaptive device that serves up treats in increasingly difficult challenges as your dog learns. For anyone with a bored dog begging to be spoiled (and who among us does not spoil our dogs?), the CleverPet Hub may be a great way to keep your pup entertained and out of trouble when you're home, or while you're away.
The unit looks a little like a small flying saucer, complete with hatch for tiny aliens to take over your home, but actually, that's just where you put the food. It comes assembled; all you have to do is peel off the little tabs that hold everything together (there are very easy instructions on the tabs themselves and in an accompanying leaflet). I took everything apart and washed the sections that hold food, to make sure there were not residual manufacturing chemicals around.
Here's how it works in a nutshell (or in a flying saucer): There are three lights in the front of the CleverPet Hub. When they light up, the dog touches one with her paw, and a small tray with kibble appears for her to gobble up. Eventually, only one light is lit, and the dog has to touch just that one to get her treats.
With the free companion app (available for iOS and Android), you can progress through increasingly difficult challenges with your dog, keep track of his progress, and schedule times for the Hub to turn on and off — very useful if you're not home.
Testing the CleverPet Hub With My Clever Pets
I tried the CleverPet out on my dogs, and here's what we found.
First of all, my Border Collie mix Lilah stayed as far away from the unit as possible, heading to the other side of the house whenever I brought it out. Lilah doesn't like unfamiliar things, particularly those that make strange noises, and CleverPet whirrs, buzzes, and rattles as it parcels out kibble and moves the tray in and out of place. With time and patience, I'm sure I could get her to enjoy the device, but she wanted nothing to do with it for now, and I respected her decision.
Jasper, my hound, and Tucker the terrier had no qualms with the sound. It took each of them less than a half second to realize it was the sound of food.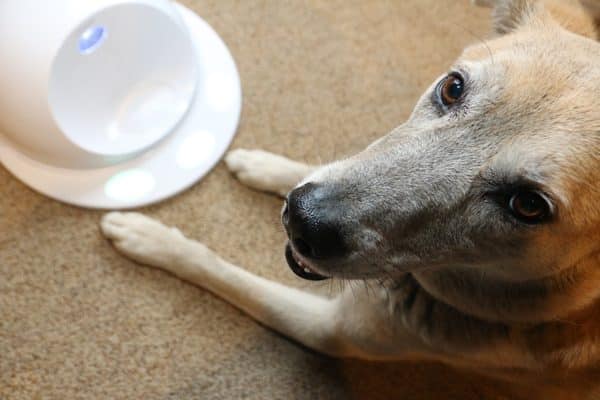 The challenge at first was to get my dogs to paw at the unit. Since we discourage pawing at my house, except when asked (to Shake or give a High Five), pawing the CleverPet was not going to be on the list of behaviors the two of them would try out at first.
So, I had to spend a little bit of time teaching them a new command, which I labeled Paw Touch. Since my pups are clicker trained, this took a few practice rounds where I first taught them to touch a magazine, a piece of paper, a book, anything I indicated. Then I moved onto the CleverPet.
Below is a short (minute and a half) video of Tucker figuring it out.
Once they got the hang of it, both Jasper and Tucker began pawing indiscriminately to get the kibble. We haven't yet gotten to the "only touch the one light that's lit" part, but they're smart, and I'm sure they'll learn fast.
Dogster Scorecard for CleverPet Hub
Quality: I was truly impressed with the quality of the CleverPet Hub. All materials seem solid and well-thought-out.
Style: The unit has the clean and simple lines of a spaceship, but even though it's modern looking, it's unobtrusive enough to go with any decor.
Function: The CleverPet Hub functions exactly as expected. Your dog may not react as promised, as first she has to get used to the unit and its noises. Jasper kept getting startled when the tray closed, which made him a little nervous at first, but since there was food involved, he got over that pretty quickly. Online support not only offers help in setting up and understanding the challenges (which I thought were pretty intuitive), but also includes behavioral tips for getting your dog comfortable with his new toy. That said, if you have a timid dog like my Lilah, it may take some work to overcome her issues.
Creativity: This is not a toy that your dog will get bored with, as the challenges change, and the company has plans for upgrades and different challenges.
Value: Retailing at $299, the CleverPet Hub requires deeper pockets than your average pet toy or dog puzzle, but hey, doesn't your dog deserve his own electronic game console? You can purchase yours directly from the CleverPet website.
A few additional caveats:
The CleverPet Hub is not meant to be the only way to feed your dog. The best way to use it is to fill it with some of her food, and distribute it during the day, and then give her less at mealtimes, thus taking into account the added calories.
I have three dogs and four cats; in my case, I would not use CleverPet in an unsupervised situation. While all of my menagerie gets along, the dynamic could change if I'm not home and food is involved. Keep that in mind if you have more than one pet.
Bottom line
The CleverPet Hub is a great way to engage your dog's brain, even when you're not home. It's easy to set up, easy to use, and easy to clean. If you think your dog might like it, and you can spare $299, it's a quality product that will challenge and entertain him — and you.
About the author: Susan C. Willett is a writer, photographer, and blogger whose award-winning original stories, photography, poetry, and humor can be found on the website Life With Dogs and Cats. She lives in New Jersey with four shelter cats (including Calvin T. Katz, the Most Interesting Cat in the World) and three dogs (all rescues) and at least a couple of humans — all of whom provide inspiration for her work. In addition to Life With Dogs and Cats, you can find more Lilah, Jasper, and Tucker (and the rest of the gang) on Haiku by Dog™, Haiku by Cat™, and Dogs and Cats Texting™.