His social media followers watched it happen in real time. One day, Dimitri the Shar Pei had eyes, and the next, they were gone.
"I thought about not posting. I was really kind of heartbroken," Dimitri's human, Sarah Barnett, tells Dogster.
It seemed so sudden, but the trouble with Dimitri's eyes began long before his emergency surgery.
One of 280 dogs rescued from an Ohio mill in 2012, Dimitri — or Dim, as Sarah calls him — always had limited vision. His doctors figured he saw the world as though he were looking through a muddy windshield.
Estimated to be between 5 and 7 years old when rescued, Dim suffered from (among other things) entropion, a condition in which the eyelid points inwards causing the eyelashes to scratch the cornea. It can be corrected through surgery, but Dim didn't get veterinary care at the puppy mill that sold its dogs online.
"The Humane Society of the United States, which is my employer, helped with the rescue," Sarah explains.
"It brought a lot of the dogs back to the DC area, where a rescue I volunteer with on the side took several dogs — but not Dimitri. I fostered some, they got adopted."
Four months after the initial rescue, Sarah got a call about Dim from Lost Dog and Cat Rescue Foundation, as he wasn't doing well in his current foster home. He moved into Sarah's apartment, and one month later, they officially became family.
"On the day that I adopted him, I was taking him to meet somebody else, and they decided he wasn't a good fit. Previously I'd fostered dozens of dogs and never adopted one. I'd like to say there was some kind of special connection or something, but there wasn't. I just decided: I can give him a good home," Sarah remembers.
At first, the world was very scary for Dim. The sound of a passing car or a bouncing basketball could freak him out, so Sarah walked him at night when fewer people were around. Over time, he grew more comfortable, and eventually found joy zooming around a fenced-in tennis court before graduating to running through off-leash fields.
Sarah found joy too, and was soon spreading it through hilarious Facebook and Instagram accounts for her new dog.
In the first year after his adoption, Dim had surgery for a tumor on his leg. He also suffered from allergies, so his skin was itchy, sensitive and delicate. His extremely poor depth perception meant he was often bumping into things, sometimes to the point of breaking his skin. He was basically nothing like the dogs his breeder promised to online buyers.
"She guaranteed their health, she said they were social, all these things, and the three foster dogs that I had, including Dimitri, all had genetic issues health-wise. Of the three, two have had both of their eyes removed," says Sarah.
Dimitri's eyes were take out in June after a diagnosis of sudden-onset glaucoma. Sarah took him to the vet one day because his eyes were looking odd and found out he needed immediate surgery.
"He had 80 percent eye pressure — a normal dog's eye pressure is 10 to 20 percent. So he basically had the headache from hell and wasn't showing it."
The very next day, Dim's eyes were gone. Sarah was scared, but her dog wasn't.
"He was actually a lot happier without his eyes. His personality did change significantly when they were removed," says Sarah. "His other senses compensate."
Sarah says the support she received from Dim's social media fans after his surgery has been amazing. She hopes his story will convince people not to buy dogs online, and says it underscores the need for public access to the USDA animal welfare reports pulled off-line last month, as potential dog buyers can use those records to avoid puppy mills. Dimitri's breeder had previously faced animal cruelty charges in New Jersey before moving to Ohio.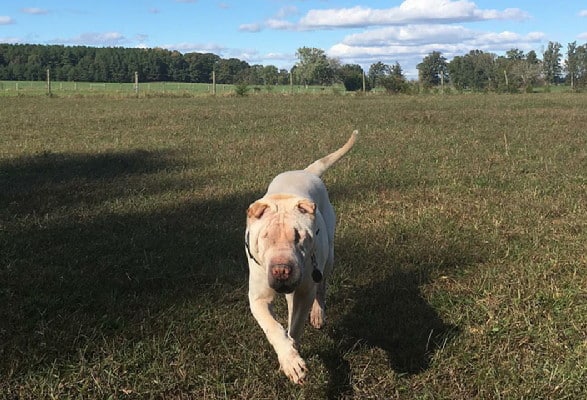 "This is why we need animal-protection issues taken seriously, because it's actually dogs that are suffering," says Sarah. "When you think of 280 dogs, it's a number, but that's 280 Dimitris."
Thankfully, one of those Dimitris is now living his own happily ever after with Sarah, proving that dogs don't need eyes to see the beauty around them.
[brightcove videoID=5467449439001 playerID=HJNwsLuMW height=400 width=700]