Veterinary technician Julie Denton wasn't even supposed to be at work the day that Bandit the Cocker Spaniel showed up. If not for a last-minute schedule change, she would have been at home, enjoying her day off, and Bandit would have been put to sleep as per his family's wishes. The dog was just shy of his eighth birthday when he'd suddenly become paralyzed in his back end. His people didn't know how they could help him — but Denton did. She had 12 years of experience in the veterinary field, a deep love for Cocker Spaniels, and, as the mother of a child with special needs, a practical understanding of the day-to-day challenges of caregiving.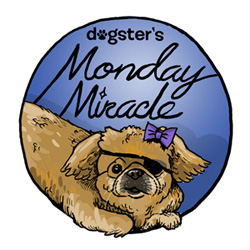 "I just asked them what they thought about signing him over to me so that I could see what I could do with him," she remembers.
And so, Bandit came home with Denton that evening, but his prognosis wasn't good. He couldn't urinate on his own and he had zero pain sensation in his back end. Despite his failing health, he fit right in with Denton's two Cocker Spaniels and her 4-year-old son.
"Bandit had never been around children before, but he just loves our son," she explains. "It's really the coolest thing to see — they have this little bond."
Denton knew for certain that her home was the right place for Bandit, but the root cause of his paralysis was a total mystery.
"We couldn't figure out if it was osteomyelitis — a bacterial infection in his spine — or if he had cancer," she explains, adding that the condition of Bandit's ears made his doctors suspect a bacterial infection was to blame. The dog had a long history of severe ear infections, which had led to the surgical removal of his ear canals before Denton adopted him. Even so, the infections followed Bandit to his new home.
"A little teeny, teeny bit of tissue was left in his ear canals, and it kept abscessing until, like, he had three or four exploratory surgeries," Denton explains. "It was awful. It was MRSA. It was just terrible, highly resistant strains of bacteria in his ears. Once we got that out, the infection finally cleared up."
At the same time she was working to clear Bandit's ears, Denton was also working on the rest of his body. She got him outfitted with a wheelchair and a sling, and started physiotherapy and eventually hydrotherapy as well. Slowly, Bandit began improving.
"I think it was maybe three or four months after I had him I started to notice him getting a teeny bit of feeling back in his legs," says Denton, who suspects this change was due to all the antibiotics Bandit was taking for his ears. "Slowly, over months and months, he did get the feeling back and started being able to urinate on his own."
Eventually, Bandit gained back all the mobility he had lost. He could walk without his wheelchair — but surprise nosebleeds indicated his medical journey was not over. At first, Denton thought maybe the dog had sniffed some insulation during a bathroom renovation, but the bleeds kept coming.
After a particularly terrifying nighttime nosebleed, Denton took Bandit to the University of Auburn for an oscopy test. While there Bandit met an oncologist who diagnosed him with a plasma cell tumor in his spine.
"It causes all the symptoms that he had," says Denton, who followed the oncologist's recommendation and started Bandit on chemo right away. She says chemotherapy will be part of Bandit's routine for the rest of his life. If he were to stop, the potentially fatal nosebleeds could return.
"He's about to go through his 34th round of chemo. He's doing amazing."
It's now been three years since Denton gave Bandit's former family an alternative to euthanization, and the little dog has certainly made the most of his second chance.
"He walks — he can walk about a mile now," says Denton, who hopes Bandit's story will inspire other families to think twice before having a dog put to sleep. Recently, another partially paralyzed dog — a Corgi — came into the veterinary practice where Denton works. The Corgi's family was also considering euthanization, but after learning about Bandit's success they reconsidered. Six months later, Denton watched that Corgi walk back into the vet's office on his own power.
"You've just gotta give people hope that it is possible," she explains. "There's always a chance."