How did it get to be the end of 2016 already? This week, I went to mark something on my calendar for January, only to realize I didn't have a 2017 calendar yet. That needed to be fixed immediately. It goes without saying that a calendar in my house must be dog themed. After some research, I came up with the following options I wanted to share with you.
1. Tails of Rescue Men USA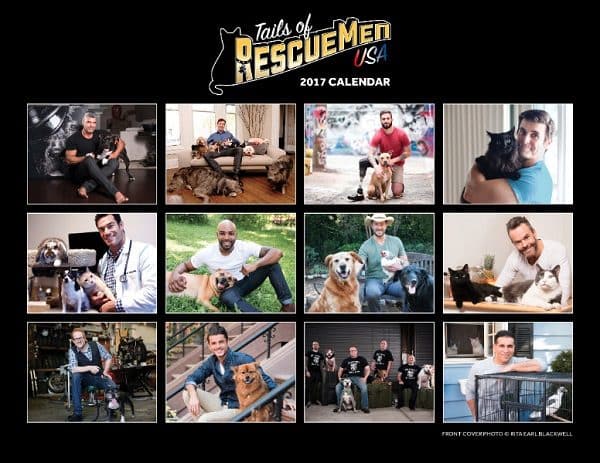 What's a calendar list without some hunky dudes cuddling furry animals? The Tails of Rescue Men USA, also known as "Hot Humanitarians," fits this spot perfectly. The men featured want to bring you the message of, "adopt, don't shop." That's a message we can all get behind, especially when it's delivered by such adorable two- and four-legged creatures!
The cost of the calendar is a donation to Pillows for Paws, a non-profit that donates essential material items to shelter cats, dogs, and rabbits on a monthly basis to Animal Care Centers of NYC.
$25 at Rescue Men USA
It seems only fair to give the ladies equal time on this list! The goal of the calendar is to show how the often misunderstood Pit Bull can be a part of everyday life. If living in Darlingsville means wearing beautiful dresses and hanging out with all those big doggy smiles, then I need to stop writing this list and start packing my bags.
Proceeds go to Pinups for Pitbulls, a nonprofit with a mission to educate people about the history, temperament, and plight of the Pit Bull-type dog.
$25 at Pinups for Pitbulls
3. Pets in Wheelchairs
Handicappedpets.com held a photo contest for its 2017 calendar and chose 13 winning pics from all over the world,. These special-abled pups, and one lamb, don't let their disabilities get in their way of having fun.
After an accident that left him paralyzed, cover pup Coke was rescued by Michael Baines, a man who is known for helping rescue dogs in Thailand. Using his Walkin' Wheels, this resilient pup is able to get around and enjoy life with his new daddy.
Proceeds from the calendar go to the Handicapped Pets Foundation.
$9.95 at HandicappedPets.com
4. 2017 Orioles Pet Calendar
MLB team the Orioles has helped to raise over $180,000 for the Baltimore Animal Rescue and Care Shelter (BARCS). It does this by featuring its players in the annual calendar. They pose with their animals along with some cuties from BARCS at locations around Oriole Park at Camden Yards.
Proceeds from the calendars help fund BARCS' continued work rescuing and caring for Baltimore's animals.
$15 at $15 at the Orioles MLB shop
5. The Grey Muzzle Organization
With age comes wisdom. Sadly, if you are a dog, it also means you are at a higher risk of being overlooked when you need help. The Grey Muzzle Organization improves the lives of at-risk senior dogs by providing funding and resources to animal shelters, rescue organizations, sanctuaries, and other non-profit groups nationwide.
The group even made putting the calendar together a way to help. This summer, it ran a contest for senior pups to be featured in the 2017 calendar. Profits of over $12,000 from the contest entry dontations went to fund the organization's dental fund. According to the group, "every senior dog deserves a reason to smile." I couldn't agree more!
$16 at the Grey Muzzle Organization
6. Vested Interest in K9s, Inc.
Vested Interest in K9s Inc., is a non-profit with a noble cause. The group provides bullet and stab protective vests to dogs of law enforcement around the country. One of the ways you can help the group is by purchasing its 2017 calendar, which features two- and four-legged law enforcement heroes. If you would like to help further, the organization's website lists ways to support, which includes sponsoring a vest for a hard-working pup.
$15 at Vested Interest in K9s
7. Fierce and Furry: Drag Queens and Dog Kings
What happens when you combine adorable pups from the Morris Animal Refuge in Philadelphia with the girls of the Philly Drag Mafia? A fierce, furry, and fun calendar of course! This crew really knows how to work the camera for a good cause. Your donation for the calendar goes straight to the Morris Animal Refuge, a non-profit open admission shelter.
$25 donation or more at Morris Animal Refuge
8. Printable Calendar by Sophie 0610 Designs
I love printable options from Etsy. The immediate delivery means you don't have to wait to start using this adorable calendar — just pay, dowload, and print. Whimsical drawings by Sophia Andrikou portray a pup taking part in activities perfect for the month they represent.
$14.26 at Sophia 0610 Design's Etsy site
9. Lingvistov 2017 Dog Calendar
Lingvistov is a company owned by two linguistic university graduates living in Russia. Their in-house artist's cute and often funny doodles adorn their products. The hope is that their creations make your day better, sunnier, and more special. Their 2017 dog calendar does a petty good job of that!
$20 at Lingvistov
10. Your own personal creation
I'll be honest, my favorite calendar always features my sweet 11-year-old German Shothaired Pointer, Riggins. I'm guessing you have at least 12 pictures on your phone right now that you can use to make your own custom 2017 calendar. I'm a loyal Shutterfly customer, but there are a number of sites that will walk you through the process.
$24.99 at Shutterfly.com
Let's hear from you, readers? Share your must-have 2017 calendars in the comments!