He's missing an ear, his face tilts to one side, and his scars will never disappear. Oogy is no ordinary dog — he's a survivor, and an ambassador for all the other bait dogs who weren't rescued in time.
The 12-year-old Dogo Argentino was just a puppy when he met Larry Levin and his twin sons by chance at the Ardmore Animal Hospital in Ardmore, PA. The Levin family had just said goodbye to their 17-year-old cat, Buzzy, when clinic staff brought Oogy out.
"The whole left side of his head was bright-pink scar tissue and looked like it had melted," explains Levin, who was told that the pup was brought to the vet clinic after police rescued him during a raid, possibly in connection with a drug investigation.
The details of exactly what happened to Oogy as a puppy will never be known, but evidence suggests he was used as a bait dog in an illegal dog fighting operation. After suffering significant and numerous injuries, Oogy was likely left for dead — abandoned at the location where police eventually discovered him.
His horrific past didn't stop young Oogy from behaving like a happy puppy when he first met Levin and his sons at the animal hospital, and despite the dog's startling appearance, it was love at first sight for the family. The disfigured little puppy was quick to cover Levin's twin boys with kisses.
"They were 12 when we adopted Oogy, they're 24 now."
In the dozen years since they met, Oogy and his family have experienced a lot. Oogy's family discovered that their dog had been mislabeled — Oogy was not a Pit Bull, as they had initially been told. Even though Oogy is actually a Dogo Argentino, he looks enough like a Pit Bull to bring out the breed bias in many people. Levin (who was once guilty of breed bias himself) became an advocate for bully breeds and was asked to submit Oogy's story to a website dedicated to the often persecuted dogs.
Oogy's story spread quickly, and in 2008 Levin got a call from a producer with the Oprah Winfrey Show, inviting Oogy to appear on Oprah's Valentine's Day broadcast. Levin was eager to share the dog's story, but knew Oogy couldn't fly.
"The vet said the best way to get Oogy out there is to drive him," Levin recalls.
That road trip to Harpo studios in Chicago changed the fate of both man and dog. Ten days later, a literary agent called, and soon Levin — who'd always wanted to write — was busy putting Oogy's story to paper.
"I spent two years writing it," Levin explains. "They basically gave me as much time as I wanted, or as I needed."
In 2010, Oogy's story, as written Levin, became a New York Times bestseller. The book, Oogy: The Dog Only a Family Could Love, has increased awareness of the horrible cruelty of dog fighting and made Oogy famous in the process.
"People all over the world know Oogy," says Levin. "He's one of the most recognizable dog faces in the world right now."
The book has been published in multiple formats and continues to find new readers.
"The fact that the story is getting out there and is still resonating is really gratifying," says Levin, who has become very involved in fundraising for rescues and has made hundreds of appearances with Oogy at schools and libraries over the years.
"When we go to schools, we ask the teachers to select a non-profit or a rescue and ask the kids to take up a collection," explains Levin.
These days, Oogy is making fewer personal appearances due to his advanced age and health history. Over his lifetime, the beloved dog has needed numerous surgical interventions to correct the damage done to him in his puppyhood.
"He went through three operations on his skull — the first one to save him and the second one to rebuild his face," explains Levin. "Then in 2011, he collapsed. They thought it was a brain tumor."
An MRI revealed Oogy had collapsed not due to a brain tumor but because of a massive infection, which prompted his third head surgery.
"Inside his skull, pieces of fur and pieces of his cheekbone from nine years before had become infected," recalls Levin. "They cleaned it all out, and he survived."
Levin doubts Oogy would be so lucky again, as the dog's doctors couldn't intubate him after his last surgery.
"He should have his left hip replaced, but he would never survive."
Despite his troubled hip, Oogy is still making a few appearances close to home, including trips to a nearby prison. Levin and Oogy volunteer on behalf of New Leash on Life USA, a prison-based dog training program that sees inmates train dogs to increase their adoptability.
"For each class, we talk to the guys about dog fighting," explains Levin, who adds that the program helps the inmate trainers gain employable skills, and it helps influence change in street-level dog fighting.
"They go back into the communities where dog fighting is endemic, and they've got this changed view."
Although Levin hopes to spare other dog's from suffering the same fate as Oogy, he doesn't regret the series of events that brought them together.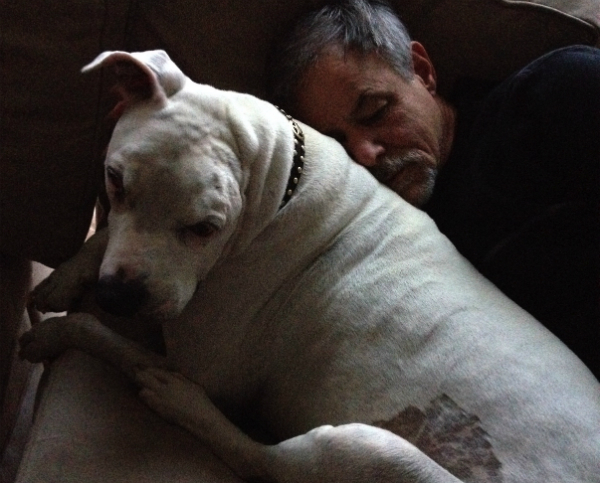 "The worst thing that ever happened to this dog is also the best thing that ever happened to him."
After 12 years together, Levin and Oogy are still inseparable.
"We're the missing parts of each other," says Levin, who adds that Oogy still sleeps with him every night.
"We're just a couple of old guys helping each other."
Meet more Dogster Heroes:
About the Author: Heather Marcoux is a freelance writer in Alberta, Canada. Her beloved Ghost Cat was once her only animal, but the addition of a second cat, Specter, and the dog duo of GhostBuster and Marshmallow make her fur family complete. Sixteen paws is definitely enough. Heather is also a wife, a bad cook, and a former TV journalist. Some of her friends have hidden her feed because of an excess of cat pictures. If you don't mind cat pictures, you can follow her on Twitter; she also posts pet GIFs on Google+.