Heather Bring applied for a service canine full of hope the dog would help change her life. "I became disabled and, when that happened, it was really hard. I didn't know where my life was going to go," Heather says.
The Rhode Island woman battles two debilitating health problems: Ehlers-Danlos syndrome (EDS), which weakens the connective tissue in her body. And Pseudotumor cerebri, a condition that causes increased pressure on her brain, causing headaches and vision problems.
Heather needed a service dog to help her bend over and pick things up. Not being able to do that anymore was heartbreaking. Before Heather suffered health problems, one of her favorite things to do was walk the beach and pick up plastic trash, so it didn't harm marine mammals. When she could no longer do that, she worried animals would become entangled in garbage and suffer.
Then one day, three years after Heather applied, she finally got good news: a beautiful Golden Retriever mix named Marea was waiting to meet her. The two instantly connected. Heather knew Marea was the perfect fit.
"She's pretty incredible," Heather says. "It's hard to put that in words."
But what Heather didn't know is Marea was not only about to change her life, but she would also help save the lives of other animals, too. Once Marea got acclimated, Heather brought her to the beach, and Marea soon learned how to help Heather resume her conservation efforts. Marea picks garbage off the shore and brings it to Heather, who bags it and carries it off the beach. "It's awesome," she says. "I feel like she loves it."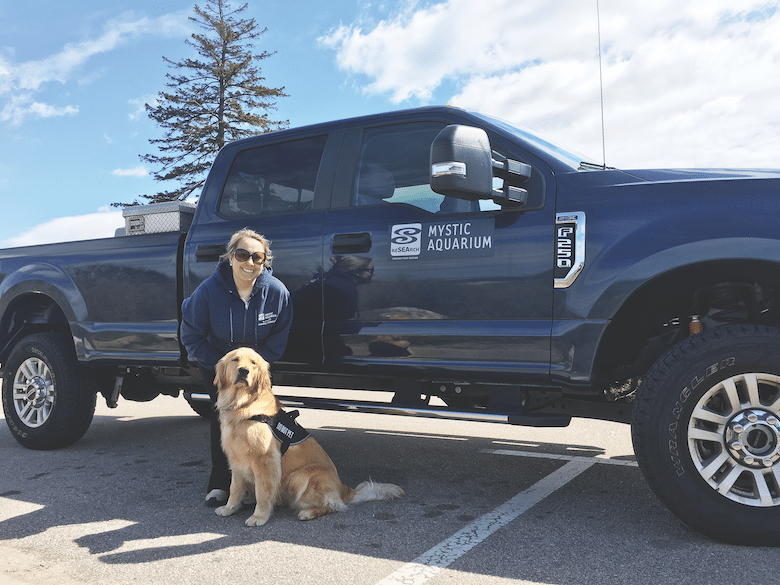 Not only does this dynamic duo help keep beaches debris-free, Heather and Marea are also volunteer first responders for Mystic Aquarium's Animal Rescue Program. Marea is the first canine ever to hold the position.
When the aquarium's hotline gets a report of an animal that may need help, Heather and Marea race out to assess the situation. One of their goals is to keep people and pets away from marine mammals on the beach.
"I call it seal sitting," Heather says. "We'll sit out with a seal on a beach and stay far enough away, so he is not bothered. People will come up to us, instead of the seal. It gives us a way to educate people to stay away from the seal. We also talk about how they can help animals by picking up trash."
In the meantime, Heather monitors the seal to see if the animal is entangled in plastic or appears to need help. "Sometimes seals are just sunning themselves and not stranded," she says.
Heather also teaches kids, besides being illegal, why it's crucial people don't bother seals. "I open Marea's mouth and say a seal's teeth are bigger than this!"
The pair are still out on East Coast beaches helping to change the world. Heather is so grateful she has the best partner she could have ever asked for.
"She is an extension of myself," she says. "After everything I've had to endure, having her by my side is giving me more power and confidence to get out there and do what we need to do to help the environment and help other animals."
Top photograph: Heather Bring
Read Next: 10 Types of Service Dogs and What They Do