Dogs love lawns. They love to sniff them, roll on them, and, of course, pee on them. To a dog, a lawn is both a bathroom and playground, but to many humans (especially those in drought-stricken states like California), lush green lawns have come to represent something else: wasted water. Luckily for us, a caped crusader named TurfMutt is teaching families across the country how to create climate-appropriate, drought-resistant yards that won't burn paw pads like non-living landscapes can. These lawns may not be quite as green as we humans would like (our dogs can't see that color anyway), but unlike plastic grass, they're living things — just like TurfMutt.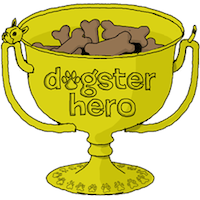 He's a superhero now, but TurfMutt's origin story takes us back to the streets of Indianapolis, Indiana. Long before he was charged with saving the planet, TurfMutt (whose non-superhero name is Lucky) needed to be saved from traffic.
"A little black-and-white dog shot out in front of the car and just took off running in the middle lane of the three lanes," explains Lucky's human and fellow environmental crusade, Kris Kiser. "I'm like, this poor little guy is going to get hit, so I pulled in behind him and followed him."
The sun had already gone down on that cold February night in Indianapolis, and Kiser was afraid other drivers wouldn't spot Lucky as he headed toward the interstate. The dog lover followed the stray for three or four blocks before the frightened dog darted out into a busy intersection against the light.
"He almost got clipped, and he laid down just dead center in the road, so I pulled the car into the intersection, blocked traffic — there was honking, screaming — and I opened the door right beside him and I said, 'Come here,'" says Kiser, who then lifted the scared stray into his vehicle.
He named the dog Lucky and took him home for a bath before whisking him off to the vet.
"She took a look at him and said, 'He's pretty beat up, he's dehydrated and malnourished, his kidneys are starting to go' — but he's a tough little terrier. They put him on some fluids, and he came right back," says Kiser, a passionate rescue advocate who already had a couple of dogs when he saved Lucky.
As Kiser tells it, Lucky never seemed to forget who plucked him from that intersection in Indianapolis, and the dog was determined to never let his new human out of his sight.
"He became freakishly attached to me," Kiser explains, adding that Lucky got another lucky break when Kiser took a job with Outdoor Power Equipment Institute (OPEI), which allowed him to bring his dog to work with him each day. While Lucky was hanging around the office lapping up attention, Kiser and his team were brainstorming ways for OPEI to help people maintain yards that are good for the larger environment rather than harming it.
"A lot of folks out there were mismanaging their lawns in a way that was probably detrimental. We wanted to turn that around," says Kiser, "So I said, let's do an education program with kids."
After consulting with educators, Kiser learned that having an animal to be the face of his campaign would be key, but he wasn't sure what the animal would be. His next step was to meet with a communications firm — and of course Lucky came with him to the meeting. As Kiser sat at the conference room table with Lucky lounging at his feet, the president of the firm asked Kiser if Lucky would wear a cape.
"I said, 'I don't know,' so they tied a tablecloth on him," Kiser recalls. The meeting then moved outside, and Lucky had his very first photo shoot. It turned out he was a natural.
"He's a ham, and he'll do exactly what you tell him to do — so a hero was born, and TurfMutt came out of that."
Seven years after Tuff Mutt's debut, Lucky is still mugging for the camera — making his television debut on Lucky Dog. The reality show follows host and celebrity dog trainer Brandon McMillan as he springs rescue dogs from shelters and trains them before adopting them into new homes. This season, Kiser made several appearances, helping adopters maintain drought-resistant yet dog-friendly yards. During shooting, Kiser visited an L.A. shelter with a Lucky Dog scout when he noticed an older dog, Dottie. Curious about her story, Kiser asked shelter workers to fill him in and was shocked when they explained she was facing euthanasia.
"I said, 'Why would you put her down, she's super cute?' And they said, 'Well, she's old. No one's going to take her.' So I said, 'I'll take her.' So I adopted a dog on the spot — because they were going to kill her."
When the rest of the Lucky Dog folks heard what Kiser did, they decided to fly to Virginia and shoot an episode of Lucky Dog all about Dottie moving in with Kiser and Lucky (Dottie's episode airs May 7).
"She's the oldest rescue ever for the show," says Kiser, who admits Lucky the TurfMutt is also getting up there, at about 10 years old. He can't fly anymore due to his senior status, but Lucky still visits schools within driving distance of his house. After helping countless kids learn about the science of lawn care, it's almost time for Lucky to hang up his cape.
According to Kiser, Lucky Dog plans to help him find the next TurfMutt when the time comes, and there may be more television appearances in Lucky's future. Kiser doesn't know when Lucky will be passing the torch to the next TurfMutt, but one thing is for sure — this lucky dog will always be a superhero.