For this week's Social Dog, we'd like to introduce you to a sprightly pup named Castiel, who's fast becoming a rising star on the Instagram scene. As a Samoyed, he's an eye-catching little chap, and he likes to introduce himself as a "happy dog" with a mischievous side who wants nothing more than to be "your friend."
Here's what you'll need to know to make Castiel's acquaintance.
Meet Castiel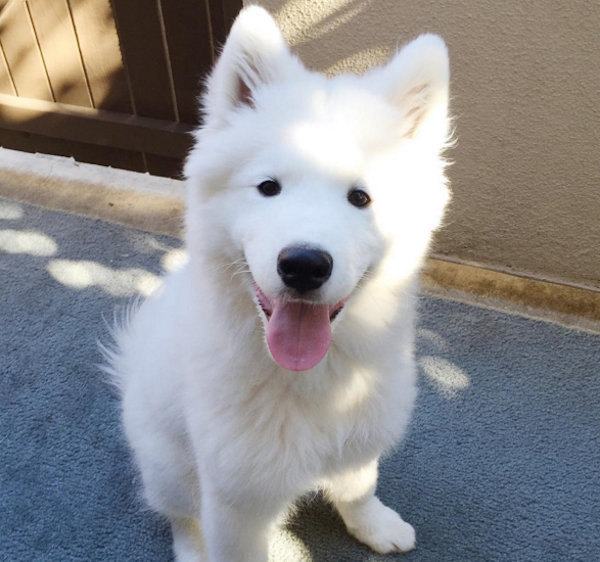 This is Castiel in all of his fluffy glory. He's a pup who was born last September and is now living it up in Orange County, California.
What's really in a name?
Intrigued by Castiel's distinctive moniker? Well, it turns out he's named after a character from the TV show Supernatural.
"In the show, Castiel is an angel who's a little adorably naive when it comes to understanding human social interactions," says the pooch's mom. "It seemed to fit perfectly with the puppy because he would do the silliest things and not understand why we would laugh at him, like splashing in his water bowl or doing his happy dance before we fed him."
She adds: "We also wanted to name him after an angel because he was meant to be the light in our lives and, hopefully, for others as well. We have plans to help him become the best therapy dog he can be."
A tongue-out kinda guy
When asked to sum up Castiel's personality, his mom says, "He's very goofy and is definitely a mama's boy. She adds that he's "easy to please" and usually picks things up quickly — possibly due to the lure of boiled chicken treats as a reward.
"When he's having fun, Castiel has a tendency to leave his tongue out of his mouth, which we absolutely adore!" she adds. "It's one of his little quirks that we find simply endearing."
Also, a troublemaker
Castiel's Instagram bio proudly boasts that he's a "troublemaker." His mom explains, "Samoyeds are known to have a mischievous sense of humor, and Castiel definitely lives up to it!"
"If he knows he isn't allowed to do something and he's being playful, he will show that mischievous Samoyed character," she adds. "He will steal your socks and tease you with them, or he will go upstairs when he knows he isn't allowed, all while looking back at you as he goes up the steps!"
On the scene
As you'll have noticed by now, Samoyed dogs definitely stand out from the pack. So when Castiel is out and about in Southern California, he gets his fair share of stares, turned heads, and oohs and awws.
"Many people try to guess Castiel's breed," says his mom. "Samoyeds are not very popular here, and we've had people think he's a Pomeranian, a Husky, an albino Akita, and even a baby polar bear lookalike!"
Fantasy playdate
With Castiel being an exuberant pup, it's only right that he's all about his playdates. In an ideal world, his fantasy hook-up would be with the Cape Cod trio of Sasha, Nikia, and Tucker (two of which are pictured above).
"They run and play on the beach daily," says Castiel's mom, "and he'd absolutely love to visit them and chase them around the beach."
Bonus puppy pic!
Finally, for posterity's sake, please enjoy this archived picture of Castiel, taken when he was just a 1-week-old pup.
Now head over to Castiel's Instagram page to follow his further adventures in troublemaking.
Read about more Social Dogs of the Week:
About the author: Phillip Mlynar writes about cats, music, food, and sometimes a mix of all three. He considers himself the world's foremost expert on rappers' cats.