Celebrate Valentine's Day with the love of your life (I'm talking about your dog, of course!) with these precious puppy pancakes. (These are treats and should not replace your dog's regular food.)
Ingredients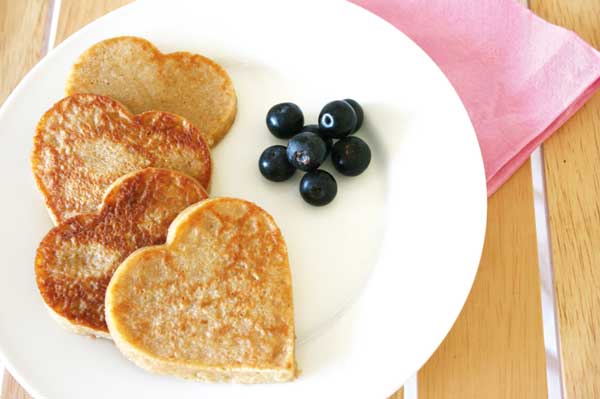 2 free-range eggs
1 cup low-fat milk
1 1/2 tbsp. melted butter
1/2 tsp. ground cinnamon
1 tbsp. honey1 cup whole-wheat flour
1/2 cup all-purpose flour
1 tsp. baking powder
Instructions
Whisk together the eggs, milk, honey, and butter.
Add flours, baking powder, and cinnamon. You'll have a thick pancake mix.
Heat a greased pan over medium heat and place the batter inside a heart-shaped cookie cutter.
Wait about one to two minutes for bubbles to form and pop before flipping the pancake and cooking the alternate side.
Cool, and serve with fresh blueberries.
Makes 10 to 12 small pancakes.
Handy hints
Use a stainless steel cookie cutter and grease the inside to ensure the batter doesn't stick.
If using plastic cookie cutters, cook the pancakes first and then cut out heart shapes once cooked.
Milk and butter can be substituted with dairy-free variations for dogs with allergies.
Photos and recipe reprinted with permission from Pretty Fluffy's 52 Weeks of Treats.
Editor's note: Have you seen the new Dogster print magazine in stores? Or in the waiting room of your vet's office? This article appeared in our February/March issue. Subscribe to Dogster and get the bimonthly magazine delivered to your home.
Thumbnail: Photography courtesy Serena Faber Nelson.
Read more about dogs and Valentine's Day: