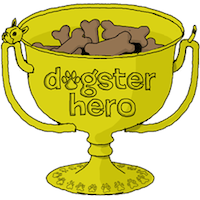 Remember the simple comfort of having someone read to you as a child? A calm, nonthreatening presence; a soothing voice flowing like mellow maple syrup through the familiar nooks and crannies of a favorite fairy tale or a reassuring poem. Somehow, the scary shadows under the bed and the mysterious monsters crouching in the closet seemed to gradually recede as that friendly, heartening cadence wrapped itself around you like a secure and comfy quilt.
Turns out, we're a lot more like dogs than we may have realized — and a new program recently implemented by the Humane Society of Missouri (HSMO) illustrates how and why, in some pretty powerful ways.
On its surface, the new Shelter Buddies Reading Program sounds fairly simple. It essentially enlists trained school-age volunteers, aged 5 to 15, to sit companionably next to kennel runs and read to HSMO shelter dogs.
"Shelters exist to save the lives of animals — yet for many homeless pets, the unpredictable overload of sights, sounds, and smells in an unfamiliar shelter environment can be incredibly unnerving," notes JoEllyn Klepacki, HSMO's assistant director of education. "We regularly encounter dogs who are extremely shy, fearful, and generally stressed out. If you think about it, these dogs have a much lower chance of adoption because they tend to hang back and cower —rather than step forward and engage — when potential adoptees come through."
The Shelter Buddies idea originally began taking shape as a direct result of HSMO's "Kids for Critters" weeklong summer camp. This camp experience is designed to help area students learn more about animal welfare, responsible pet care, and humane animal treatment. However, in reviewing feedback from campers — as well as kids who had visited the shelter on field trips — HSMO's education staff would regularly come across requests for more animal interaction opportunities.
"As they learned about the needs of our homeless pets, these kids were looking for tangible, hands-on ways to help make a measurable difference in their lives," explains Klepacki.
It didn't take the education staff long to put the equation together. What resulted is a program nearly stunning in its straightforwardness — yet equally impressive in its ability to benefit animals and kids simultaneously.
"The children get to practice and hone their reading skills, while helping scared shelter dogs come out of their shells," Klepacki observes. "It's the most amazing win-win situation — and watching it unfold has been really something."
To prepare for these therapeutic reading sessions, interested students first undergo a 90-minute training session at the shelter.
"As an initial step, we walk them through the area where our dogs are housed," says Klepacki. "Next, we take the kids to a classroom area, ask them to close their eyes, and invite them to imagine what it's actually like to be one of the shelter dogs. We ask, what do you hear? What do you see? What do you smell?"
According to Klepacki, the replies are remarkably intuitive. "Kids will pipe up with words like 'barking,' 'whimpering,' 'cleaning chemicals,' 'urine.' One student actually said he could envision smelling the fear of all the other dogs," she recalls. "This exercise is especially crucial because it helps students to empathize and experience things from the dog's perspective."
Trainees then take in a PowerPoint presentation that helps them recognize specific canine body language and stress signals. They're also taught the proper way to approach a dog, so that the animal doesn't interpret their behavior as aggressive, threatening, or domineering.
"Several people ask us why students don't just get right into the cage with the dog. But to a frightened dog, that approach could seem terrifyingly overbearing — and ultimately, dangerous for both the canine and the child. Our goal is to give these dogs a choice, in an environment where so many things are beyond their control," explains Klepacki.
This means that young readers are always instructed to sit sideways next to the kennels when reading to a chosen canine. "We generally want them to avoid facing the dog straight-on, standing over the dog, or making direct eye contact," adds Klepacki. "To any canine, these postures could be interpreted as dominating or aggressive. This program is not about forcing an interaction."
Readers are also reminded to use calm, measured, "library" tones while reading and talking around the dogs. They're asked to look down at the book, rather than directly at the shy or frightened animal. If the dog begins to respond, students can drop small pieces of kibble into the kennel through a special "Snack Track" tube as a friendly, encouraging reward.
And speaking of response, the results have been quite inspiring. While the shelter doesn't yet have hard statistics, its observational data is compelling. "We have photo after photo of dogs who were cowering in the back of their kennels — scared, withdrawn, hunched over, tail tucked," says Klepacki. "As these kids read to them, you can actually see a gradual transformation taking place. Frightened dogs begin to turn around and face forward. Some stretch out and relax. Many eventually move toward the children. Everything is on the dog's terms. In so many ways, you can witness the connection being made. You can just see the dogs responding to those kids."
As for the kids, they respond back wholeheartedly. Klepacki explains that up to 25 children attend each training session. But once they "graduate," the rule is that only six kids are permitted in each dog wing at any one time, so as not to overwhelm the animals. Volunteers are allowed to read for a maximum of two hours during any visit interval, yet many opt to sign up multiple times throughout the week. Each arriving student is asked to sign in at HSMO's check-in station, where they're greeted by a selection of books and receive an official volunteer name badge. They also receive a bookmark listing common canine stress signals.
"Having these stress signals listed right in front of each reader helps them identify a frightened dog that may benefit from quiet encouragement on that particular day," notes Klepacki. "Kids are also free to choose a dog they've worked with in the past, if nobody else is reading to that animal. I should also mention that we invite the children to look for dogs who appear wound-up and agitated, as well. This behavior is another anxiety indicator, and reading to these animals can help calm and soothe them."
Klepacki notes that parental participation is a vital component of the process. Due to the age of HSMO's volunteer students, an adult family member is required to transport children to and from visits. Moms and dads are then invited to wait in the lobby area while children read to their chosen canine.
"This ongoing parental support and buy-in silently reinforces the importance of the program for our student volunteers," explains Klepacki. "As a result, we have kids eagerly showing up multiple times per week, working on their reading skills, even bringing along specific books they think a particular dog might like. Each child who logs 10 combined reading hours earns a Shelter Buddies T-shirt."
But according to kids she's talked with, Klepacki notes that the real reward happens when the canines make a connection. Readers see their chosen dogs becoming more calm and outgoing. This, in turn, encourages the kids to keep on reading — which, in turn, helps forge an even stronger bond. "It's a truly symbiotic relationship," she says.
What's especially encouraging is that studies suggest there's actual science behind what's being observed. Research conducted by the University of California found that over the course of a 10-week interval, children who read to animals boosted their reading skills by roughly 30 percent. At the same time, studies conducted by Charles Snowdon, Ph.D. suggest that cadences, tones, and tempos reflecting a mammal's resting heart rate tend to be particularly calming and soothing for the animal in question.
Accordingly, other shelters have begun to recognize these reciprocal benefits as well. Maryland's no-kill Baltimore Humane Society, for example, just kicked off its own "Bmore Humane Kids Club" to help improve literacy and break the cycle of animal violence. This program helps student volunteers sharpen their reading skills while learning about the humane treatment of homeless dogs, cats, rabbits, and guinea pigs.
"Our two-year-old Read to the Animals program became so popular that we've actually expanded it into a club that places a dual focus on literacy and humane education," explains Wendy Goldband, the society's director of marketing and public relations.
However, while the Read to the Animals program welcomes reader volunteers of any age — including children and senior citizens — "the new Kids Club is specifically designed to encourage and educate a younger audience. It meets one Saturday per month and features a range of fun interactive games and activities that focus on animal care and humane education themes."
Goldband maintains that by adopting their own reading reassurance and humane education programs, shelters can play a powerfully proactive role in helping to end a disturbing cycle of cruelty. The troubling statistical link between violence toward animals and violence toward human beings has been continually highlighted and well-documented by respected organizations like The National Link Coalition. "The intention of programs like the Bmore Humane Kids Club," adds Goldband, "is to help children develop lifelong compassion and empathy for all living creatures."
To learn more about registering for HSMO's summer camp or Shelter Buddies reading program, visit its kids and teen programs page. To learn more about participating in Read to the Animals or the Bmore Humane Kids Club, visit its Read to the Animals page.