Dogs are our best friends. It turns out, the truism is just as applicable to alien heroes who travel in time and space. From 1977-1981, during the Tom Baker/Fourth Doctor era of the BBC's flagship science-fantasy program, Doctor Who, the Doctor and his friends were accompanied on their adventures by K9, a robot dog with a computer for a brain and a laser for a nose. While the prop could be problematic, as a character, K9 has proved enduringly popular with fans for nearly 40 years, thanks in large part to the dog's voice, provided by actor John Leeson. Let's learn more about Doctor Who's loyal and trusty canine companion!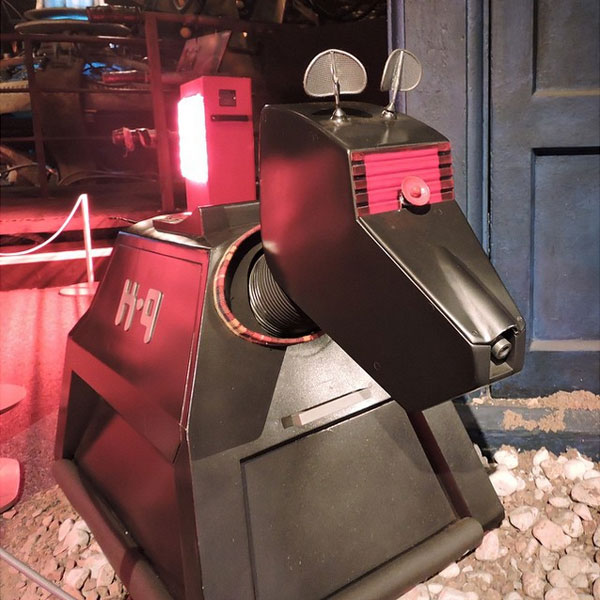 K9's history in Doctor Who
Developed by screenwriter Bob Baker and designed by Tony Harding, K9 the robot dog made his first appearance in the second episode of the Doctor Who serial "The Invisible Enemy" on October 8, 1977. In the story, K9 was invented out of sentimental necessity. Professor Marius, an exobiologist, was recruited to work on a medical space station in the year 5000 and had to leave his own pet dog on Earth. His solution was to create K9, a robotic pet to remind him of home. K9 was initially suspicious of the Doctor and his companion Leela, but over the course of the adventure, took a shine to them. At their departure from the station, Marius offered to re-home K9 with the Tardis crew, and off they went.
K9 proved so popular with audiences that he remained a stalwart presence on the show during its next four seasons. The first version of K9 accompanied Tom Baker's universally beloved, infinity-scarf wearing Fourth Doctor until leaving the Tardis with Leela at the conclusion of "The Invasion of Time" (1978). The second version of K9 was introduced at the start of the next season, joining a rotating series of humanoid companions — Romana I, Romana II, and Adric — until "Warriors' Gate" (1981), when he stayed in a pocket universe called E-Space with Romana II. Though most commonly associated with voice actor John Leeson, during Doctor Who's 1979-1980 season, his voice was provided by David Brierly.
Good dog, K9!
As a character, K9 endeared himself to fans through his personality, which was as unique as that of any domestic dog. Most famously, K9's bright, chirpy voice referred to his traveling companions as "Master" or "Mistress," and he answered "Yes" or "No" questions with a clipped "Affirmative!" or "Negative!" These terse replies were comically contrasted with his voluminous responses when substantive knowledge was required. The comic relief of the literal-minded robot dog provides humor and dispels tension, especially in some of Doctor Who's darker moments. Doctor Who's robot dog was also a dab hand at chess, taking the wind out of the Fourth Doctor's sails on many occasions.
K9 was as loyal a companion as any typical dog, but with enhanced abilities that made him useful across a range of situations and predicaments. With a computer for a brain, a laser in his nose, radar dishes for ears, and a mouth that produced ticker-tape printouts, K9 could attack enemies, protect the Doctor and his friends, and offer comprehensive background information in a pinch.
Behind the scenes: K9 was not exactly Tardis-trained!
In Doctor Who, the robotic dog represented the height of 51st-century technology. As a remote-controlled prop on the set, however, K9 was very much a product of tight 1970s BBC budgets. The show has always been a marvel of creativity, though, doing the best with limited resources. When K9 played a crucial part in a scene, actors were compelled to kneel to carry on conversations. Since the K9 prop could only move — slowly, at the best of times — on level surfaces, the robotic dog was frequently sidelined for outdoor and location recordings.
K9's voice actor John Leeson had a great rapport with Tom Baker and the rest of the cast and crew. At rehearsals prior to his first appearance, Leeson would physically get on all fours and do his lines in character. In one oft-repeated anecdote, the K9 prop was on location during the production of "The Stones of Blood" (1978), while Leeson was stationed a ways off with his microphone. Passersby wondered to see the Fourth Doctor in full costume, discussing the clues to a crossword puzzle with K9. Leeson's commitment to the character is credited with establishing a comfortable relationship on set between the actors, even as the prop itself could be unreliable.
K9's legacy and further adventures
After a brief appearance in the 20th anniversary special, "The Five Doctors" (1983), K9 wouldn't feature in televised Doctor Who again until 2006's "School Reunion" and 2008's "Journey's End," both starring David Tennant's Tenth Doctor. There have been two ill-advised and short-lived K9 spin-off series, K-9 and Company (1981) and K-9 (2009-2010). K9 also appeared periodically in the far-superior Sarah Jane Adventures (2007-2011), where he was reunited with another beloved classic Doctor Who icon, actor Elisabeth Sladen.
K9 continues to delight and entertain audiences to this day in a variety of media. For one, the robot dog features in Big Finish Productions' full-cast Doctor Who audio dramas. Unrestricted by the limitations of the physical K9 prop — while continuing to have fun referencing it — John Leeson has returned to give life and voice to the beloved tin dog opposite all of his original Doctor Who castmates. Learn more about Leeson's life and career, including K9's legacy, in Toby Hadoke's "Who's Round" podcast. Further, K9 has been confirmed as a part of the forthcoming LEGO Dimensions video game.
K9: A dog-lover's dream
For all of us who have loved and lost pet dogs, Doctor Who's robotic dog offers us a bit of wish-fulfillment. Though K9 departs at the end of his first season, he returns as a new model the next season. When he is destroyed at the climax of "School Reunion," the Doctor leaves Sarah Jane with yet another new model. The same dog with the same upbeat and loyal personality comes back again and again. In ways that are both silly and profound, K9 satisfies the all-too-human fantasy that a dog might live forever. Are you a Doctor Who fan? Season 9 premieres on BBC America on September 19!
Read about other dogs on TV at Dogster:
About the author: Melvin Peña trained as a scholar and teacher of 18th-century British literature before turning his research and writing skills to puppies and kittens. He enjoys making art, hiking, and concert-going, as well as dazzling crowds with operatic karaoke performances. He has a one-year-old female Bluetick Coonhound mix named Idris, and his online life is conveniently encapsulated here.