As a writer, I spend a lot of time doing research, some of which takes me into obscure and strange regions of our modern information culture. Even so, it's unlikely that I'll ever have a furious need to know the largest gathering of people dressed as bees, the loudest purr by a domestic cat, the holder of the speed record for breaking three balloons with the back, or the most people ever to have written telegrams at the same time in multiple locations. However, just in case that kind of compelling need comes up, it's good to know that the folks at Guinness World Records are around, keeping track of the details for me.
Now, add to all of those one adorable Pomeranian named Jiff, who has been certified as holding not one, but two records: for running the fastest 10 meter run on his hind legs (6.56 seconds) and running the fastest 5 meter on his front paws (7.76 seconds).
It's not like Jiff didn't already have his share of celebrity. If you're a longtime Dogster reader, you might remember this piece by Liz Acosta about Jiff and the tricks that had already endeared him to thousands on the Internet. How many dogs do you know who can impersonate a burrito?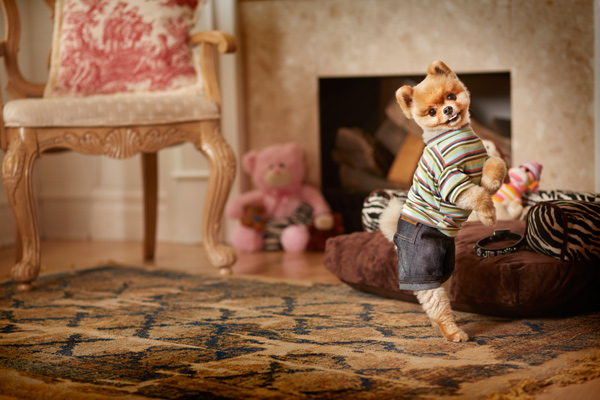 Since then, Jiff's following has only grown, culminating in a cameo appearance in Katy Perry's "Dark Horse" music video earlier this year. That makes Jiff the first and only reason I've had to watch a Katy Perry video, a true testimony to the dog's on-screen charisma.
The video showcases Jiff's talent at walking on his hind legs, but it took the crew at Guinness to document just how good he is. Not only did Jiff complete the 5 meter and 10 meter runs in less than 10 seconds, but he did both on the first try.
Like a lot of people, Guinness World Records Editor-in-Chief Craig Glenday couldn't help gushing over Jiff.
"When Jiff first walked into our offices, we weren't even sure he was real," he said in a press release. "He looks like a living, breathing cuddly toy. He might be tiny but he's got a huge personality, and his wealth of talents can't be doubted. He certainly deserves his place in the new Guinness World Records book, which is particularly special this year because it marks our 60th anniversary. Jiff is just one of the many incredible new record holders in the book, and the first of many special announcements we'll be making."
Guinness World Records awards only those things that can be measured, weighed, or counted in some way, so there won't be a "cutest Pom" entry. But if there were, we're sure that Jiff could give Boo some serious competition.
Check out more cuteness on Dogster: