I don't know about you, but in a world where games are so easily accessible on any device, it seems impossible to avoid downloading one. I've dabbled in them all — words, candy, jewels, and much more — and it hit me: What about the dogs? Are there games out there I can play with my dogs? Indeed, there are!
While the list of options might seem humble so far, I found several offerings (including some aimed at cats) that give your dogs options for digital play. To experiment, we put them in front of my three dogs to see how they fared.
This is the only game application I found geared specifically toward dogs. If there are more, let me know and I will test them and add my review in the comments.
Pixie, our rescue American Bulldog, isn't usually the active one of the group. Truth be told, we have a lazy bunch and that's fine by us. She's entranced by lights and television so it wasn't a surprise that she's now hankering for her own iPad. I downloaded Games for Dogs unsure of what to expect, as there aren't many reviews at this point.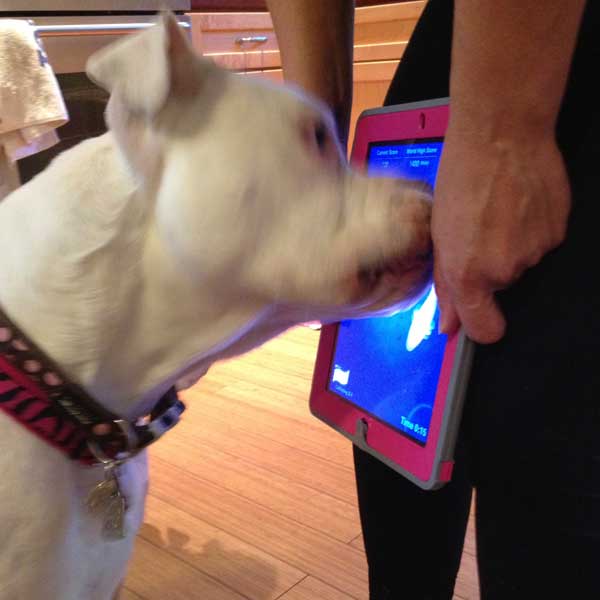 When it loads, the game draws her in. The object is for your dog to lick the screen (screen protector suggested, love my Otterbox) or hit it with its nose or paw. The dog gains points and sets off a series of sounds by hitting the screen, further stimulating their senses, exciting them and getting their inner gamer on. You can play with them; the screen allows humans to touch and gain points. There isn't a way to play against your canine companion jet yet. Cross our fingers in paws that's in the next update. There are three levels; the first one is free and you can purchase the other two for 99 cents each.
One complaint: I bought the add-ons of SquirrelIy Sam and Couple o' Cats. Pixie loves them, but the application doesn't recall I bought them and I have to click "buy" every time. Apple retains the information so I've only been charged once. I emailed but there hasn't been an update. It's a new application, so I can't really complain. I prefer to use the iPad over the iPhone. She has more room to play, but either option was fun to watch her play.
There, I said it: Game for Cats isn't just for cats. This game has an upgrade that I didn't buy, so this is a review of the basic free version. In this game they're chasing a red dot, similar to a laser light. Beware of trying to attack your iPad and anything in the way. It drives them crazy to see that light bounce around.
Ralph, my rescue French Bulldog, and Joe, my rescue Pug, both looked at this one a little. Pixie is light obsessed and wasn't keen on sharing. We had to get the little guys alone to let them experience the games on their own. This one caught their attention more than others. The contrasting colors and brisk movement were optimal for even the laziest Pug.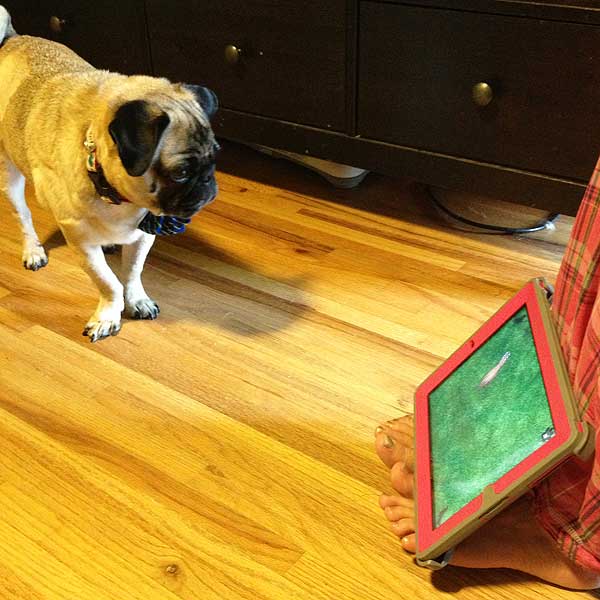 Friskies is on the front line with applications for your pet. Here you have 25 seconds to catch fish, by hitting or licking the screen. Level one is one fish, level two, two fish, etc. The sound of bubble in the background garnered many a head tilt here. I must say that may have been my favorite part. If you don't know what a French Bulldog or a Pug head tilt looks like, Google it. Now picture that while playing a game on an iPad. Pretty darn cute; you have to let them win.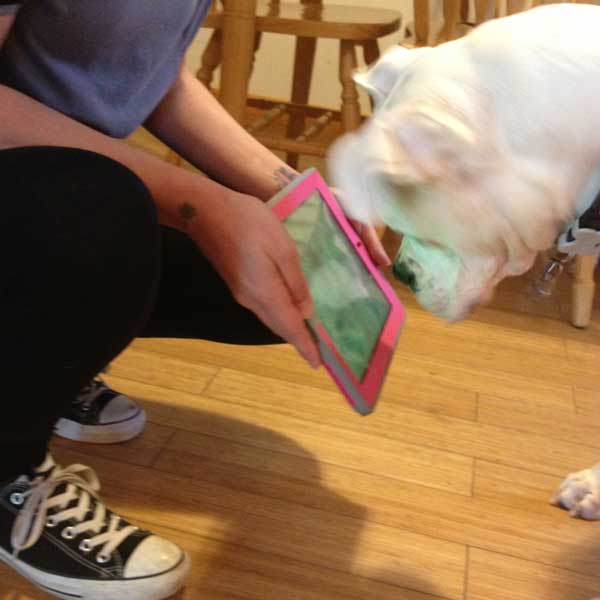 Pixie was too involved to head-tilt, she's hardcore now. She was getting upset by the third level. Pixie was looking for the fish, as if she was worried about them and getting upset. I had to show her the fish weren't in the iPad, behind the iPad, in the floor or anywhere around. This one upset her a bit, as did the next one. She had fun over all, but is worried about the fishes.
Another Friskies product geared toward cats but loved by dogs. This one has several flying creatures making noises to grab the attention of your pet.
I admit it, I cheated on this one. I knew Pixie was in, but I had a trick up my sleeve for the little guys. This game did make Pixie anxious again because she couldn't save her friends of flight. I won't let her play this one often. If I do, we need to have treats around to ease her worries.
What about the stubborn little Frenchie and the Pug? Treats on the screen. Of course two treat-driven stubborn guys would be enticed.
It worked, kind of. Ralph put together that when he touched the screen to get the treat, it made a noise. Ralph just didn't really care that much, he wanted the treat. Though if he got praise he wanted to show off. He's a bit of a ham. I think he'd play if enticed or if he had an audience. Joe on the other hand just wanted the treat. I don't know if he didn't put it together or if he just didn't care. Not much impresses Joe.
Do you play games on iPad with your dogs? Do you think you might? Or are you going to stick with the tennis ball? Let us know in the comments.
Top photo via Flickr
Read more about dogs and tech: