The Procter & Gamble Co. has voluntarily recalled specific bags of Eukanuba and Iams dry pet food because they have the potential to be contaminated with Salmonella, the company said in a press release.
Products in the recall include 11 types of Eukanuba dog food for puppies, adult, and senior dogs, along with eight types of Iams dry dog food. Ten products of Iams cat food are also being recalled.
The products come in a variety of bag sizes, from four pounds to 36 pounds. To see a list of affected bags, with lot codes and "best by" dates, visit the U.S. Food and Drug Administration website or the Procter & Gamble site.
The company says the products were distributed in the United States and represent roughly one-tenth of 1 percent of annual production. They were distributed "to select retailers across the United States," though the company doesn't say which areas in the press release; they were made during a 10-day window at a single manufacturing site.
"P&G's routine testing determined that some products made during this timeframe have the potential for salmonella contamination," the statement reads. "As a precautionary measure, P&G is recalling the potentially impacted products made during this timeframe."
The company says no other dry dog food, dry cat food, dog or cat canned wet food, biscuits/treats, or supplements are part of this recall.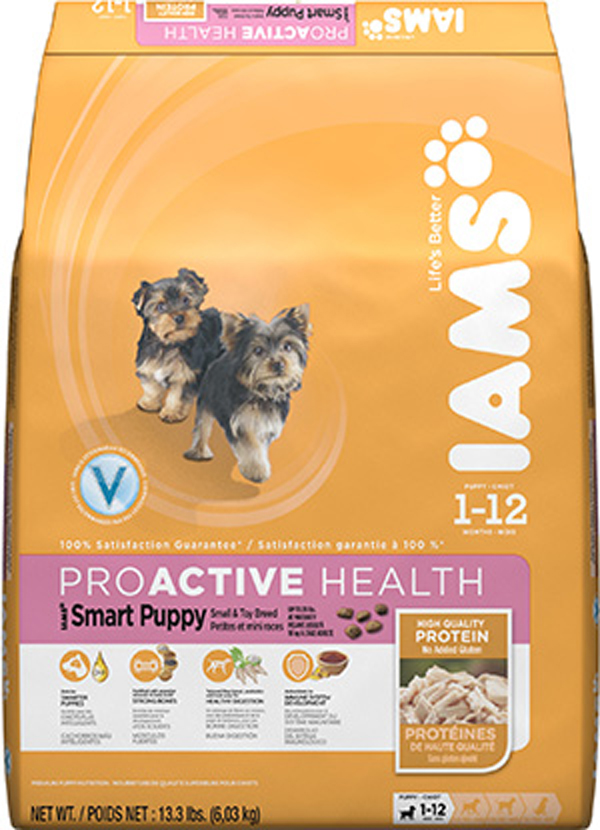 According to the FDA, "pets with salmonella infections may be lethargic and have diarrhea or bloody diarrhea, fever, and vomiting. Some pets will have only decreased appetite, fever and abdominal pain. Infected but otherwise healthy pets can be carriers and infect other animals or humans. If your pet has consumed the recalled product and has these symptoms, please contact your veterinarian."
Consumers who purchased a product on the recall list should stop using the product, discard it, and contact P&G toll-free at 800-208-0172 (Monday to Friday, 9 a.m. to 6 p.m. EST), or via websites www.iams.com or www.eukanuba.com.
Again, to see if your specific bag is on the list, visit the FDA or the Procter & Gamble site.