If someone on your holiday shopping list recently became a new dog owner, you have an excellent gift-giving opportunity. With the expense of welcoming a dog into the family, your loved one probably has been purchasing only the necessities and not the nice-to-haves.
Here are 10 gift ideas for a new dog owner. Some are just for fun, while others are practical and make life with a dog way easier.
New dog owners learn quickly that they are in a war against wayward fur on clothes. Sticky paper rollers are a good start, but the paper never peels off where you want it to and the disposable rollers are hardly eco-friendly. Enter the Fur-Zoff, a weird pumice-looking thing that is actually made from recyclable materials and comes with a lifetime guarantee. It also fits neatly in a stocking!
$12.99 at furzoff.net
The price tag is huge, but so are the benefits. When a dog sheds faster than his human can sweep, a Roomba gives them both the gift of quality time. After unwrapping a Roomba, your loved one will be able to spend less time cleaning their floors and more time bonding with their new pooch.
$399.99 at iRobot
Even if your loved one is fully stocked on towels, if she just brought home a dog she's going to be low on human-grade terrycloth soon. Something strange happens when a dog enters a household — it's like a magnetism, of sorts. One by one, each and every towel in the house is downgraded from human towel to dog towel, until one day, the pup-loving human turns off the shower to find themselves with no way to get dry. When gifting towels to a new dog owner, it's nice to have those bath sheets monogrammed with the human's initials. The stitched-in lettering serves as a reminder that these towels are to be used by people only. After all, the dog already has all the other towels.
$19.99 at Bed Bath & Beyond
At first glance, this classic toy may seem like more of a gift for the dog than the dog owner — until you consider all the shoes that it will save. A Kong is the gift that keeps on giving, and the human will be touched that you thought of his pup. This toy will occupy a new dog in just the right way, especially when it's filled with treats. A Kong is something dog families can't have too many of, so you don't need to worry about duplication.
$6.99 to $24.99 at PetSmart
Every dog owner needs a travel bowl, but it's not always an item dog owners think to buy in the early days. Gifting a good, easy-to-pack travel bowl means your dog-loving loved one won't have to improvise by letting her new pup lap water out of her cupped hands when away from home. This stocking stuffer preserves the dignity of both human and dog — and it can be clipped to a leash or a belt loop!
$7.99 at Dexas
Let your loved one toast his new dog with this Pawsitively Bemused coffee mug from ModCloth. I'm not really sure what's so bemusing about this mug — I think Pawsitively Awesome would be a more appropriate name for it. Any new dog lover would be pleased to sip his morning coffee from a mug that shows the world he has truly become a dog person.
$19.99 at ModCloth
This bone-shaped bio-waste bag dispenser is the perfect gift for a new dog owner concerned about filling the landfill with poops sealed in plastic bags. The dispenser and bags are made from corn, a more sustainable and renewable material than plastic. It clips on a leash or belt, so your dog lover won't have to stuff her pockets with bags before leaving the house.
$5.99 at Target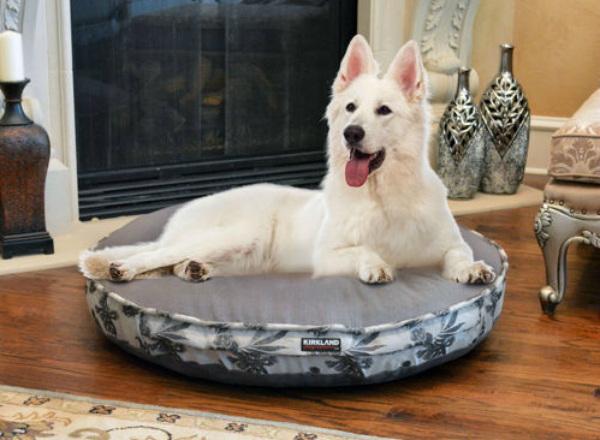 You might not expect much from a dog bed you can purchase at Costco, but these beds have proven to be popular both with the pups that sleep on them and the owners who wash the covers. By purchasing a doggy bed the new pooch will surely love, you also are gifting your loved one with a good night's sleep, as she won't have to share her own bed with the new furry family member.
$42.99 to 44.99 at Costco
This back-seat protector is the perfect gift for the person who loves his new dog, but also loves his car. The Kurgo Wander Hammock keeps the car clean while keeping the dog in the back seat. The hammock style creates a cozy space for the doggie to ride in style.
$44.99 at PetSmart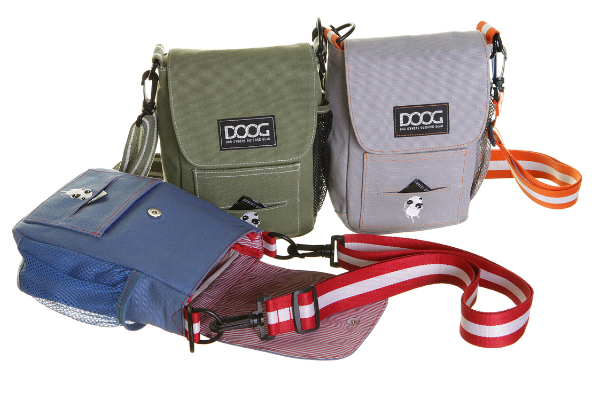 Walking a dog requires supplies, and sometimes pockets just don't have enough room for baggies, treats, and everything else a human/dog duo needs to hit the streets. That's what makes this DOOG Walkie Bag the perfect gift for a new dog owner, one who wants to strut her mutt in style. This messenger-style bag has room for a water bottle, and it has a special compartment for those necessary poop pick-up bags. You can even stash your keys and cards in the lightweight and comfy tote.
$39.99 at DOOG USA
Share your gift suggestions!
Found any great gifts for new dog owners that you want to tell others about? Share the bounty in the comments!
Read more holiday gift guides:
About the Author: Heather Marcoux is a freelance writer in Alberta, Canada. Her beloved Ghost Cat was once her only animal, but the addition of a second cat Specter and and the dog duo of GhostBuster and Marshmallow make her fur family complete. Sixteen paws is definitely enough. Heather is also a wife, a bad cook, and a former TV journalist. Some of her friends have hidden her feed because of an excess of cat pictures. If you don't mind cat pictures, you can follow her on Twitter; she also posts pet GIFs on Google+.