Is there an active dog on your holiday shopping list? Or an outdoors-loving dog owner? We've found 10 must-haves for adventurous pups and their people.
Depending on a pup's favorite activity, he needs the right vest to keep him safe.
$40 to $80 at Ruffwear
Kurgo is another great brand for active dogs, and it has a number of travel dog bowl options. My favorite is the Zippy Bowl. It's easy to collapse and tuck into a pup or human backpack. Add a carabiner to the zipper pull, and it can be attached to the back of a pack for easy and quick access. Pair a bowl with a canteen or stainless steel water bottle, and you have a great gift for an active pup!
$10 to $20 for travel bowls and $20 to $35 for canteens and water bottles at Kurgo
If a pup is going to be traveling in a car, a dog car restraint is a must. Sleepypod is a wonderful brand that does extensive stress and crash testing on its products. The Clickit Sport is the only dog car-restraint harness certified by the Center for Pet Safety. For smaller pups, the Sleepypod Air is a carrier that can be used both in the car and on airplanes, as it fits under the seat.
$65 for Clickit Sport and $160 for Sleepypod Air at Sleepypod
Why should the human do all the carrying? Let the pup be responsible for his supply of water, food, poop bags, and gear. Outward Hound packs can be found in many pet stores as well as online.
$35 to $55 at Kyjen
Not all trails allow dogs to be off-leash. For when you and your dog are out on an adventure and your pup needs to stay under leash control, a walking harness is extremely helpful. Sporn's Mesh Non-Pull Harness and Halter are lightweight, easy to put on, and help control pulling from overeager pups.
$10 to $25 at Sporn
Hiking with your dog is a blast, but finding trail options where dogs are allowed sometimes limits your options. Dog hiking guides highlight hikes both in your area and in areas you may be visiting. Mountaineers Books has an entire series to check out.
$10 to $17 at Mountaineers Books
7. Clean dog kit
As someone who just took a pack of dogs out hiking in the rain, I can tell you that an active dog is a dirty dog! You can put together a "clean dog kit" to give as a gift — include grooming wipes, shampoo, conditioner, spray deodorizer, and towels.
Cost depends on brands included and where you shop
If dogs are out and about at night, a safety light attached to the collar will make them easier to spot. When camping with my black dog, sometimes all you can see of him is a red light through the darkness. There are many different light options out there. Keep Doggie Safe is a great place to start your search. They have a number of lights available depending on the dog's size.
$5 to $25 at Keep Doggie Safe
9. Traffic and training leads
While out on a walk or hike, it helps to have leashes that match the occasion. Traffic leashes are short, often just a loop that allows you to easily keep your dog close while in crowded places or on busy streets. Recall training leads are the exact opposite! They are long 10- to 50-foot leashes that can be used to help train a dog in recall or to help transition to off-leash walks.
$5 to $25 at Amazon
10. First aid kit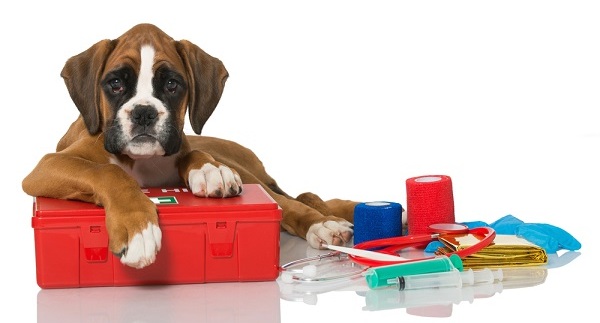 If a dog is going to be out and about on adventures, then a first aid kit is a great gift to give the owner. You can create your own or purchase a pre-made one. The Humane Society has a complete list of what should be in a pet first aid kit.
$20 to $100 for pre-made kits on Amazon

Happy gifting!
Share your gift suggestions!
Found any great gifts for active, outdoors-loving dogs and their owners that you want to tell others about? Share the bounty in the comments!
Read more gift guides on Dogster:
About the author: Wendy Newell is a former VP of Sales turned Grade A Dog Sitter. After years of stress, she decided to leave the world of "always be closing" to one of tail wags and licks. Wendy's new career keeps her busy hiking, being a dog chauffeur, picking up poo, sacrificing her bed, and other fur-filled activities. Wendy and her dog, Riggins, take their always-changing pack of pups on adventures throughout the Los Angeles area, where they live together in a cozy, happy home. You can learn more about Wendy, Riggins, and their adventures on Facebook and Instagram.