How the world changes: A few years ago we would have never thought of strapping cameras to our dogs. But now that cameras are being strapped to everything — body parts, surfboards, kayaks, bikes, helmets, skateboards, dashboards, sailboats, handlebars, hang gliders, refrigerators (?), carry-on luggage (?) — strapping one to a dog doesn't seem so far-fetched. In fact, it sounds like a good idea, because your dog gets to look like he just stepped out of some top-quality Mad Max fan fiction:
These dogs look pretty badass.
We have GoPro to thank for this, of course. The leader in wearable cameras has finally released its dog mount, and although we haven't gotten our hands on one yet, the $60 Fetch looks solid. It comes with two mounting locations — chest, for low shots of digging and the like, and back, for more expansive shots — and it fits dogs from 15 to 120 pounds. It's also padded at the adjustment points, and the chest mount is removable for smaller dogs. The company says it made the Fetch specifically with the dog's comfort in mind.
Plus, the mount comes with quick-release bases, so you can easily take off the camera without having to remove the harness, and it comes with a tether, so if the camera gets knocked off during play it will stay attached to the dog.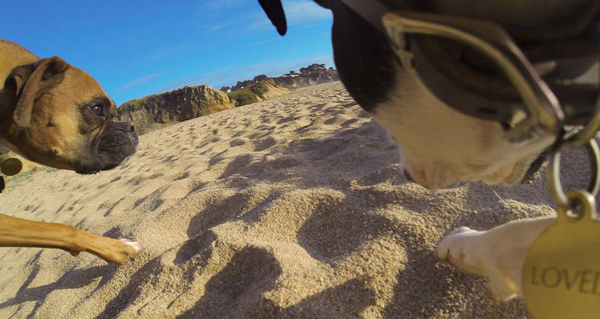 Check out the Fetch in action:
Would you strap a camera to your dog? Do you really want to record what your dog sees when she is digging a hole or chasing after a ball? Tell us what you would use this for in the comments!
Check out more at the GoPro Fetch page.
Read about dogs in the news on Dogster: