On a trip from Florida to Pittsburgh, Roger "Rod" Calvert discovered that the liver cancer he thought he'd beaten a few years ago had come back with lethal ferocity. Doctors gave him mere days to live, and the former Marine was too ill to make it back home to Florida.
His one last wish: That his beloved yellow Labrador retriever, Bailey, could be at his side. Bailey is the service dog of Calvert's wife, Debra, helping her get through her days as she struggles with multiple sclerosis.
His wish would have been nearly impossible to fulfill, with his other loved ones already beside him and not wanting to go anywhere else to fetch a dog with death so close at hand. But hospice care nurse Nick Petti was determined to try to reunited Calvert with Bailey, and contacted Pilots N Paws, an all-volunteer group of thousands of pilots and animal rescuers.
This wonderful organization's main purpose is to help transport rescue and shelter animals from one location to another in hopes of finding forever homes. The request to bring a dog to a dying man's side was unusual, but the pilots and rescue coordinators were deeply touched by the story, and coordinated an intricate plan to get Bailey to Calvert's side.
"Several of us had to work together to find the right connections," cofounder Debi Boies told the Huffington Post. "Normally, a distance that far is just too long of a distance for general aviation pilots to cover. Most cover an area of about 250 nautical miles, so you can see from Florida to Pennsylvania is far beyond that. But Bailey needed to get to Roger, and Roger needed to have Bailey before he could let go, so we worked hard to make it happen."
It took dozens of volunteer coordinators and four pilots to get Bailey to Calvert's home. She was a happy passenger the entire way, smiling and being her usual good-natured self the whole time.
Calvert could not believe Bailey was back at his side. She jumped right onto his hospice bed and reportedly did not leave him for the remaining three days of his life.
"She … kept watch over him and would put her paws on him and look at him. She watched him and helped him let go," Boies said. "I believe it brought him great comfort in those last hours. … There was a part of him that needed to see her himself to let go. I think a part of him also wanted to know that Bailey was with his wife."
Oh god, what a story. Pass the Kleenex. And RIP, Rod Calvert. We are so thankful this beautiful, smiling dog could be there with you in your final hours on Earth. Would that we could all have our best friends at our sides during this transition…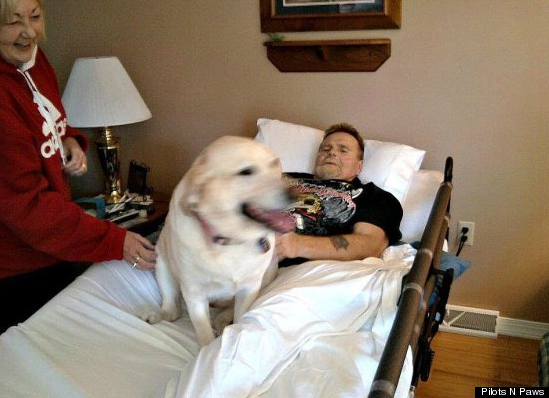 Source: Huffington Post