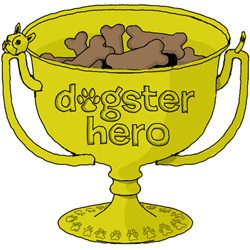 Figo the guide dog made headlines back in June when he put himself in harm's way to save his human, and now he's making history as the ASPCA's Dog of the Year for 2015.
"I'm so proud of him for what he did," Figo's human and handler, Audrey Stone, tells Dogster.
The pair were out for a morning walk in Brewster, New York, when the legally blind senior citizen gave Figo the command to cross an intersection. Unfortunately, Stone and Figo wouldn't make it across the street, as a mini-school bus was heading straight for them. The driver didn't see Stone or her guide dog as they approached the middle of the road, but Figo saw the bus and quickly got between it and his human.
"He could have died doing this," explains Stone. "That's the love we have for each other. Seriously, that's what upset me the most. He almost died to save my life."
Eight-year-old Figo is Stone's third guide dog. The pair were matched in January 2009, and Stone could tell right away that Figo was a dog with plenty of potential.
"I knew he was bright because he graduated a month early," she says, recalling the day she met Figo at the Guide Dog Foundation for the Blind in Smithtown, New York.
After being previously paired with a Golden Retriever, Stone was actually expecting to be matched with a Lab cross when Figo — another Golden Retriever — walked into the waiting room.
Stone says her instructor explained the breed switch was a last-minute change, which obviously turned out to be a perfect match. No one could have known that six years later, the bond between Figo and Stone would be strong enough to stop a bus and save a life.
"It was just meant to be," Stone says of their match. "I feel like he was my little angel and he just took action."
Recently reunited with Figo after more than four months apart, Stone doesn't remember much of the accident that prompted Figo to step in front of a moving vehicle.
"They just said he broke away from my hand and then somehow stopped the bus," Stone says, referring to those who witnessed the accident. "I don't recall it, and I hope I never do."
Witnesses accounts also showed that Figo's heroic actions didn't end when the bus stopped. Despite being injured himself, the dog refused to leave Stone's side.
"When I woke up, I was partially pinned under the bus, and he was standing there with his leg hanging in the air, and I knew he was hurt. I was more upset over him than me," Stone explains, adding that she's thankful to local firefighters who took Figo to a veterinary clinic while an ambulance moved her to the hospital.
"I was worried about him the whole time. My vet got in contact with me immediately [and said] that he needed surgery."
Despite Figo's heroic actions, Stone needed surgery, too.
"I broke two bones in my left ankle, I broke my elbow on the right side — I looked like Frankenstein['s monster] with a cast on each side," says Stone, who also suffered three broken ribs. "I cut my head and had to have a stitch, and then I had a mild concussion."
She spent a week at Danbury Hospital in Connecticut, followed by an additional three weeks of recovery at a rehabilitation facility. While Stone was recuperating, Figo was under the care of Middlebranch Veterinary in Carmel, New York. The cost of his treatment was paid for by an anonymous benefactor.
"I did see him periodically through the Middlebranch Veterinary staff," says Stone, who knew that both she and her dog needed time to get better before Figo could transition home successfully.
After a lengthy stay with Middlebranch, Figo returned to the Guide Dog Foundation for the Blind for reevaluation. The organization had to ensure he could still work as Stone's assistance animal and help her navigate in traffic after suffering such a traumatic experience.
"The trainer brought him up to get him more acquainted with where he lived because it had been such a long time, and he said [Figo] did very well," Stone explains.
Finally, on October 25, the Guide Dog Foundation for the Blind brought Figo home for good. According to Stone, the working dog was so excited he began barking before he even got out of the vehicle parked in her driveway.
"He knew he was home," she says. "He's home for good now."
Stone says the best part of having Figo back is the feeling of being a team again. Since the accident, she has had extensive physical therapy, and now that Figo's home the two can exercise together.
"We're walking, trying different routes, and it's good for both of us," she explains. "Large-breed dogs get hip dysplasia easily, and it'll strengthen his leg that was hurt. It'll help me, too."
According to Stone, the pair initially worked with a trainer from the Guide Dog Foundation for the Blind to reestablish their walking routine in an area that's similar to, but safer than, the intersection where the accident occurred.
"We just have to move forward, as they say."
Part of the pair's journey forward includes the ASPCA's recognition of Figo's heroic actions. Stone and her hero guide dog will be attending the ASPCA's 2015 Humane Awards Luncheon on Nov. 12, where Figo will be honored as Dog of the Year.
"I'm over the moon about it," says Stone, who is very proud of her famous dog. She says she wants people to know how invaluable guide dogs like Figo can be for those who need them.
"They take a lot of time and patience for the training and the bonding, but it's worth it in the end. They're there for your eyes, but they also protect you — and he protected me."
Read about more Dogster Heroes:
About the Author: Heather Marcoux is a freelance writer in Alberta, Canada. Her beloved Ghost Cat was once her only animal, but the addition of a second cat, Specter, and the dog duo of GhostBuster and Marshmallow make her fur family complete. Sixteen paws is definitely enough. Heather is also a wife, a bad cook, and a former TV journalist. Some of her friends have hidden her feed because of an excess of cat pictures. If you don't mind cat pictures, you can follow her on Twitter; she also posts pet GIFs on Google+.