Voting is now closed! Please keep a look out for our voting post!
As soon as September was over (and actually even a couple of days before it was over), retailers were rolling out their seasonal offerings: Bags of mini candy, Halloween makeup accessories (I'll be buying all those false eyelashes at a steep discount on November 1, thankyouverymuch), pumpkin-spice-flavored-EVERYTHING. We're a little late, but we'd like to participate as well. And no, we don't have candy, makeup, or pumpkin spice flavored edibles, but we do have a costume photo contest for you! And some prizes!
We've teamed up with P.L.A.Y. here in San Francisco to offer you some fun prizes.
So here's how it goes:
Enter the contest with a photo of your dog friend in a costume (or doing something Halloween-related). The link for entries is located below. You can enter as many different photos as you like. We might use the photos on our Instagram and elsewhere on our social media. Sadly, only mailing addresses within the continental United States are eligible to win.
On Wednesday October 22, we'll randomly select five finalists. In addition to entering our final voting round, finalists will receive a Carrot Plush Toy from P.L.A.Y.'s Garden Fresh Collection and a coupon for 25-percent off your next purchase at P.L.A.Y. Pet Lifestyle and You. (Valid online only at www.PetPlay.com. To redeem discount, enter the promotional code PLAYHalloween at checkout. Tax and shipping are not included with discount. Expires January 31, 2015. Carrot will only be shipped to the 48 contiguous United States.)
From October 24 to October 31, the five finalists will be voted on by you, our beloved readers, to select a grand prize winner. The grand prize winner will receive a $100 gift certificate to use toward the purchase of a Round, Rectangle, or Lounge bed from P.L.A.Y. (Valid online only at www.PetPlay.com. No substitutions and excludes Snuggle Beds. Gift certificate cannot be refunded or exchanged, is not redeemable for cash and redemption value not to exceed $100. Must be used in one transaction. Tax and shipping are not included. Expires January 31, 2015.)
Thank you for entering, and good luck!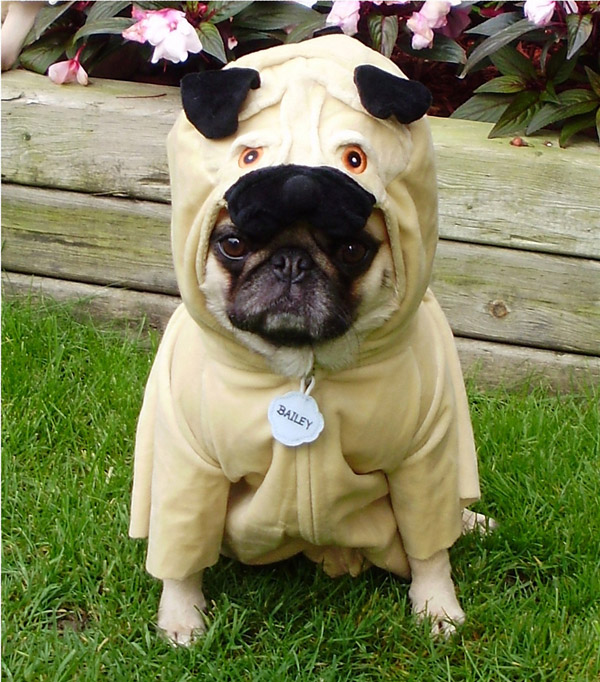 Uncredited photos: A cute little dog wearing a mask ready for the apple bobbing to begin at a Halloween party in a barn and a senior pet owner and dog dressed alike in masks for Halloween by Shutterstock