September is National Preparedness Month, a time when the Department of Homeland Security and the Federal Emergency Management Agency remind us to be ready in the event of a major disaster. Natural and man-made disasters certainly affect our families, our homes, and our sense of security. What of our dogs and puppies? How can we prepare to meet their needs should something like an earthquake catch us unawares?
This Oct. 17 marks the 25th anniversary of the 1989 Loma Prieta earthquake, a tectonic event that interrupted that year's Major League Baseball World Series between the Oakland Athletics and the San Francisco Giants. San Francisco, home of Dogster Headquarters, is a notorious hot spot for subterranean geological mischief, but earthquakes can and do happen anywhere. Even my home state of North Carolina is not exempt. There are many things you can do to ensure that your dog weathers the shock of an earthquake.
How to prepare your dog for an earthquake
The first step is to assemble a package of emergency essentials. Dogster's intrepid staff of writers has, on several occasions, gone into great detail regarding the essential contents of your dog's emergency supply kit. I will only reiterate their common refrain; to wit, that the food and water components should be non-perishable, current with regard to their stamped expiration dates, and sufficient to last one full week. Keep a unique stock of emergency supplies for each dog you own in a convenient and easily accessible location.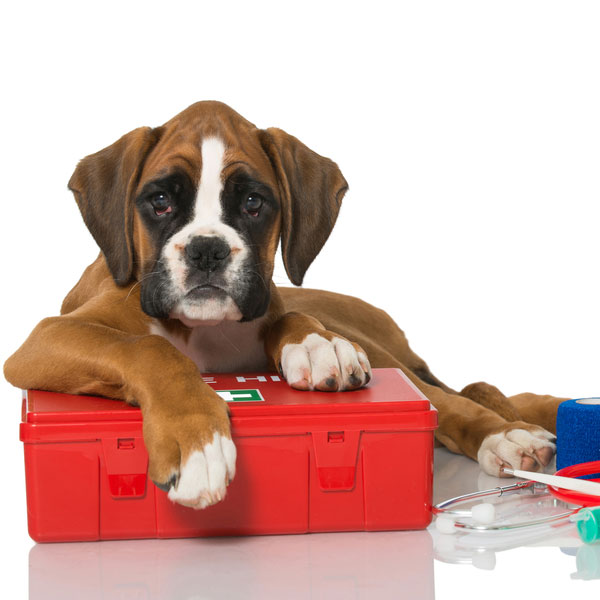 Identification materials should also be regularly updated if an earthquake occurs. This means not only microchipping your dog, but keeping the information in that microchip up to date. Make sure your dog's vaccination records are also readily available, both on paper and electronically. Have a current photograph of your dog affixed to his carrier and in your emergency kit. Dogs and other pets may run for shelter in an earthquake; being able to locate them again should be a priority.
Make note of the contact information and locations of dog-friendly emergency shelters or hotels. Should your home suffer damage in an earthquake, not only will you have to relocate, even temporarily, but your dog will too. If a shelter or hotel cannot accommodate your puppy pal, you should also familiarize yourself with local boarding facilities. Shelters, hotels, and boarding facilities may also require proof of vaccination.
What you can do for your dog in an earthquake
Stress and anxiety can affect dogs, not only during the event, but also afterward, depending on the earthquake's severity. Aftershocks can compound that stress. In the short term, stress can affect a dog's digestion, making him prone to vomiting, diarrhea, and constipation. An earthquake can also affect a dog's interactivity, making them snappier and more aggressive. There are ways to prepare your dog for these earthquake eventualities.
If there is any advance warning, such as a tremor, bring your dog immediately inside your home. Since a dog's first instinct during an earthquake is to seek shelter that it deems safe and secure, there is every danger that your dog will attempt to flee. You can prepare your dogs by getting them accustomed to the enveloping comfort of a crate or dog carrier. A dog who is used to sitting or resting in a carrier, even if it's only once a week or once a month, is less likely to perceive it as an inconvenience or restraint in the event of an earthquake.
During the earthquake itself, do not attempt to hold or restrain your dog, no matter his size or wonted friendliness. The panic and anxiety of experiencing an earthquake may deeply unsettle a dog, making him more likely to react aggressively to even the most benign and well-intentioned overtures. Approach your dog with caution once the worst is over, speaking to him in soft, neutral, and comforting tones.
Can dogs sense or predict earthquakes?
Folk wisdom would have us believe that dogs, as well as any number of other domesticated animals, have a special insight into the Earth's inner workings. There is no real scientific evidence that dogs can accurately predict earthquakes. If they could, what a wondrous resource dogs would be! A dog would certainly be the chief scientist at the United States Geological Survey, and, with her team of specially trained canine collaborators, infallibly prepare humans for the devastating impact of an earthquake.
Dogs cannot reliably predict earthquakes, but they can and do serve useful functions in the aftermath. While many pets go missing after earthquakes and other natural disasters, some dogs are specially trained to assist first responders and other disaster relief crews. Their major role is search and rescue, helping to locate people who are lost or trapped during particularly volatile earthquakes.
Has your dog ever lived through an earthquake?
If you and your dog have ever endured the trials and traumas of a seismic event, we'd all benefit from your wisdom. Were there items you wished you'd prepared in your emergency essentials? How long did it take for your dogs to settle down after the earthquake? Did your dog flee at the first tremors, and did you have to wait long to relocate your canine friend? Please share your experiences in the comments!
Read more on emergency preparedness: