In Australia, where bushfires have decimated millions of acres of forests and the animals that considered them home, a 6-year-old Border Collie-Australian Koolie mix named Bear is saving lives — koala lives.
Bear was trained by the International Fund for Animal Welfare to sniff out koalas by the scent of their fur, so his disaster relief teammates can locate injured or burned koalas, which are difficult to spot in trees. The team, partnering with local wildlife experts, is rehabilitating the koalas and placing them back into safe areas.
"It's a truly selfless group," says Rodger Correa, U.S. communications director for IFAW. "They will go out under any conditions and stay as long as it takes — sometimes many months."
Disaster relief teams around the world put their lives at risk to save animals, and not always wildlife. Often, it's domestic dogs and cats who get left behind when a natural disaster strikes, and people are forced to evacuate immediately without returning home to fetch their pets.
When Hurricane Florence hit North and South Carolina in 2018, The Humane Society of the United States deployed a rescue team that traipsed through the floods, locating lost animals and placing them in shelters so their owners could find them. And last year, when wildfires spread through Northern California, volunteers from RedRover (redrover.org), a Sacramento-based nonprofit, cleaned cages, fed and walked dogs and set up emergency pop-up shelters for displaced animals.
For these organizations, much of the work is done after the storm. But with good planning and preparation from municipalities, shelters and individual pet owners, communities can better protect their pets before a disaster. Here are three ways that these organizations are working on building disaster resilience for animals around the world.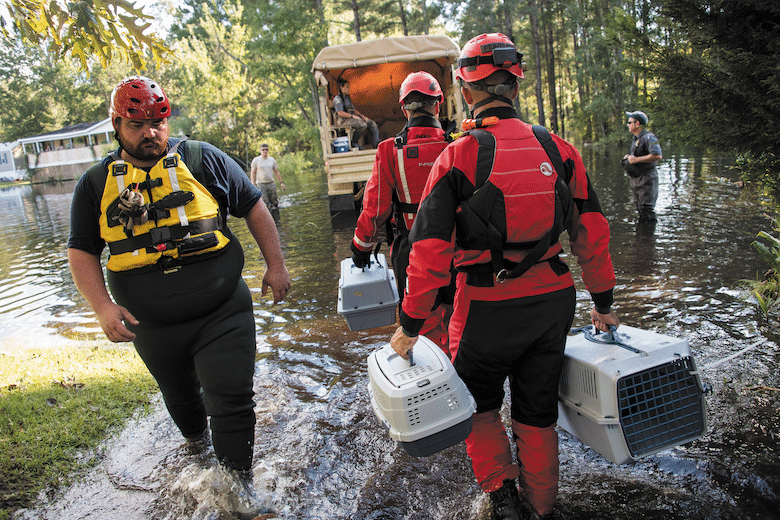 Forming widespread disaster relief networks
These three organizations don't enter a disaster situation unless they are invited by another organization that has jurisdiction over the animals — whether it's a government agency, a shelter, another animal rescue league or a veterinarian — to ensure good and effective relations while in action.
"We let them know we come in free of charge, we are responsible for the housing for our volunteers, and we are going to be working under you guys," says Beth Gammie, director of field services at RedRover, which deploys more than 4,000 trained volunteers throughout the U.S. and Canada.
Building relationships with other response teams and agencies around the world increases the chance that the animal rescue group will be asked to step in and quickens the response time by eliminating initial paperwork and other legal issues when disaster strikes. IFAW's worldwide Animal Rescue Networks connect thousands of animal welfare and animal control professionals, veterinarians and volunteers in strategic locations around the world so they can respond rapidly.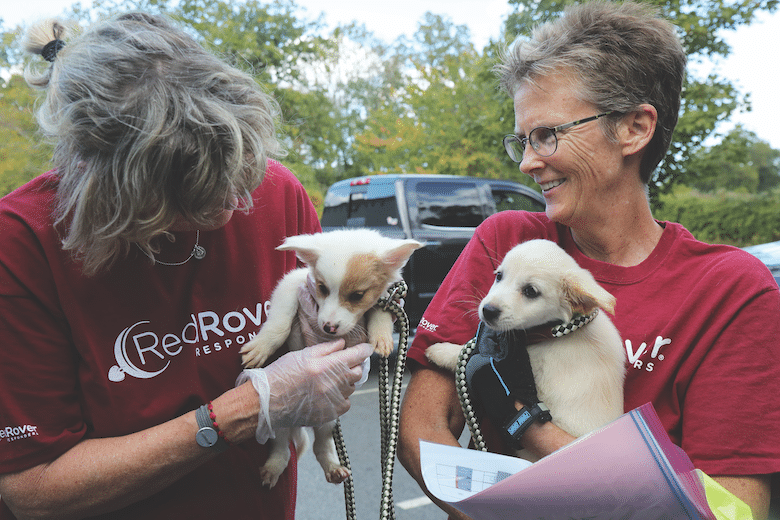 Educating communities
The Humane Society meets with shelters around the country and helps them form plans for handling a disaster that originates internally and one that starts in the community.
"We want people to be able to handle their own response as much as possible," says Diane Robinson, Humane Society's disaster services manager, who used a dryer fire as an example of an internal disaster that would require evacuation of all the animals.
Educating local agencies about best evacuation and sheltering practices helps people manage a stressful situation more effectively when it arises. Disaster teams also handle cruelty cases like puppy mills and hoarding, and advise agencies on the best ways to manage the influx of oftentimes undernourished animals into the shelter.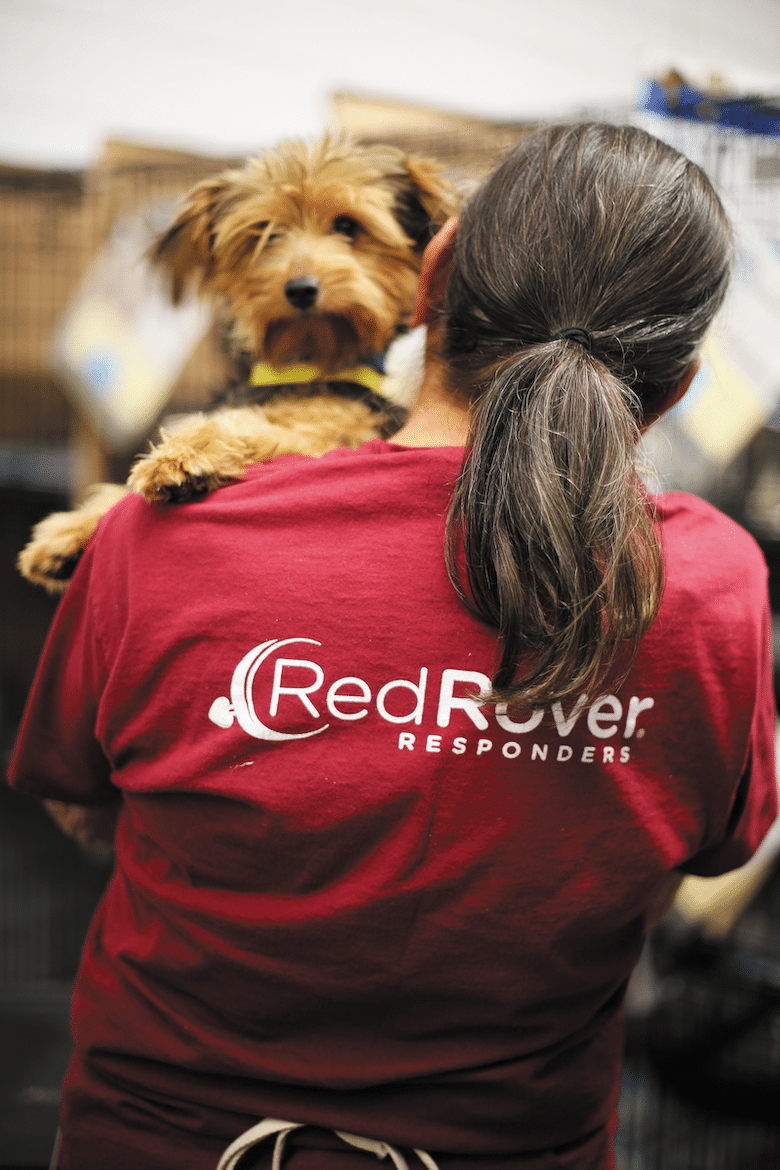 Promoting animal inclusion in disaster relief
"Animal issues are people issues," says Diane, who explains that people are always going to want to take their animals with them, and if they can't, they will stay or go back to get them. "That's putting more work and risk on the responders," she says.
Over the past decade, much progress has been made in emergency management agencies including animals in their disaster preparedness planning, but there's still more to be done. For domestic violence cases, many safe havens don't allow pets, which prevents people from leaving a dangerous situation at home. RedRover workers renovate domestic violence shelters to become pet friendly, along with offering a grant for animal shelters and rescue groups to build onsite housing for pets of domestic violence victims.
"You have to have a plan," says Beth, whose pop-up shelters help make pet emergency planning more achievable. "You have to have a way to take all your animals with you."
Read Next: Helping Feed Pets in Need