Dog toys of all shapes and sizes are important for your pup's mental and physical health. Additionally, dog toys stimulate learning and keep our canines from becoming bored and depressed. Check out a few different types of dog toys your four-legged friend will love:
1. Throwing Dog Toys
Does your dog love to play fetch? There are some great toys designed to make your dog's game of fetch even better. In fact, a few of these throwing toys are designed to help you throw balls further if you're playing outside. Other fetch toys will actually "throw" the ball for your dog. Your dog just has to learn to bring the ball back, drop the ball in and the toy will launch the ball back for retrieving.
2. Dog Puzzles
Is your dog always on the go? Puzzle toys made of plastic or wood are a great way to exercise your dog's brain and it's fun to see how quickly your dog can solve the puzzle and get to the hidden treats. These toys are especially good for hot summer days when it's too warm to go outside, or for a dog recovering from injury.
3. Chewing Dog Toys
Is your pup a heavy chewer? Look for "chew ratings" for extra-durable toys designed for dogs to exercise those jaw muscles while having fun. Toys with other toys hidden inside, solid (nontoxic) rubber and plastic, and stuffing-free plush toys are all great options for chewy-happy hounds.
4. Treat-Dispensing Dog Toys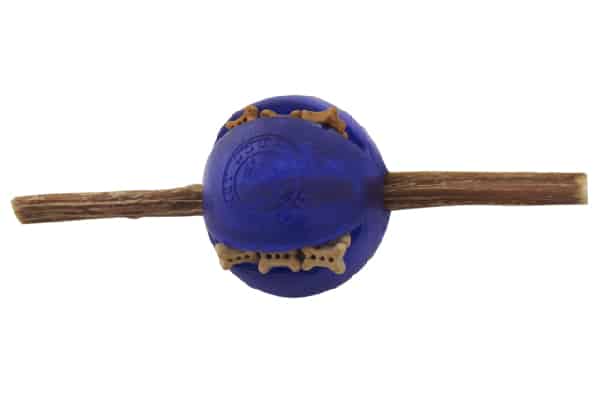 Treat-dispensing toys are a fantastic way to exercise your dog's mind and keep her occupied. These types of toys are also great to give your dog while she's in her crate, providing a slow release of treats the more your dog plays. Some of these toys act as puzzles with difficulty settings, so the better your dog gets at playing with the toy, the harder she has to work for the treats to release.
Colleen McCracken, CEO of Planet Dog spoke with us about the brand's GuRu toy. "This super-durable puzzle treat-dispensing toy activates and encourages mental stimulation in dogs," McCracken explains. "The openings can be filled with kibble, bully sticks, carrots, apples, our new Planet Dog Treats, peanut butter or whatever treat your dog loves most. As with all Planet Dog toys, GuRu is made with Planet Dog's Signature Orbee-Tuff® material. This means it is made in the USA, completely non-toxic, buoyant, and as safe for humans (even babies) as it is for dogs. Even when dogs get to all the treats hidden in the GuRu, because of its 5-out-of-5 on our durability scale, it becomes a really great chew toys that lasts!"
5. Plush Dog Toys
Different shapes, levels of stuffing and fabric textures create unique play experiences when it comes to plush dog toys. Additionally, varying squeaks, grunts and crinkle sounds are sure to inspire your dog to play away!
6. Glowing Dog Toys
Ideal for late nights out in the yard, glowing and light-up toys are a perfect way to brighten up the dog nights of summer. You can't lose glowing toys in the dark and, when your dog is holding the glow toy, he'll be easy to spot.
7. Talking Dog Toys
From toys that babble in baby talk or make realistic animal "talking noises" to others that can record messages from you to your dog, talking toys are a fun treat! These toys can be good for a laugh from you, and a fun way to spark imaginative play for your dog, allowing her to chase and play with sounds from quacking ducks to mooing cows to hilarious giggles.
8. High-Tech Dog Toys
Is your dog on the cutting edge? High-tech dog toys come with sound activation, video recording and automatic treat dispensing — and can even allow you to interact with your dog when you're not home!
9. Floating Dog Toys
The only thing better than playing in the water with dogs, is playing in the water with dogs and some fun floating dog toys! "Our line of classic yard-game dog toys was designed to bring back the old days of playing outside with your dog until it was dark and time for dinner," explains Kurgo Chief Creative Officer Kitter Spater. "On top of being a blast to play together with, all toys in this line are made of non-toxic TPE material and PVC free, they float in water and [they're] dishwasher safe."
10. Tug-of-War Dog Toys
Tug-of-war is a fantastic game to play with your dogs. It's a great way to bond and it's a fantastic way to help your dog burn up extra energy and reward him during training games by keeping his attention focused on working with you. Rope toys, ropes with tennis balls, knotted fleece and tugs with fur ends are all great toys for tugging with your dog. Want to take your dog's tug game to the next level? Flirt poles and tether tug dog toys, which are freestanding tug toys, are great options for treating a dog who enjoys a game of tug!
11. Ball Dog Toys
We've come a long way from throwing around an old tennis ball! There are lots of great ball options to spoil your dog for indoor and outdoor play this summer. From small to large, scented balls to squeaking balls, hollow balls to solid balls to floating balls — all are great options for a dog who loves ball toys. Extra-large ball toys are a particular favorite with my dogs, who enjoy pushing them around in a miniature version of the dog sport Treibball.
Thumbnail: Photography by bmf-foto.de/ Shutterstock.
June is Treat Your Pup Month here at Dogster! Stay tuned on Dogster.com for fun ways to spoil your canine with different types of treats, accessories and more.
Sassafras Lowrey is an award-winning author. Her novels have been honored by organizations ranging from the Lambda Literary Foundation to the American Library Association. Sassafras is a Certified Trick Dog Instructor and assists with dog agility classes. Sassafras lives and writes in Brooklyn with her partner, a senior Chihuahua mix, a rescued Shepherd mix and a Newfoundland puppy, along with two bossy cats and a semi-feral kitten. Learn more at sassafraslowrey.com.
Read more about dog toys and play on Dogster.com: