The weather outside might be frightful, but these December 2020 Dog events and holidays are so delightful, you won't want to miss them. Because of the pandemic, many dog events have gone virtual, allowing you to attend some really cool canine events that you wouldn't be able to in other years. Take advantage! You won't regret it. Don't see your December 2020 dog event or holiday observance here? Email us at dogstermag@belvoir.com.
ALL MONTH-LONG DECEMBER 2020 DOG EVENTS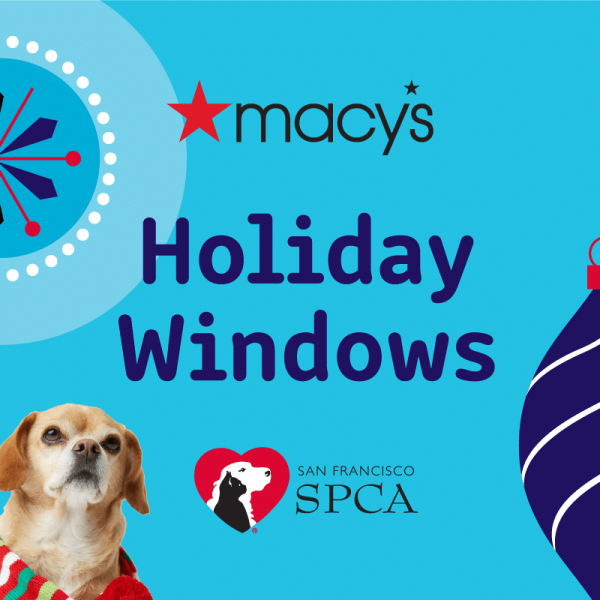 In an abnormal year, at least there is something wonderfully normal for the 2020 holiday season, bringing canine and feline holiday joy to San Francisco during Covid-19. The San Francisco SPCA and Macy's Union Square are holding their 34th annual Holiday Windows will take place November 24 to January 3. Adhering to COVID-19 safety guidelines, holiday windows will not be filled with adoptable animals, but special videos of rescue animals and SF SPCA shelter alumni. Union Square shoppers can check out the outrageously adorable puppy, dog, kitten and cat videos in the windows at the corner of Stockton and O'Farrell Streets, as well as on Macy's Floor 1. This year's windows take the form of a thank-you letter to first responders, essential workers, marchers for equality and San Franciscans who showed their grit, good humor and hopeful spirit during a tumultuous year; Macy's will celebrate their undeniable spirit this holiday season as part of the window displays.
Throughout the season several of the SF SPCA's Animal Assisted Therapy pets are making surprise visits at Macy's. These specially trained therapy animals, accompanied by a volunteer and handler, will definitely help spread holiday cheer. For those looking to add a new furry family member this holiday season, adoptions by appointment will continue at the SF SPCA's Mission Campus Adoption Center. On floors 1 — 7 inside Macy's, shoppers can take selfies at four "Instagrammable moment" stations featuring giant cutouts of cats and dogs. Shoppers can learn about the animals' stories and share the holiday joy with their friends by using hashtag #SFSPCAholiday. There will also be a holiday selfie station at the SF SPCA's adoption center. Can't make it to Union Square? Enjoy cuteness from the comfort of your own home through the SF SPCA livestreams. View shelter animals on the SF SPCA holiday cams at sfspca.org/holiday. To learn more about Holiday Windows and donate to support the SF SPCA's lifesaving programs, visit sfspca.org/holiday
Join the Museum of the Dog for a virtual tour of this exhibition looking back on the different breeds of dogs that have lived at the White House. Check out the history of these breeds and the influence these breeds had on the dog world as well as the American public. From George Washington's Foxhounds all the way to Bo and Sunny the Portuguese Water Dogs, this exhibit examines the role of dogs in American presidential history. This exhibition will contain artwork from the MoD collection, historic documents from the AKC archives, and photo reproductions. This virtual tour is available with any suggested donation, starting at $1.00.
Celebrity dog trainer
Brandon McMillan
adds muscle to a four-week holiday fundraiser for the
Lucy Pet Foundation, whose mission is to reduce pet overpopulation and the euthanasia of over 60,000 dogs and cats per week throughout the United States. Brandon brings some fun to this light ad campaign regarding a serious subject … Who Says Spay and Neuter Isn't Sexy! He will be featured for four weeks straight in different muscle popping poses.
For more information go to lucypetfoundation.org.
PetCon Digital is free to attend this year, with all registrants having access to panels featuring speakers like Kaley Cuoco and Jane Lynch, and interactive sessions like Treat Making with @RockyKanaka, content making tips, training 101, plus a halftime show with @brussels.sprout. (See panel highlights here and interactive sessions highlights here.) The event also features a Zoetis Petcare Virtual Adoption Garden hosting live streams from rescues across the country showing: shelters like Wags and Walks in LA and Animal Haven in NYC, True Faithful Pet Rescue Mission in Miami, and The Windy Kitty in Chicago. Donate $35 or more to the Animal Cancer Foundation to get access to meet and greets with over 60 influencers: like @Crusoe_Dachshund, @HarlowandSage and @BertieBertthePom, a VIP digital gift bag and post-event digital access to the sessions. Follow PetCon @petconofficial.
The Petcare Innovation Summit showcases brands in petcare and connects innovators with pet product investors and buyers. Network, learn and drive partnerships in this virtual trade show. Check out the full agenda including speakers and best in show products or register here.
Featured Image: Joe_Potato | Getty Images